Digital Infrastructure in Education Impact Fellow (Federation of American Scientists)
Washington, DC
Full Time
Mid Level
ABOUT THE POSITION
The FAS Day One Talent Hub is seeking a fellow for a 1 year term (with potential opportunity to extend) to join the Office of Educational Technology within the Office of Planning, Evaluation, and Policy Development at the Department of Education. The Fellow will have the unique opportunity to shape national policy on educational technology through the priority focused on digital infrastructure.
WHAT YOU'LL BE DOING
Project Management

: Collaborate with teammates and stakeholders in an agile, reproducible and organized manner to drive novel policy insights and outcomes. Coordinate P-12 cybersecurity efforts across ED and between other agencies (e.g. CISA, DHS, etc). Support Deputy Director on digital infrastructure projects, including work with external organizations focused on cybersecurity, data privacy, interoperability, and accessibility.

Research

: Investigate development in digital infrastructure since the previous version of the Infrastructure Guide was published in 2017. Synthesize key findings and update the guide with new information for P-12 and higher education.

Communicate

: Translate complex concepts, findings, and limitations into concise, plain language in blogs, literature reviews, briefs, and visualizations. Closely tie findings and conclusions into the agency mission, office priorities, original problem statement and team objectives. Research and design presentations tailored to specific audiences including the use of interactivity and narrative storytelling where appropriate.
YOUR BACKGROUND AND ABILITIES
The Day One team and its agency partners at the Department of Education is seeking an entrepreneurial, experienced, and resourceful individual who brings subject matter expertise to the role of Digital Infrastructure in Education Impact Fellow and has the ability to thrive in a dynamic team environment. This individual must be passionate about educational technology.
Background in educational technology; edtech development; education policy; and/or technology;

Subject matter expertise and experience in digital infrastructure (cybersecurity, data privacy, interoperability, and accessibility) in P-12 and higher education

Ability to clearly and concisely present technical language in plain language for educators;

Experience or interest in education policy and equitable educational outcomes;

Experience managing projects in collaboration with others and across networks, working in an entrepreneurial culture, navigating ambiguous environments and supporting teams;

A minimum of 4-6 years of professional experience preferable;

Commitment to public service, diversity, equity and inclusion and pursuing it within the mission of the Day One Project and Department of Education;

Must be a U.S. citizen.
Education requirement: Master's degree preferred, ideally in a social science discipline, public policy, educational technology, and/or education.
SALARY
This fellowship will provide a salary that accounts for the cost of benefits for the entirety of the fellowship duration at an annual rate ranging from $115,000 - $130,000 per year, commensurate with experience and education.
HOW TO APPLY
To apply, please submit your interest here. We strongly encourage candidates from all backgrounds to apply. Early submission will ensure your application receives full consideration.
ABOUT IMPACT FELLOWSHIPS
The FAS Impact Fellowship is a selective fellowship program that supports the development and placement of emerging scientific and technical talent within high-impact roles across the federal government. From education to clean energy, immigration, wildfire resilience, national security, and fair housing, Impact Fellows are serving across a variety of federal agencies in roles that augment existing government teams as they confront some of the greatest scientific and social challenges of our time.
---

Our Commitment to Diversity, Equity, Inclusion & Belonging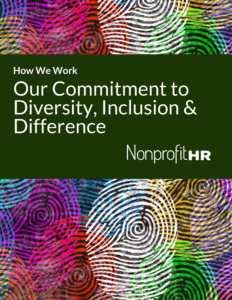 Nonprofit HR is committed to fostering and maintaining a work environment where diversity, equity, and inclusion (DEI) are fully integrated into everything we do for the benefit of our employees and the clients that we serve. To fully realize our goal, we prioritize our understanding of the complexities of DEI within our workforce to inform our approach to talent management. We believe that this guides how we do our work, advise our clients to operationalize DEI and position our content and educational opportunities help strengthen the talent management capacity of the social impact sector.
Continue reading our about our commitment at nonprofithr.com/deinow.
Read More
Apply for this position
Required*