Senior Consultant, Outsourcing
Remote
Full Time
Experienced
POSITION DESCRIPTION
TITLE: Senior Consultant, Outsourcing
CLASSIFICATION: Regular, full-time, Exempt
REPORTS TO: Team Leader
HIRING RANGE: $110,000-$150,000
The Senior Consultant, Outsourcing provides subject matter expert advice, insight and strategic direction to one or more HR disciplines within a client environment. Guides consulting team members to oversee engagements, manage projects to completion and deliver human capital solutions and services to clients and stakeholders, across one or more subject matter areas. The Senior Consultant partners with Team Leaders regarding strategic human resources thought partnership and operational support as the primary point of contact or member of a larger team to the firm's outsourcing clients both onsite and in a remote environment. May lead a client engagement team comprised of HR consultants and HR Associates, providing strategic and tactical support to multiple clients, while serving as a strategic thought partner and leader for more complex projects. May also have a portfolio of assigned clients requiring direct interaction and portfolio support.
DUTIES & RESPONSIBILITIES
Client Leadership
Oversee the consulting process of an outsourcing team and/or strategic direction of an outsourcing engagement in one or more HR disciplines. Provide subject matter expertise and/or thought partnership to Team Leaders, consulting teams and externally to clients.

Partner with other firm subject matter experts to coordinate multi-disciplinary projects to align objective and strategy.

Establish trusting relationships with key stakeholders for new and existing clients.

In collaboration with team, act as a strategic advisor to client executives, helping to identify the nature of dynamic issues they are facing and enabling client-driven solutions. Understands client's organizational culture and work relationships.

Resolve c

o

mplicat

e

d, s

e

nsitive, or un

u

sual

p

rob

l

ems of an in

d

ividual or s

y

stemic nat

u

re.

Provide strategic thought leadership to clients and partner with consulting team to identify and resolve client challenges and thought partner with client engagement team on engagement escalations to ensure the highest levels of client service delivery and satisfaction, as well as employee engagement and cultural transformation. Become personally involved where necessary to mitigate risk and provide technical expertise.
People Leadership
May oversee one or more staff on a client engagement.

Actively participate in hiring panels and new hire orientation programs to ensure incoming talent aligns with Nonprofit HR's culture, values and expectations.

Provide frequent, ongoing feedback to Team Leaders for consultants assigned to project teams.

Coach and mentor to help grow consulting practice capabilities and effectiveness to achieve challenging firm and client goals.
Subject Matter Expertise and Thought Leadership

Actively listen to gain understanding of clients' changing business and operational needs in order identify opportunities to deepen the client engagement.

Collaborate with consulting practice leadership to upsell and cross-sell client service solutions to ensure achievement of existing client objectives and firm revenue goals.

Develop and deliver public speaking opportunities in area of subject matter expertise which aligns with Nonprofit HR's marketing and business development strategies including client roundtables and firm-sponsored events and webinars.

Keep abreast of HR best practices and trends and participate in creating collateral to share and market expertise (e.g., blogs, case studies, white papers).
KNOWLEDGE, SKILLS & ABILITIES:
Experienced talent management practitioner with ten plus years of experience with demonstrated functional/strategic expertise, as well as proven people management/coaching skills

SPHR/SHRM-SCP or equivalent/related certification preferred or acquired within first year of employment

Demonstrated expertise in principles and practices of human resources management

Proven expertise partnering with executive leaders to position HR as a strategic thought leader

Outstanding interpersonal and communication skills including ability to communicate orally, write effectively, and present effectively and concisely to a wide variety of audiences including management, staff, Boards of directors and potential client organizations

Outcomes-driven experience in developing, implementing, and executing HR departmental change management in alignment with organizational objectives, external environmental changes and changing business models

Demonstrated innovation and ability to think creatively to solve problems

Demonstrated commitment to valuing diversity and contributing to an inclusive working and learning environment

Adept at collaborating with and leading diverse internal teams and client engagements

Outstanding client service orientation to include a demonstrated understanding of the social impact sector

Refined project management skills; ability to effectively manage multiple and changing priorities simultaneously

Demonstrated proficiency with all MS office applications and experience with HCMS

Experience providing strategic guidance and advisory support to executive leaders

Demonstrated experience developing and sustaining business relationships with potential customers, and ability to represent the firm with credibility in front of clients.

Prior experience leading, managing and performing work in a consulting environment preferred

Demonstrated track record of success in partnering across organizational functions and teams to develop and manage strategies and programs that support engagement and advancement of organizational goals

Demonstrated track record of taking initiative, leading large complex projects, working in a fast-paced environment

Demonstrated in-person and virtual facilitation and learning design skills

Strong skills in data gathering, data analysis, and interpretation of results

Demonstrated proficiency with all Microsoft office applications and experience with an HCMS
ADA SPECIFICATIONS:
This position is largely sedentary in nature however one must possess the ability to speak, hear, and write as well as the ability to use a computer and related software programs. Ongoing local and/or national travel periodically required.
The above statements are intended to describe the general nature and level of work being performed by the individual(s) assigned to this position. They are not intended to be an exhaustive list of all duties, responsibilities, and skills required. Management reserves the right to modify, add, or remove duties and to assign other duties as necessary.
---

Our Commitment to Diversity, Equity, Inclusion & Belonging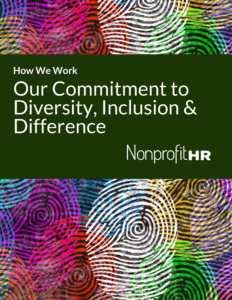 Nonprofit HR is committed to fostering and maintaining a work environment where diversity, equity, and inclusion (DEI) are fully integrated into everything we do for the benefit of our employees and the clients that we serve. To fully realize our goal, we prioritize our understanding of the complexities of DEI within our workforce to inform our approach to talent management. We believe that this guides how we do our work, advise our clients to operationalize DEI and position our content and educational opportunities help strengthen the talent management capacity of the social impact sector.
Continue reading our about our commitment at nonprofithr.com/deinow.
Apply for this position
Required*