Recruiter
Washington, DC
Full Time
Mid Level
Position Summary
Do you absolutely love recruiting and helping your organization achieve its mission through their people? In this role, you'll manage the recruitment function of CCDC and support on-going talent acquisition needs. While you'll have a community of colleagues to collaborate with throughout the organization, your role will work independently to ensure a high-quality talent pipeline. Daily, the professional in this role proactively responds to the recruiting needs of a growing, mission driven organization.
The position is an integral role within the Human Resources team and has responsibility for developing an CCDC recruitment and employer brand strategy. Oversees full life cycle recruiting across the organization, with direction and support from the Senior Manager, HR.
Responsibilities
Outstanding interpersonal and communication skills including the ability to write effectively and concisely for a wide variety of audiences including candidates, management, staff, and senior leadership.

Keen emotional intelligence, with a natural curiosity to learn more and seek answers to the "how" and "why".

Passion for the work of Community Connections, and a genuine desire to shape the workforce of the organization for optimal mission realization.

Work collaboratively with hiring managers to understand needs for openings and guide the creation and approval of requisitions, job descriptions and job postings by the hiring managers

Manage full life cycle recruitment process for positions at all levels across the organization: screen resumes, source candidates, interview, conduct references, create and negotiate approved offers

Post all jobs using applicant tracking system and/or by other method as needed (posting directly to industry-specific web sites)

Source candidates and establish a recruiting network through various means (job fairs, networking, social media, referrals, etc.); implement creative sourcing strategies to increase candidate pipeline

Serve as a strong representation of CCDC and ensure every candidate has a positive experience

Evaluate candidates; assess for qualifications, interest level, and fit for CCDC culture and business needs

Schedule candidate interviews and develop structure for interview questions and slate of interviewers

Build strong relationships with hiring managers, make recommendations regarding candidates and follow up regularly to ensure recruitment processes are conducted efficiently and thoroughly

Ensure paperwork is completed correctly and all information has been submitted; shares new hire paperwork with HR/Payroll team for entry into relevant HRIS systems

Manage relationships and accounts for recruiting platform and agencies

Manage requisition and recruiting files according to CCDC policy and applicable rules and regulations

Partner with HR as needed on various projects and initiatives
Scope and Relationships
Internal: Maintains frequent contact and builds relationships at all levels and across the organization

External: Contact with temp agencies, recruiting firms, immigration lawyers, and candidates
Qualifications
Education: Bachelor's degree preferred or equivalent combination of education and experience.
Experience: 4+ years of recruiting experience
Knowledge, Skills, and Abilities:
PHR or SHRM-CP certification preferred

Proficiency in Microsoft Word, PowerPoint, Microsoft Excel

Previous experience with HRIS systems

Previous experience working with an applicant tracking system

Ability to establish rapport and professional relationships, inside and outside the organization, in support of recruitment efforts

Demonstrated ability to develop candidate sourcing and recruitment strategies

Strong verbal and written communication skills

Ability to manage a high volume of recruiting

Experience with working with external recruiters, temp agencies, and managing intern programs
Work Environment
Most work performed in an office environment.

Incumbent may sit for long periods of time at desk or computer terminal.

Incumbent may use calculators, keyboards, telephone and other office equipment.

Stooping, bending, twisting, and reaching maybe required in completion of job responsibilities.
The statements contained in this document reflect general details as necessary to describe the principal functions assigned to this position, the level of knowledge and skill typically required, and the scope of responsibility, but should not be considered an all-inclusive listing of work requirements. Other duties and responsibilities may be assigned, including work in other functional areas, to cover absences, equalize work periods, or otherwise to balance the workload.
---

Our Commitment to Diversity, Equity, Inclusion & Belonging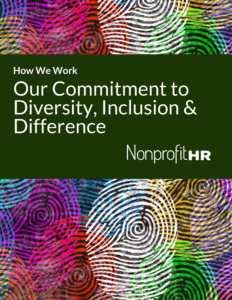 Nonprofit HR is committed to fostering and maintaining a work environment where diversity, equity, and inclusion (DEI) are fully integrated into everything we do for the benefit of our employees and the clients that we serve. To fully realize our goal, we prioritize our understanding of the complexities of DEI within our workforce to inform our approach to talent management. We believe that this guides how we do our work, advise our clients to operationalize DEI and position our content and educational opportunities help strengthen the talent management capacity of the social impact sector.
Continue reading our about our commitment at nonprofithr.com/deinow.
Apply for this position
Required*