Vice President, Programs - Black Girls Code (BGC)
New York, NY
Full Time
Executive
Black Girls CODE (BGC) is devoted to showing the world that black girls can code, and do so much more. BGC introduces computer programming and technology to girls from underrepresented communities in technology areas such as web design, robotics, gaming, mobile app development and more. By cultivating the next generation of coders we hope to grow the number of women of color in technology and give underrepresented girls a chance to become the future leaders in technology and the masters of their technological worlds. We thrive on working in a collaborative, fast-paced environment. We represent a diversity of backgrounds, a wealth of experience and a lot of fun. Black Girls CODE's ultimate goal is to provide African-American youth with the skills to occupy some of the 1.4 million computing job openings expected to be available in the U.S. by 2020, and to train 1 million girls by 2040.
"Imagine. Build. Create."
Since launching in April 2011, BGC has had the honor of bringing technology and entertainment to many wonderful girls of color. By teaching the girls programming and game design, BGC hopes to have started the lifelong process of developing in them a true love for technology and the self-confidence that comes from understanding the greatest tools of the 21st century. ​Through community outreach programs such as workshops and after school programs, we introduce underprivileged girls to basic programming skills in languages like Scratch and Ruby on Rails. The skills they acquire through the programs give these young women a chance at well-paying professions with prestigious companies, as well as the ability to enter into the field as entrepreneurs and leaders of technology.
To ensure we continue to provide opportunities to girls around the world, BGC has exclusively retained Nonprofit HR to assist in the recruitment efforts for our next Vice President, Programs (VP). We are looking for a visionary and focused leader to join us during this exciting period of expansive growth. We're looking for a proven leader, change agent and innovator to help us build sustainable chapters and expand our presence and impact in the United States and around the world. Candidates with passion for tech diversity and inclusion and a strong sense of creating positive change in the world through social impact work are encouraged to apply.
The VP will serve as a critical member of the executive leadership team. In collaboration with the Executive Director, the VP will articulate and implement the strategic plan, build new partnerships to grow and sustain the organization, and develop and manage special projects and programs that expand the influence and impact of BGC and its chapters. As a strategic partner and member of the Executive Team, the VP will assist in developing the organization's plans and programs. The successful candidate will have a bold vision for coordinating new strategic partnerships and business development with a keen eye for recognizing fundraising and diversifying revenue generating opportunities.
The ideal candidate is a dynamic leader who can build and execute thoughtful and ambitious strategies while ensuring operational excellence. The VP will be a results-oriented motivator with high standards for excellence. S/he/they will be a clear, consistent and empathetic communicator, someone who excels at relationship building, who is constantly innovating and has entrepreneurial instincts, who naturally absorbs new information, and who has a contagious drive for excellence and accountability. It will also be the VP's responsibility to establish credibility throughout the organization and with the Executive Director as an effective developer of solutions to business challenges.
Internally, the VP must develop, lead, attract, inspire, retain, and manage a diverse, talented, and high-performing team, to ensure that the mission and core values of BGC are put into practice by holding everyone accountable for quantifiable high-quality, timely, and cost-effective results. Team building is key. Beyond guiding the staff in their respective areas of functional expertise, the executive must foster a shared vision for the important work it must do—making the most of the staff's collective talent in support of organization-wide success. In an environment that is collegial and where talent and culture are critical, the VP will need to engage staff in strategic operations and execution through responsive and transparent communication and leadership.
The ideal candidate will possess a bachelor's degree in Information Technology, Education, Human Services, Organizational Development, or a related field (Master's degree preferred), with a minimum of eight years of nonprofit leadership experience in roles focused on growth, business development, strategy, planning and related issues. Comprehensive understanding of and experience in the field of technology education, education policy and civic engagement and political acumen and a sophisticated intersectional analysis; with a demonstrated commitment to the values of diversity, inclusion, equity, and economic, racial and gender justice. S/he/they will possess demonstrable experience using data systems to improve program performance and outcomes. The position also requires demonstrated entrepreneurial ability to develop alliances and coordinate shared interests of all parties, with excellent communications and problem-solving skills designed to meet the challenges of the organization. A track record of successful change management, process improvement, and organizational performance improvement is essential for success in this role, along with demonstrated experience in organizational development and strategic planning.
For consideration, interested candidates should submit a cover letter and resume. Your cover letter must address your experience and qualifications being sought. Electronic submissions highly preferred. Interested individuals are encouraged to apply immediately. Please visit: www.blackgirlscode.com for more information about the organization.
---

Our Commitment to Diversity, Equity, Inclusion & Belonging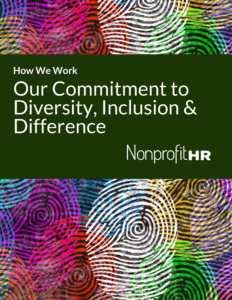 Nonprofit HR is committed to fostering and maintaining a work environment where diversity, equity, and inclusion (DEI) are fully integrated into everything we do for the benefit of our employees and the clients that we serve. To fully realize our goal, we prioritize our understanding of the complexities of DEI within our workforce to inform our approach to talent management. We believe that this guides how we do our work, advise our clients to operationalize DEI and position our content and educational opportunities help strengthen the talent management capacity of the social impact sector.
Continue reading our about our commitment at nonprofithr.com/deinow.
Read More
Apply for this position
Required*