Director of Communications - The Marsha P. Johnson Institute (MPJI)
Remote
Full Time
Mid Level
Who We Are
The ​Marsha P. Johnson Institute (MPJI)​ protects and defends the human rights of ​BLACK transgender people. We do this by organizing, advocating, creating an intentional community to heal, developing transformative leadership, and promoting our collective power. We intend to reclaim ​Marsha P. Johnson ​and our relationship as ​BLACK ​trans people to her life and legacy. It is in our reclaiming of Marsha that we give ourselves permission to reclaim autonomy to our minds, to our bodies, and to our futures. We were founded both as a response to the murders of ​BLACK trans women and women of color and how that is connected to our exclusion from social justice issues, namely racial, gender, and reproductive justice, as well as gun violence.
We invite members to learn about who Marsha P. Johnson was while exploring themselves as well. MPJI seeks to eradicate systemic, community, and physical violence that silences our community from actualizing freedom, joy, and safety.
We were created to elevate, support, and nourish the voices of Black trans people. Our community is made up of BLACK trans people and those committed to undoing white supremacy in all its forms. Our space is intended for the sole purpose of bettering the BLACK trans community across the diaspora.
We believe that Black people are the future. We are committed to this organization always being led by the most radical BLACK trans people whose imaginations exist beyond the confines of the state. We invite all qualified BLACK trans people to apply to be a part of our passionate staff.
Position Summary
The Director of Communications will report to the Executive Director and is responsible for driving strategic marketing and communications efforts to increase the MPJI brand, voice, and influence; deepen engagement with current and prospective partners and stakeholders, and strengthen and protect the organization's brand and reputation. The Director of Communications oversees a team of consultants and vendors, and develops the department's goals, activities, and annual budget. The Director of Communications works collaboratively with senior leadership to ensure an integrated, leveraged, digital-first marketing approach with key positioning and alignment of messaging and themes for internal and external audiences. The Director of Communications oversees the creation of MPJI's collateral, website, digital marketing, storytelling assets, video production, and outreach activities, and provides strategic direction for partnerships, media and public relations, influencer strategies, and thought leadership to expand and amplify MPJI's impact and influence in the social change field – more specifically, black trans people. The Director of Communications works particularly closely with the Executive Director to build a holistic partner funnel, with a focus on using marketing strategies to bring new partnership leads into the funnel. The Director of Communications also works with the Executive Director to direct and support their communications, visibility, and outreach efforts. The Director of Communications oversees execution of internal communications strategies and programs to help build culture, inspire, and motivate staff and facilitate healthy organizational change management. This individual is also responsible for leading crisis communications planning and preparedness planning to protect MPJI's brand and reputation and that of our partners as necessary.
Communications Strategy
Develop & maintain MPJI's overall communications strategy, including setting key goals, identifying & refining key target audiences, and setting objectives for each of the communications, marketing, and PR functions to work towards.

Develop & maintain MPJI's integrated communications, marketing, and PR plan, a coherent and consistent set of Executive Director ordinated activities across each of the communications, marketing, and PR functions aimed at delivering on the overall communications strategy.

Work closely with the Executive Director to ensure that this strategy and plan are
aligned with MPJI's overall strategy, vision, mission, and approach.

Work closely with the Executive Director to support the goals and objectives set forth
by the Board of Directors.
Communications
Maintain the MPJI brand, the MPJI brand, including its visual identity, verbal identity, narrative, & positioning on key issues, and key themes to focus on.

Develop strategies and tactics to build MPJI's profile with MPJI's key target audiences and priority partners.

Develop & maintain MPJI's content strategy for owned communication channels, including our website, newsletter, social media, and other channels as needed.

Identify and assess opportunities for new owned communications channels (e.g., new social media channels, new newsletters, etc.) and work with key team members to implement new channels as needed.

Develop & maintain MPJI's thought leadership strategy & plan, including working with MPJI's senior leadership team to identify thought leadership opportunities in their areas of expertise, setting an overall thought leadership publication schedule, and managing the development of thought leadership content. (e.g., co-developing talking points, testimony, op-eds, and infographics for MPJI policy communications and outreach)

Manage the production of MPJI's creative content and assets, including marketing & communications assets, website, videos, and other assets as needed.

Manage the production of speeches & presentations to support members of the MPJI leadership team in their public appearances.
Marketing
Develop & maintain strategies to increase awareness about MPJI with key target audiences and particularly with our priority partner segments, including policy and thought leadership opportunities, sponsorships, and other tactics.

Work closely with the Executive Director to develop & implement strategies to bring new partnership opportunities into our funnel from potential new partners within our partner segments.

Work closely with the Executive Director and external communications team to develop & implement strategies to increase engagement with existing partners, including developing marketing strategy to meet partnership goals and measuring/reporting to quantify impact.
Public Relations
Develop & maintain MPJI's strategic approach to public relations, including audiences we want to engage, priority target outlets and reporters to reach those audiences, and the stories we want to tell.

Work closely with MPJI external consultants to oversee development of PR assets including, press releases, media lists, talking points, and other assets as needed.

Develop & maintain MPJI's crisis communications strategy to protect the organization's reputation against threats and oversee crisis communications as needed.

Work with MPJI's designated spokespeople to provide media training support as needed.

Speak directly with the media on behalf of MPJI, as needed.

Provide crisis communications support to MPJI partners as needed.
Management
Oversee the work of the MPJI external communications consultants, ensuring the highest level of service and best possible price, managing vendors to performance targets, and selecting and onboarding new vendors as needed.

Working closely with the Executive Director, manage MPJI's marketing, communications & PR budget, ensuring the organization's resources are spent judiciously.
Requirements
Knowledge, Skills and Abilities
A strong understanding and alignment with MPJI's vision, mission, and approach.

Ability to work effectively with people from different cultures, backgrounds, and perspectives.

Strong strategic communications & marketing acumen.

Strong interpersonal skills and an ability to build trust and rapport with internal stakeholders, including executive management, the Board of Directors, and staff.

Excellent, proactive team player. Strong leader and manager of people and processes. Exceptional and persuasive written, oral, interpersonal, and presentation skills.

Demonstrated ability to prioritize amongst multiple commitments, and to drive multiple high profile and complex projects simultaneously in a challenging and fluid environment. Fluency in using and incorporating new and emerging technologies to facilitate internal communications.

Innovative thinker, with a track record for translating strategic thinking into flawless execution.

A motivated, high-energy self-starter with a strong work ethic.

Process-oriented, with a high attention to detail.

Production and event management experience is a plus.
Education and Experience
Bachelor's degree in marketing, journalism, communications, or related field required(master's degree is preferred).

15+ years of relevant and applicable work experience required, including experience developing, executing, and evaluating results-oriented communications and marketing strategies and tactics.

Demonstrated passion for community organizing and nature. Experience working with social causes in a nonprofit, government, or related field is a plus, but not required.

Experience leading broadly skilled, high-performing communications and marketing teams is required.

Experience selecting and managing independent marketing and communications contractors, consultants, and vendors is required.

Deep experience with Google and Salesforce suite of products is required.
Compensation: $75,000 to $90,000, depending on candidate experience. MPJI offers a competitive benefits package including 401k, medical, dental, life insurance, and paid time off.
All MPJI staff should be:
Personable with a good sense of humor

Must be passionate about and able to relate to under-represented individuals in the LGBTQIA+ community.

Solution-oriented with the ability to counterbalance problems with creative solutions.

Energetic and committed to working in an entrepreneurial environment with the ability to prioritize responsibilities while delivering timely and accurate work product.
ADA SPECIFICATIONS
The physical demands described here are representative of those that must be met by an individual to successfully perform the essential functions of this job. Reasonable accommodations may be made to enable individuals with disabilities to perform the essential functions.

While performing the duties of this job, the individual is regularly required to sit and talk or hear. The individual is occasionally required to stand or walk; use hands to handle, or feel; stoop, kneel, crouch, or crawl; and reach with hands and arms. The individual must occasionally lift and/or move up to 50 pounds. Specific vision abilities required include close vision.

The above statements are intended to describe the general nature and level of work being performed by the individual(s) assigned to this position. They are not intended to be an exhaustive list of all duties, responsibilities, and skills required. Management reserves the right to modify, add, or remove duties and to assign other duties as necessary. In addition, reasonable accommodations may be made to enable individuals with disabilities to perform the essential functions of this position.
Commitment to Disability, Diversity, Equity, & Inclusion: The Marsha P Johnson Institute is an equal opportunity employer, we value and seek a diverse workforce.
---

Our Commitment to Diversity, Equity, Inclusion & Belonging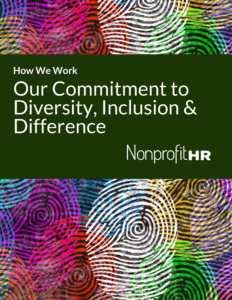 Nonprofit HR is committed to fostering and maintaining a work environment where diversity, equity, and inclusion (DEI) are fully integrated into everything we do for the benefit of our employees and the clients that we serve. To fully realize our goal, we prioritize our understanding of the complexities of DEI within our workforce to inform our approach to talent management. We believe that this guides how we do our work, advise our clients to operationalize DEI and position our content and educational opportunities help strengthen the talent management capacity of the social impact sector.
Continue reading our about our commitment at nonprofithr.com/deinow.
Apply for this position
Required*