Director of Community Mobilization (GLSEN)
New York, NY
Full Time
Executive
| | |
| --- | --- |
| Reports to: | Deputy Executive Director for Programs and Power Building |
| Location: | The Community Mobilization Director primarily works in GLSEN's headquarters in New York City and will travel to chapters across the United States (approximately 30-40%). During the Coronavirus pandemic this role is 100% remote while social distancing orders are in place. |
| Annual Salary: | $110,000.00 - $120,000.00 |
About GLSEN
GLSEN works to create safe and affirming schools for all students, regardless of sexual orientation, gender identity, or gender expression. We have been doing this work since 1990, and we are the only national organization dedicated to transforming K-12 education systems to affirm LGBTQ+ students, particularly those who are trans, nonbinary, Black, Indigenous, people of color, people with disabilities, and from other communities that experience marginalization. With 44 Chapters in 40 states across the country, we work at the national, state, and local levels to form GSAs (Gay Straight Alliances or Gender and Sexuality Alliances), supportive networks of educators and other adult allies, develop inclusive curriculum, and pass policies that prohibit victimization, including discrimination, bullying, harassment, and punitive discipline that puts young people at greater risk for entering the school to prison pipeline. Our work has produced measurable improvements in the lives of LGBTQ+ students in the United States and internationally and helped establish new norms of safety and affirmation for LGBTQ+ students in K-12 schools.
For more information on GLSEN's policy advocacy, student leadership initiatives, school-based programs, research, and professional development for educators visit www.glsen.org.
About You
We are looking for individuals who are willing to think boldly about the future of K-12 education and how best to serve students. The GLSEN team seeks colleagues committed to addressing the needs of all LGBTQ+ students and advancing equity in K-12 education, particularly in terms of promoting racial justice. We need individuals that work to build community with colleagues and volunteers and have a track record of working across differences to advance social causes. We need not just your passion, but your talents, skills, and willingness to do the hard work to build a more equitable future.
About this Role
GLSEN seeks a Director of Community Mobilization to join our leadership team. The Director of Community Mobilization is responsible for building the power and health of GLSEN's national network of volunteer led GLSEN Chapters, helping to drive impact, learning, and growth at all levels of the organization by building and sustaining the strengths of our chapters and the collective power of the network. This includes fostering the connection between local GLSEN chapters and the national staff, as well as ensuring that GLSEN chapters are deeply connected with local partners in their service areas, providing a vital link across communities of school stakeholders.
The Director of Community Mobilization plays a key role in facilitating learning and dialogue across the network, ensuring that local knowledge and experience contribute to continual evolution and improvement for GLSEN, and that we are building power for LGBTQ+ and other marginalized school stakeholders. In partnership with colleagues across the national staff team, the Director of Community Mobilization ensures that all GLSEN programs, relationships, campaigns, and resources have impact at the local level, and that the power of GLSEN's network contributes to building greater equity in K-12 education for all students, regardless of their sexual orientation, gender identity, or gender expression.
What is Needed to be Successful in this Role?
Bachelor's degree and 5-7 years' experience (or +9 years' experience with no Bachelor's degree) with progressive leadership experience and management responsibility within community organizing/coalition building, volunteer management, youth development programming, or K-12 education;
Proven ability to work with volunteers and community members, as well as students, educators, local school stakeholders and others in ways that empower them to achieve concrete programmatic and campaign goals;
Strong management skills and the ability to mentor and lead diverse, intergenerational teams of staff professionals and volunteer GLSEN chapter leaders;
Passion for equity in K-12 education and for health, well-being, and opportunity for LGBTQ+ students;
Experience creating and deploying programming and campaigns that are driven by and/or responsive to community stakeholders;
Ability to work effectively and manage a team under the pressure of multiple tight deadlines and budgetary constraints;
Demonstrated ability to foster community across difference;
Excellent written and oral presentation skills;
Exceptional relationship management skills;
Collaborative and resourceful mindset to leverage opportunities to achieve goals;
Experience within medium to large non-profit, and/or social justice organizations, and working towards systems change on issues that impact marginalized communities preferred.
Benefits:
GLSEN offers a generous benefits package, including paid time off in addition to 10 paid holidays per year – two weeks off provided in addition to paid time off (July and December); 100% employer-paid medical and dental insurance for staff and optional benefits for family members (including domestic partners); life insurance; and a 401k plan with increasing employer contributions based on staff tenure.
GLSEN is an Equal Opportunity Employer. We strongly encourage people of color, people of diverse gender identities, people with disabilities, women, and non-LGBTQ people to apply.
---

Our Commitment to Diversity, Equity, Inclusion & Belonging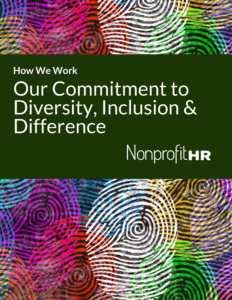 Nonprofit HR is committed to fostering and maintaining a work environment where diversity, equity, and inclusion (DEI) are fully integrated into everything we do for the benefit of our employees and the clients that we serve. To fully realize our goal, we prioritize our understanding of the complexities of DEI within our workforce to inform our approach to talent management. We believe that this guides how we do our work, advise our clients to operationalize DEI and position our content and educational opportunities help strengthen the talent management capacity of the social impact sector.
Continue reading our about our commitment at nonprofithr.com/deinow.
Apply for this position
Required*