Front End Web Developer and Administrator (WordPress) - (National 4-H Council)
Remote
Full Time
Experienced
| | |
| --- | --- |
| Position Title | Front End Web Developer and Administrator (WordPress) |
| Business Unit | Marketing & Brand |
| Home Department | Marketing & Brand |
| Location | Remote |
| Full-Time or Part-Time | Full-Time |
Our Mission: 4-H believes in young people and giving all youth equal access to opportunity. For over 100 years, 4-H has supported the next generation of true young leaders. National 4 H Council (Council) is committed to providing leadership and resources so that 4 H programs are available to youth across the US. As the nation's largest youth development organization, 4-H grows confident young people who are empowered for life today and prepared for a career tomorrow. Our team is dedicated to helping kids – nearly 6 million every year – achieve their boldest dreams, empowering not only them but their communities through programs in STEM, Agriculture, Healthy Living and Civic Engagement. The 4-H experience consistently results in youth 2x more likely to excel in school; 4x more likely to take action in their communities; 2x more likely to make healthier choices; and 2x more likely to pursue STEM education or careers. Together, we can create #opportunity4all.
Position Summary
Talent is everywhere – opportunity is not. We want to change that. The youth we serve come from all walks of life, and so do we. Our goal is to empower young people in ways that are as unique as they are, so we hire great people from a wide variety of backgrounds, not just because it's the right thing to do, but because it makes our organization more robust and more diverse.
National 4-H Council is seeking an experienced front-end web developer and web administrator to join our team. The person in this role will play a hands-on role in managing 4-H.org content, and front-end user interface development. They will interface with all departments within National 4-H Council to establish content needs and strategy and our various web development and content vendors. They will be able to receive input from multiple stakeholders and output a project plan, including timelines, content strategy, wireframes, budgets, and staging pages for review as necessary.
The ideal candidate will be comfortable working in a fast-paced environment and be able to manage several ongoing projects at any given time. They will be experts in WordPress content management, user interface development, PHP, CSS, HTML, and Javascript. They will ensure that their code and content and vendor code and content follow best practices for organization, efficiency, effectiveness, performance, security, and accessibility. Agency experience is preferred.
Responsibilities
Collaborate with the Senior Interactive Producer, marketing leadership, and stakeholders to ensure the website drives revenue, leads, organic traffic and delivers a superior user experience through technical implementation.
Review, prioritize and assign projects and tasks to development teams (external).

Evaluate the technical feasibility of UI/UX designs and translate them into functional specifications for the development team.

Develop new web pages, components, or modules to meet functionality requirements.

Collaborate with leadership to ensure development objectives are known, support strategic initiatives, and reflect the larger needs of the organization.

Analyze website metrics to determine opportunities to optimize applications for usability, performance, security, and scalability.

Work with Council teams and vendors to maintain website infrastructure, including servers, platform and plugin licensing, integrations, and security.

Stay up to date on web-based application design and development standards.

Responsible for all front-end development and management of back-end operations.

Write and review website code, ensuring mobile-responsive websites.

Produce, maintain and modify website and user interface.

Develop web templates based on Interactive Producer designs.

Validate UX/UI designs through requirements and technical specifications.

Incorporate applications, graphics, audio, and video clips into the website – including resizing, reformatting, etc. (Photoshop, Canva, or InDesign).

Ensure the website is accessible across all major platforms, including desktops, laptops, tablets, and smartphones.

Fix any website issues or bugs that arise.

Routinely test website for ease of use, performance, and other quality factors.

Manage website user management and permissions.
Expected Deliverables
Create and update web pages
Development of additional website features, user interfaces, and back-end systems

Effective, consistent leadership of development and project management related to updating, analysis, maintenance, and optimization of web-based technology solutions utilized by Council's Marketing & Brand department, including, but not limited to, 4-H.org and 4HCenter.org.

Create and integrate tools that enhance the user's website experience.

Develop and implement code for website analytics and marketing campaign tracking.

Develop lead acquisition and donation forms and CRM mapping (in collaboration with the CRM project manager)

Identify new technologies/plugins to improve website usability, performance, and engagement.
Skills and Qualifications
Must Have
BSc or MSc in computer science or related discipline.

Minimum five years' programming experience including HTML/HTML5/XHTML, CSS, JavaScript, and jQuery.

Minimum three years' experience using WordPress platform features, functionality, and customization.

Minimum one year experience as team lead or supervisor of web development teams.

Experience supporting multiple device screens (Mobile and Desktop Responsive).

Experience with client-side scripting and JavaScript frameworks, including jQuery.

Experience converting design files (Figma, XD, PSD, Sketch) to HTML/CSS web pages.

Expert understanding of SEO principles and driving application compliance.

Deep knowledge of code versioning tools, including Git.

In-depth knowledge of front-end programming languages.

Experience using common WordPress tools and plugins, including import/export, Advanced Custom Field, SSO, Gravity Forms, SMTP, etc.

Experience with using WordPress page-building tools, such as Beaver Builder.

Understanding of performance analysis using Google Analytics, Google Page Speed, and GT Metrix.

Basic knowledge of image / video editing tools to be able to crop, resize, or perform small adjustments.

Proficiency in MS Office 365 applications (Word, Excel, PowerPoint, Outlook, SharePoint, OneDrive, Teams).

Ability and desire to perform Quality Assurance analysis on own work and that of vendors.

Strong communication skills to work effectively with a variety of internal and external stakeholders.

Ability to lead and perform in a team-oriented environment.

Strong organizational skills and the ability to prioritize effectively using project management tools such as Smartsheet, Asana, or Jira.
Nice to Have
Experience with mockup and UI tools for wireframing and prototyping.

Proficient understanding of asynchronous request handling, partial page updates, and AJAX.

Proficient understanding of navigating cross-browser compatibility issues.

Shopify e-commerce integration experience.

Understanding of server-side CSS pre-processing platforms, such as LESS and SASS.

Experience creating and managing Learning Management Systems (LMS)
---

Our Commitment to Diversity, Equity, Inclusion & Belonging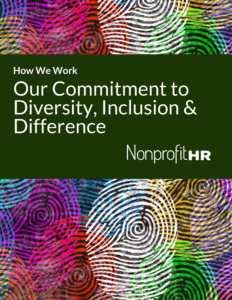 Nonprofit HR is committed to fostering and maintaining a work environment where diversity, equity, and inclusion (DEI) are fully integrated into everything we do for the benefit of our employees and the clients that we serve. To fully realize our goal, we prioritize our understanding of the complexities of DEI within our workforce to inform our approach to talent management. We believe that this guides how we do our work, advise our clients to operationalize DEI and position our content and educational opportunities help strengthen the talent management capacity of the social impact sector.
Continue reading our about our commitment at nonprofithr.com/deinow.
Apply for this position
Required*