Senior Human Resources Manager (Everybody Votes Campaign)
Remote
Full Time
Experienced
ABOUT EVERYBODY VOTES CAMPAIGN
Everybody Votes Campaign (EVC) is a national non-partisan, not-for-profit hiring staff for a large-scale coordinated civic engagement campaign active through the 2024 election cycle. The campaign aims to create a more representative democracy by registering millions of underrepresented voters across the country. This effort focuses on voter registration in a targeted fashion by conducting at-scale, effective, efficient, metrics-driven registration work. Through this work, we seek to fundamentally change the make-up of the electorate and to increase the political power of traditionally underrepresented communities in our democracy.
We directly fund organizations who execute voter registration and run quality control operations. We are dedicated to being active participants with the organizations to ensure their programs are effective and promote an investment in the future of emerging communities.
ABOUT THE OPPORTUNITY
The organization seeks to hire an experienced Senior Human Resources Manager who will be responsible for managing employee relations, benefits administration, compensation analysis, recruitment and talent management. This position will set objectives for the organization and track the progress. The position requires the utmost professionalism when dealing with staff and human resources vendors. We will be seeking a candidate who will operate with discretion and work within deadlines to improve existing human resources processes for the organization and manage recruitment with the ultimate goal is to ensure that a company attracts and hires qualified candidates. This position will work as part of the Finance and Operations team reporting to the Deputy Director of Operations.
WHAT YOU WILL DO IN YOUR ROLE
This position will enhance the organization's human resources by planning, implementing, and evaluating employee relations and human resources policies, programs and practices. This includes:
Employee Relations
Plan, monitor, and appraise HR activities by scheduling management conversations and trainings with employees, hearing and resolving employee grievances, training managers to coach and discipline employees, and counseling employees and supervisors

Lead the performance management process including creating a plan to manage annual reviews; conduct training on goal-setting and performance feedback; and manage annual performance reviews.

Advises and trains managers and supervisors in best employee relations practices and strategies for managing supervisor problems and employee grievances.
Compliance & Benefits Administration
​​

Ensures legal compliance by monitoring and implementing applicable human resource federal and state requirements.

Retains historical human resource records by designing a filing and retrieval system and keeping past and current records.

Enforces management guidelines by preparing, updating, and recommending human resource policies and procedures, and code of conduct.

Manages open enrollment process and ensures benefits communication and compliance requirements are met throughout the year.

Conduct regular total compensation market analysis and make recommendations for compensation structure and market competitiveness for each position and function.
Recruitment and Talent Management
Supports the organization by establishing a recruiting, testing, and interviewing program; counseling managers on candidate selection; conducting and analyzing exit interviews; and recommending changes.

Champion the onboarding process, ensuring the process is up to date and of high quality, providing clarity and connection for all employees and their role in relation to the overall vision
Oversee full cycle recruitment process of new employees; employ innovative sourcing strategies, actively network and employ creative recruiting methods to hire the best talent in accordance with HR methodologies and labor laws.

Coordinate vacancy posting in internal and external media as appropriate.

Regularly organize staff training sessions for learning and interdepartmental interaction.

Research industry compensation standards and governing bodies to update salary structures and administer employee benefits in partnership with the leadership team.

Lead the performance management process including creating a plan to manage annual reviews; conduct training on goal-setting and performance feedback; and manage annual performance reviews.

Manage offboarding and exit interviews

Retains historical human resource records by designing a filing and retrieval system and keeping past and current records.
CORE COMPETENCIES
Growth mindset

: demonstrated ability to take and receive feedback with professionalism and grace from peers and staff as well as supervisors.

Relentlessly goal-oriented

:

enjoys working toward and achieving ambitious goals; willing to go over, under, around, or through any obstacle that gets in the way of meeting goals with a proven track record of creating and executing/managing comprehensive strategic goals.

Cultural competency

:

able to build relationships and collaborate with colleagues, partners, and stakeholders across multiple lines of identity difference.

Keeps Calm in Stressful Situations

: demonstrated capacity and willingness to work long hours during peak season, rolling up their sleeves and getting the work done.
REQUIREMENTS FOR THIS ROLE
Knowledge and familiarity with DEI principles: Recognizes ways that race and other identities intersect in the work, especially with communities we serve. Comfortable talking about identities such as race, ethnicity, sexual orientation, class, ability, or gender in plain, specific terms. Understands the historical context for racial inequity and its present-day implications.

Self-awareness and emotional intelligence: Able to reflect on and describe the impact of one's own identities—and those of others—in a given situation, decision, or process. Demonstrates awareness of growing edges. Able to hear, reflect, act on, and learn from feedback regarding identity and equity.

Manages a high volume of work with efficiency: Has, or can create, a system for keeping tasks from slipping through the cracks. Able to juggle competing demands and prioritize without sacrificing quality. Plans backwards to make deadlines. Asks for help when needed. Strong command over various Applicant Tracking Systems and other management human resource information systems (HRIS) such as SmartRecruiters, Bamboo HR, Google Suite;

Attentive, empathetic leadership: Enthusiasm for meeting and engaging with people. Empathizes with the communities we serve. Able to put people at ease, especially when there are lines of difference. Listens closely to understand needs or concerns and takes steps based on that input. Gets back to people in a timely manner. Takes pride in providing clear, helpful information.

Trustworthiness and collaborative: Comes across as genuine. Says what they mean. Builds authentic relationships across lines of difference, such as race, ethnicity, sexual orientation, class, ability, gender identity, citizenship status, or other identities. Follows through on commitments. Protects employees' privacy when managing sensitive issues. Track record of effective working relationships with diverse stakeholders and ability to work as a part of a team and across departments.

Industry expertise: Sound knowledge of labor/tax laws and regulations. Demonstrated success as an HR generalist supporting remote employees in multiple states across the United States. Experience with analyzing data to guide strategic employment planning.

Adaptable and organized: Demonstrated ability to work, manage, and meet competing deadlines in a fast-paced, high volume environment. Aptitude for problem solving and decision making needed.

Excellent interpersonal, analytical, and communication skills, both written and spoken;

Commitment to and passion for the organization's mission.
Helpful but not required:
HR Certification preferred.

Experience with Kelly Total Benefits Solution (KTBS)

Experience working in the fields of voter registration or voting rights.
BENEFITS AND CULTURE
We offer flexible remote forward work, and a generous benefits package; including 100% cost coverage of employee health benefits, 401K with an automatic employer contribution regardless of employee contribution level, virtual therapy, stipend for ergonomic office set ups and generous vacation and leave policies.
All employees must be eligible to work lawfully within the United States upon the commencement of employment. The organization does not sponsor visa applications for prospective or current staff.
Our work is centered on creating a deeply inclusive and significantly more representative electorate. In order to be successful in this role, the candidate must have the cultural competence to successfully work with a diverse group of staff, partners and stakeholders. We especially strongly encourage applicants with close ties to Black, Latinx, Indigenous, non-English-speaking, disability, and LGBTQ+ communities to apply. We are proudly an Equal Opportunity Employer.
Salary: $95,000 - $105,000 annually
---

Our Commitment to Diversity, Equity, Inclusion & Belonging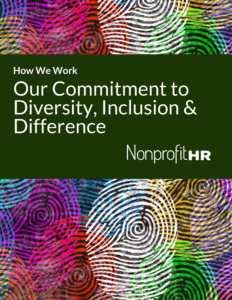 Nonprofit HR is committed to fostering and maintaining a work environment where diversity, equity, and inclusion (DEI) are fully integrated into everything we do for the benefit of our employees and the clients that we serve. To fully realize our goal, we prioritize our understanding of the complexities of DEI within our workforce to inform our approach to talent management. We believe that this guides how we do our work, advise our clients to operationalize DEI and position our content and educational opportunities help strengthen the talent management capacity of the social impact sector.
Continue reading our about our commitment at nonprofithr.com/deinow.
Apply for this position
Required*