Warehouse Order Processor (National 4-H Council)
Wood Dale, IL
Full Time
Mid Level
| | |
| --- | --- |
| Position Title | Warehouse Order Processor |
| Location | Wood Dale, IL |
| FLSA Status | Non-Exempt (Hourly) PLUS Overtime |
| Full-Time or Part-Time | Full -Time |
| Hourly Rate | $20 per hour |
| Hours of Operation | 7:30 AM to 3:30 PM |
Our Mission: 4-H believes in young people and giving all youth equal access to opportunity. For over 100 years, 4-H has supported the next generation of true young leaders. National 4 H Council (Council) is committed to providing leadership and resources so that 4 H programs are available to youth across the US. As the nation's largest youth development organization, 4-H grows confident young people who are empowered for life today and prepared for a career tomorrow. Our team is dedicated to helping kids – nearly 6 million every year – achieve their boldest dreams, empowering not only them but their communities through programs in STEM, Agriculture, Healthy Living and Civic Engagement. The 4-H experience consistently results in youth 2x more likely to excel in school; 4x more likely to take action in their communities; 2x more likely to make healthier choices; and 2x more likely to pursue STEM education or careers. Together, we can create #opportunity4all.
Position Summary
The Warehouse Order Processor is responsible for the picking and packing of customer orders, replenishment of the bins, unloading and loading trucks as needed, and maintaining a neat, clean, and orderly warehouse environment.
Responsibilities
Order Picking 20%
Prepare and complete orders for delivery or pickup according to schedule

Perform inventory controls and keep quality standards high for audits

Fill customer orders for staging in the packing area.

Communicate manual back-order information.
Order Packing & Restock 60%
Assess order to determine size of carton or other packaging needed for the shipment.

Verifying items picked match picketing tickets and communicating variations.

Packing of merchandise to limit the amount of damage or breakage of goods.

Determine method of shipping based on weight and knowledge of carriers and rates.

Affixing proper labels and other needed markings required by the carrier to ensure fast and

accurate delivery of the package.
Receiving & General Warehouse Support 20%
Receive and process warehouse stock products (pick, unload, label, store)

Unloading inbound shipments from UPS, USPS, FedEx, and Common Carriers.

Examine all cartons before acceptance of goods.

Open and unpack cartons, checking packing slip against items received.

Inspecting for quality control purposes a sample of goods based on the amount of goods received.

Complete proper documentation for data entry purposes.
Team Contributions
Back-stop the Warehouse Manager as needed.

Assist in the set-up of new items and movement of merchandise throughout the warehouse.

Monitor stock on discontinued items for inventory control and website updates.

Provide maintenance of the warehouse facility, including janitorial and waste disposal tasks.

Count and bag items to increase the speed in which future orders can be picked, packaged, and shipped.
Qualifications
High school diploma or GED or equivalent in work experience.

8-10+ years' experience in a supply chain/warehouse environment.

Proficiency in MS Office applications (Word, Excel, and Outlook).

Proficiency in MAS 500 or related financial software.

Proficiency in Crystal or other related supply management software.

Able to perform in a team-oriented environment.

Strong organizational skills and the ability to prioritize.
Career Ladder:

Position typically has the following career ladder:
Travel Requirements: None
Vaccination Requirements: As part of our commitment to health and safety, we require all Warehouse Order Processor to be fully vaccinated against COVID-19. The Council complies with applicable laws regarding the confidentiality of Associate Health Information and the reasonable accommodation of individuals with disabilities and/or sincerely held religious beliefs.
ADA Requirements
The physical demands described here are representative of those that must be met by an Associate to successfully perform the essential functions of this job. Reasonable accommodations may be made to enable individuals with disabilities to perform the essential functions.
This role routinely uses standard office equipment such as computers, telephones, photocopiers, and filing cabinets.

This role requires travel and the ability to provide on-site attendance, requiring walking, standing, bending and sitting as necessary.

Basic math skills needed to calculate formulas, commissions, discounts, etc.

Must be able to lift 50 to 75 pounds.
Disclaimer
This job description indicates in general the nature and levels of work, knowledge, skills, abilities and other essential functions (as covered under the Americans with Disabilities Act) expected of an incumbent. It is not designed to cover or contain a comprehensive listing of activities, duties or responsibilities required of an incumbent. An incumbent may be asked to perform other duties as required.
National 4-H Council is an Equal Opportunity Employer.
---

Our Commitment to Diversity, Equity, Inclusion & Belonging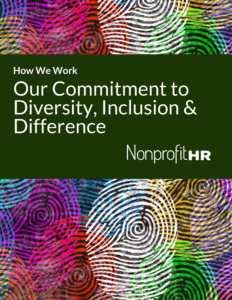 Nonprofit HR is committed to fostering and maintaining a work environment where diversity, equity, and inclusion (DEI) are fully integrated into everything we do for the benefit of our employees and the clients that we serve. To fully realize our goal, we prioritize our understanding of the complexities of DEI within our workforce to inform our approach to talent management. We believe that this guides how we do our work, advise our clients to operationalize DEI and position our content and educational opportunities help strengthen the talent management capacity of the social impact sector.
Continue reading our about our commitment at nonprofithr.com/deinow.
Apply for this position
Required*