VP Information Technology (National 4-H Council)
Bethesda, MD
Full Time
Senior Manager/Supervisor
| | |
| --- | --- |
| Position Title | VP Information Technology |
| Business Unit | Finance & Business Operations |
| Home Department | Information Technology |
| Location | Washington, DC Metropolitan Area |
| FLSA Status | Exempt |
| Full-Time or Part-Time | Full -Time |
| Telecommuter Status | Temporarily Remote - The position will be required to report on-site upon request of the supervisor. General telework location must be within reasonable driving distance of our Bethesda, MD office.  Out-of-state candidates must be willing to relocate to DC metro within six months of hire. |
| Reports to | SVP & Chief Financial and Administrative Officer |
In response to COVID-19, all positions are currently temporarily remote
Our Mission: 4-H believes in young people and giving all youth equal access to opportunity. For over 100 years, 4-H has supported the next generation of true young leaders. National 4 H Council (Council) is committed to providing leadership and resources so that 4 H programs are available to youth across the US. As the nation's largest youth development organization, 4-H grows confident young people who are empowered for life today and prepared for a career tomorrow. Our team is dedicated to helping kids – nearly 6 million every year – achieve their boldest dreams, empowering not only them but their communities through programs in STEM, Agriculture, Healthy Living and Civic Engagement. The 4-H experience consistently results in youth 2x more likely to excel in school; 4x more likely to take action in their communities; 2x more likely to make healthier choices; and 2x more likely to pursue STEM education or careers. Together, we can create #opportunity4all.
Position Summary:
National 4-H Council is currently seeking a proven leader as its Vice President, Information Technology, to join the Finance & Business Operations team. The incumbent will be responsible for the end-to-end internal function across the organization, from leading the IT function to developing and implementing a forward-looking strategy focused on delivering technology and data solutions that align and solve business needs. The role has overall responsibility and accountability for the people, processes, technology, and data that make up IT infrastructure, applications, data security, cybersecurity, IT cost management, business, and customer relationship management. The business objective is to serve our mission by strengthening Council's business position through improved technology platforms, data governance, and data management. Ensuring the interconnection of the systems is streamlined, reliable, maintainable, scalable, flexible, and secure. Strong business sense, change management altitude, hands-on capability, and technical know-how are key success factors.
Responsibilities:
This hands-on, forward-thinking leader will be a thought partner with the SVP & Chief Financial and Administrative Officer, cross-functional teams and will be actively involved and lead in developing the vision and a road map to execute current and future new business activities, providing strategic and tactical planning, development, evaluation, and coordination of the information and technology systems.
Lead the planning and implementation for the migration and replacement of technology hardware, operating systems, and networking platforms, as needed.

Lead the development and execution of long term organizational Digital Transformation, advancing the organization's strategic goals through technology.

Lead the planning and implementation of the Business Continuity Plan for the organization, that delivers a structured and repeatable process for all business leaders.

Gravitas and the ability to inspire confidence in technical capability and the persuasive, compelling presentation of ideas. Facilitates communication and coordination between staff, management, vendors, and other technology resources within the organization to improve technology solution integrity, utilization consistency, and user experience.

Disrupt how we approach established processes and business challenges using data science. Outline the planning and implementation of actionable data governance framework and IT strategy

leveraging new technologies to build and maintain a more

agile data architecture and management.

Evaluate key industry and technology trends and provide thought leadership on emerging technologies; ensure the IT team is engaged in current trends and developments.

Oversee the strategic direction of the enterprise infrastructure organization, including data, data centers/hosting, networks and telecommunications, desktop and devices, helpdesk, service delivery, information security, and shared applications.

Drive technology infrastructure and production services towards an efficient, responsive, and reliable internal delivery organization focused on service and cost aligned with business segment priorities and requirements.

Designs, implements, and evaluates the systems that support end-users in the productive use of computer hardware and software.

Collaborates with business units to ensure data needs, reporting tools, and resources are aligned and available.

Manages the IT budget related to administrative, capital, and project expenses.

Recruits, interviews, hires, trains, and retains

a diverse team of IT professionals; create accountability and ownership among team members by communicating clear expectations, supervision, and timely performance feedback.
Skills and Qualifications:
Demonstrates expertise in various

information technology

concepts and discipline areas, including network security, problem resolution,

product management, relationship management,

desktop computing, access management,

business Intelligence, and troubleshooting.

Drives the use of data and technology within the organization, constantly creating new insights to assist the organization in making fact-based decisions.

BSc/BA degree in Business Administration, Computer Science, Engineering, or relevant field required; MSc/MA will be preferred.

10+ years of multi-discipline IT experience in leadership and technical roles in the private and/or public sectors required, emphasizing applications, cybersecurity, infrastructure, e-commerce, databases, cloud infrastructure, and IT management tools.

Significant experience in retail and/or eCommerce is desirable but not required, specifically in technology and information systems to support business goals.

Experience with cloud computing and other forms of service-based computing is required.

Experience with major technology implementation in ERP, CRM, eCommerce, Business Intelligence, Microsoft infrastructure environment; Intermediate/advanced Microsoft Office product skills (e.g., Access, Excel, PowerPoint).

Financial authority as defined by nonprofit governance and the 4-H framework document, including but not limited to annual IT budgets, ongoing IT capital, and resource projects, and supporting investment requirements across the organization.

Proven ability to build strong relationships across the organization to ensure IT business system delivery expectations are met and priorities are set at the appropriate level.

Proven experience building a service-oriented organization. Demonstrated experience planning and directing IT efforts to improve operational efficiency, service delivery, and information management across multiple business functions and technology platforms.

Experience with contract and vendor negotiations and expertise in negotiating complex contracts and managing vendors, including design and tracking of Service Level Agreements (SLAs).

Demonstrated ability to translate complex technical concepts into impactful statements for various audiences and levels of sophistication.

Strong written, interpersonal, and oral communication skills with a commitment to a high level of customer service and confidentiality. Ability to interact with Senior and C-Suite executives.
Travel Requirements: Travel may be necessary, up to 15% of the time (local, regional, national, international) by air, car, and/or rail.
Vaccination Requirements: As part of our commitment to health and safety, we require all VP Information Technology to be fully vaccinated against COVID-19. The Council complies with applicable laws regarding the confidentiality of Associate Health Information and the reasonable accommodation of individuals with disabilities and/or sincerely held religious beliefs.
ADA Requirements
The physical demands described here are representative of those that must be met by an Associate to successfully perform the essential functions of this job. Reasonable accommodations may be made to enable individuals with disabilities to perform the essential functions.
This role routinely uses standard office equipment such as computers, telephones, photocopiers, and filing cabinets.

This role requires travel and the ability to provide on-site attendance, requiring walking, standing, bending and sitting as necessary.

Basic math skills needed to calculate formulas, commissions, discounts, etc.

Must be able to lift up to 10 pounds.
Competencies
| | |
| --- | --- |
| Competency | Level (Beginning, Proficient, Advanced, Mastery) |
| Communications | Mastery |
| Critical Thinking | Mastery |
| Initiative & Innovation | Advanced |
| Collaboration & Teamwork | Mastery |
| Customer Orientation | Advanced |
| Business Mindedness | Advanced |
| Spirit of Diversity & Inclusion | Advanced |
Disclaimer
This job description indicates in general the nature and levels of work, knowledge, skills, abilities and other essential functions (as covered under the Americans with Disabilities Act) expected of an incumbent. It is not designed to cover or contain a comprehensive listing of activities, duties or responsibilities required of an incumbent. An incumbent may be asked to perform other duties as required.
---

Our Commitment to Diversity, Equity, Inclusion & Belonging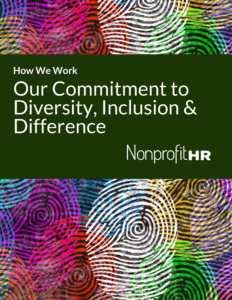 Nonprofit HR is committed to fostering and maintaining a work environment where diversity, equity, and inclusion (DEI) are fully integrated into everything we do for the benefit of our employees and the clients that we serve. To fully realize our goal, we prioritize our understanding of the complexities of DEI within our workforce to inform our approach to talent management. We believe that this guides how we do our work, advise our clients to operationalize DEI and position our content and educational opportunities help strengthen the talent management capacity of the social impact sector.
Continue reading our about our commitment at nonprofithr.com/deinow.
Apply for this position
Required*