Chief of Staff (Everybody Votes Campaign)
Remote
Full Time
Senior Manager/Supervisor
Company Description
Voter Registration Project is a national non-partisan, not-for-profit is hiring staff for a large-scale coordinated civic engagement campaign active through the 2024 election cycle. The campaign aims to create a more representative democracy by registering millions of underrepresented voters across the country. This effort focuses on voter registration in a targeted fashion by conducting at-scale, effective, efficient, metrics-driven registration work. Through this work, we seek to fundamentally change the make-up of the electorate and to increase the political power of traditionally underrepresented communities in our democracy. We directly fund organizations who execute voter registration and run quality control operations. We are dedicated to being active participants with the organizations to ensure their programs are effective and promote an investment in the future of emerging communities.
Job Description
ABOUT THE OPPORTUNITY
The campaign seeks an experienced senior staffer to be the right hand to the Executive Director by serving as the Chief of Staff. The Chief of Staff will own the strategic innovation of the campaign, be an exceptional matrix manager overseeing cross departmental projects, own external national political relationships, and help the ED own major funder relationships. The Chief of Staff will oversee both a general counsel and a strategic communications director. The Chief of Staff will be responsible for directly supporting the senior team in prioritization and decision making by implementing fair processes, managing organizational wide systems for tracking the campaign's progress to their goals, recommending investments or projects to fill gaps, and managing staff and partner relationships. Reporting to the Executive Director, the Chief of Staff will actively lead the senior staff team by acting as the primary resource for priority alignment and cross departmental decision making. They will support national partner engagement and serve as the chief advisor for the Executive Director.
What you will do in your role
Manage the process for the senior leadership team's decision making on organizational and campaign strategy
Manage the design and implementation of systems to track key performance indicators, from individual to organization-wide goals
Own the long-term priorities of the campaign and work in deep collaboration with the ED and senior team to create a long term strategic plan
Directly manage a general counsel and strategic communications director
Act as the most senior matrix management expert at the organization, advising and collaborating with the senior team to efficiently and effectively scale high stakes projects
Own critical national partner relationships as well as help the ED manage and own relationships with key funders
Effectively communicate complex technical information to internal and external stakeholders with a range of different identities, backgrounds, and varying degrees of knowledge about voter registration work
Manage the production of reports and memos for internal and external stakeholders as needed, including board meetings, donor briefings, and partner meetings
Assist the senior team in managing budgets, contracts, and relationships for consultants and partners
Cultural Competencies
Growth mindset: demonstrated ability to take and receive feedback with professionalism and grace from peers and staff as well as supervisors
Relentlessly goal-oriented: enjoys working toward and achieving ambitious goals; willing to go over, under, around, or through any obstacle that gets in the way of meeting goals with a proven track record of creating and executing/managing comprehensive strategic goals
Cultural competency: able to build relationships and collaborate with colleagues, partners, and stakeholders across multiple lines of identity difference
Keeps Calm in Stressful Situations: demonstrated capacity and willingness to work long hours during peak season, rolling up their sleeves and getting the work done
Qualifications
This is a great opportunity for someone who:
Believes that embedding equity and inclusion in every level of the work (from goal setting to hiring) is vital to the success of civic engagement work
Enjoys coming up with creative solutions to big questions through collaboration, and is able to use immediate challenges as windows into future opportunities
Is comfortable representing the organization in the national partner and donor spaces
Brings civic engagement experience working for or with groups that serve communities of color
Knows how to deploy both technical and human resources to scale up complex processes and solutions to be repeatable and reliable
Is excited to engage in a deep partnership with a new Executive Director through intentional collaboration, as well as co-modeling the highest levels of mutual respect, thorough attention to equity, nerdy level of focus on building a culture of feedback, and shared drive towards successful outcomes in both the short and long term.
Requirements for this role
Experience expertly hiring and managing a racially diverse team to successfully meet ambitious goals
A deep understanding of the role of voting as a key component for making a progressive policy change
Track record of successful collaboration and proactive relationship building with national and state organizations and coalitions within the progressive civic engagement and/or campaign ecosystems
Demonstrated ability to lead the collaborative cross-department and/or cross-team projects working in the voter engagement/voter rights space to measurably positive outcomes
Sharp, strategic instincts: you're known to be fast on your feet and able to make confident strategic choices with minimal oversight
Proven ability to make solutions-oriented and actionable recommendations by clearly laying out practical assessments of realistic options for both deeply experienced and more general audiences
Helpful but not required:
Experience working in the field of voter registration
Experience working with leading tools in the progressive data space, such as VAN, Catalist, Civis, Tableau, and/or GIS to target and implement successful civic engagement programs
Experience with direct civic engagement, in particular, field management
Experience creating and managing a team to meet ambitious SMARTIE goals
Additional Information
PHYSICAL REQUIREMENTS
This is a largely sedentary position that requires the ability to communicate information and ideas so others will understand. The selected candidate must be able to exchange accurate information in these situations with the ability to observe details at a close range (within a few feet of the observer) and lift small objects up to 20 lbs. across the office for various needs.
BENEFITS AND SALARY
We offer flexible remote forward work, and a generous benefits package; including 100% cost coverage of employee health benefits, 401K with an automatic employer contribution regardless of employee contribution level, virtual therapy, stipend for ergonomic office set ups and generous vacation and leave policies.
Salary range: $145k-$155k
HOW TO APPLY
Please click I'm Interested to upload your resume and cover letter and three professional references. Only competitive candidates will be contacted and invited to participate in the selection process. Applications are accepted until the position is filled. Salary will be commensurate with experience. We offer a generous benefits package, including excellent health benefits and generous vacation and leave policies.
Our work is centered on creating a deeply inclusive and significantly more representative electorate. In order to be successful in this role, the candidate must have the cultural competence to successfully work with a diverse group of staff, partners and stakeholders. We especially strongly encourage applicants with close ties to Black, Latinx, Indigenous, non-English-speaking, disability, and LGBTQ+ communities to apply. We are proudly an Equal Opportunity Employer
---

Our Commitment to Diversity, Equity, Inclusion & Belonging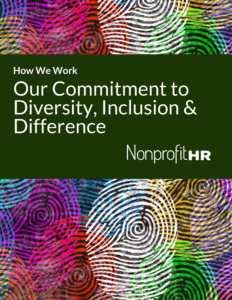 Nonprofit HR is committed to fostering and maintaining a work environment where diversity, equity, and inclusion (DEI) are fully integrated into everything we do for the benefit of our employees and the clients that we serve. To fully realize our goal, we prioritize our understanding of the complexities of DEI within our workforce to inform our approach to talent management. We believe that this guides how we do our work, advise our clients to operationalize DEI and position our content and educational opportunities help strengthen the talent management capacity of the social impact sector.
Continue reading our about our commitment at nonprofithr.com/deinow.
Apply for this position
Required*