Looking for an Energetic, Passionate Leader to Amplify Our Impact on Youthful Lives Through Music
ABOUT THE MUSICIANSHIP
THE MUSICIANSHIP is a 501(c)(3) non-profit organization that changes lives by facilitating music lessons, experiences, and opportunities for youth who need us most. Since 2010, we have provided free music programs to students for whom such opportunities are otherwise out of reach. In just ten years, The MusicianShip has grown from serving two students to over 1,600 per year. In addition to our after-school and summer programs, which serve youth ranging from six years old to young adult, we support two performance groups, The MusicianShip All-City Marching Band and the Washington Youth Choir.
We serve a dual role in the community—as educators and mentors—using music as a platform for students to grow and achieve in all areas of life, bolstered by the determination, discipline, and teamwork skills we nurture. We use music to alter the life trajectory of youth and create a more vibrant, educated, empowered, and well-intentioned world. At our core, we are a youth development organization that leverages the power of music to engage youth, keep them in school, and surround them with positive peer relationships while creating a pipeline to higher education. Our wide range of music programs are geared towards enriching the lives of students, their families, and the communities in which they live. To support our free programs, The MusicianShip stewards a unique, intertwined ecosystem of music-based projects, each supporting our singular purpose of uplifting those in need. As an organization immersed in the life, culture, and vibrancy of its community, we produce the DC Funk Parade, an annual street festival that celebrates funk music, visual arts and the cultural history of the U Street corridor, also known as "Black Broadway." We also produce the Washington Area Music Awards (Wammies®), a 34-year-old music award show that celebrates DC area artists and musicians.
To see us in action, visit our YouTube channel.
ABOUT THE ROLE & POSITION
The Executive Director is a visible leader and spokesperson requiring a bold vision; the ability to craft and communicate strategy; financial and operational acumen; and results-generating development experience. The Executive Director must embrace change and rapid growth while ensuring strategic execution, demonstrating leadership within the organization and the community, enabling the development of staff members, executing marketing and fundraising initiatives, maintaining a culture of energized and accountable staff, and overseeing the day-to-day needs of the organization, which include advocacy as well as community-focused program development and scaling.
The MusicianShip has experienced impressive growth the past few years, and we are focused on continued expansion of our services and programs. We are moving out of the start-up phase and into a more mature model, gaining capacity to serve more community members and other communities. The Executive Director will influence our direction, add to our vision and serve as a major contributor to our strategic planning process while representing The MusicianShip to the community with an awareness and active commitment to equity, inclusion, and diversity in every facet of the work.
The Executive Director works in partnership with our Board of Directors and nurtures relationships to leverage the best from all our stakeholders. They will expand existing, and coordinate new partnerships with government agencies, nonprofit associations, foundations, community organizations, and corporations, to increase income and diversify revenue sources, while expanding our powerful brand and reputation. The Executive Director must be an energetic, passionate, visionary, creative, and flexible leader able to guide and facilitate resource development, access to capital, and other initiatives to enhance and sustain the organization's financial goals and mission-driven opportunities.
The MusicianShip has historically operated virtually without a central office but has recently rented office space with coworking amenities in Anacostia. The Executive Director will establish a workplace culture and lead the adaptation to a hybrid team environment.
The MusicianShip will offer compensation to include a comprehensive benefits package, an annual salary in the range of $120,000 to $135,000 and a potential incentive bonus to be negotiated. Should our new Executive Director hail from outside of the Washington D.C. Metropolitan Area, relocation assistance will also be provided.
ABOUT THE IDEAL CANDIDATE
The Executive Director must have
broad management experience in a nonprofit or business setting, leading high growth through mission-aligned income generation, motivating and enabling team/staff success, program and project development, implementation, and evaluation; grant writing, short- and long-term planning; and budgetary oversight,

exceptional leadership presence and experience speaking in service to a diverse community, with demonstrated ability to increase and leverage organizational visibility, credibility, and brand recognition,

a deep understanding of the challenges facing today's youth, the key stakeholders in the DC area's education and youth development sector, and a firm grasp of the philanthropic landscape,

the ability to

establish credibility throughout the organization and with the Board as an effective developer of solutions to organizational challenges, and

experience creating and maintaining an organizational culture that attracts, motivates, and retains a diverse, talented staff and to blend skill sets, meet objectives, and provide efficient execution.
The ideal candidate is
a dynamic leader who can build and execute thoughtful and ambitious strategies while leading with compassion, with exceptional interpersonal and people management skills, and the ability to creatively build and manage a lean, energized and cohesive team,

a results-oriented motivator, with experience in measuring and showing evidence of impact based on key performance metrics, and

a clear, consistent and empathetic communicator, who excels at relationship building and immerses themselves in the community.
It is critically important that candidates are aligned with our mission to serve youth from diverse backgrounds through music, and we especially invite candidates from diverse backgrounds to apply.
The ideal candidate will have a master's degree or extended experience in a relevant discipline. The successful candidate will possess, at a minimum, a bachelor's degree and significant management experience of which at least five years include experience in executive operations and leading an organization that has demonstrated growth and profitability. Proficiency with CRM software, collaborative tools and technologies, and social media and digital platforms are highly desirable.
APPLICATION PROCESS
For consideration, interested candidates must complete an application and submit both a cover letter and resume. Your cover letter must address your experience and qualifications being sought. Interested individuals are encouraged to apply by or before October 22, 2021. To obtain further details or inquire about this opportunity, please contact the lead Search Consultant, Danisha Martin, at Impact Search Advisors by Nonprofit HR.
Please visit themusicianship.org for more information about the organization.
The MusicianShip is an equal opportunity employer and is actively committed to diversity, equity, and inclusion in all facets of the organization.
---

Our Commitment to Diversity, Equity, Inclusion & Belonging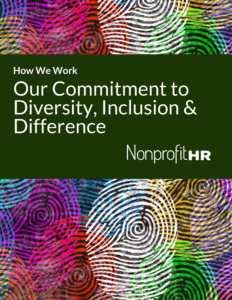 Nonprofit HR is committed to fostering and maintaining a work environment where diversity, equity, and inclusion (DEI) are fully integrated into everything we do for the benefit of our employees and the clients that we serve. To fully realize our goal, we prioritize our understanding of the complexities of DEI within our workforce to inform our approach to talent management. We believe that this guides how we do our work, advise our clients to operationalize DEI and position our content and educational opportunities help strengthen the talent management capacity of the social impact sector.
Continue reading our about our commitment at nonprofithr.com/deinow.