Talent Sourcer
Remote
Full Time
Experienced
HIRING RANGE: $55,000-$75,000
POSITION SUMMARY
For Posting:
We are looking for a highly motivated, passionate Talent Sourcing (Researcher) Associate Consultant to play an integral part of the Impact Search Advisors Team. As a Talent Sourcing Associate Consultant you will become an expert in a portfolio of roles, support the ISA consultants on several professional and executive search engagements to source passive/active talent, screen and evaluate applicants, and maintain a qualified, diverse candidate pool pipeline. As a member of the ISA team, you will work closely with assigned clients/consultants to develop an in-depth understanding of position requirements. You will conduct research and ongoing sourcing activities to attract talent and build pipelines.
The Talent Sourcing (Researcher) Associate Consultant will employ several sourcing models and data mining methods, including Boolean strings, a variety of search engines, and candidate engagement content. Build partnerships with professional associations, social networking sites, and other media platforms. LinkedIn should be the last resort. While this is not a sales role, successful Talent Sourcing will exhibit sales competencies, as this role requires influencing others and the ability to meet weekly and monthly hire goals.
This position reports to and works collaboratively with the Team Lead on various business initiatives, strategies, candidate specification developments, and interviews. This individual is also a key contributor to ensuring an accurate, responsive, high-quality client service environment. A strong candidate for this position will show the ability to do more than simple name generation but develop and assess potential applicants for adequate experience and qualifications (finding the needle in the haystack). Gain experience building talent pools, identifying potential candidates, and using cost-effective sourcing techniques to attract qualified applicants.
ESSENTIAL DUTIES AND RESPONSIBILITIES
Provides support to professional and executive search engagements by sourcing and screening passive/active talent. Screens and evaluates applicants, and maintains a qualified, diverse candidate pool pipeline.

Ensures name-gathering/sourcing phase is executed in a timely & efficient manner to expand and develop diverse candidate pools for each engagement.

Partner with respective Consultants to understand hiring needs, priorities and timing.

Use creative and outside the box sourcing techniques to identify top talent for hard to fill roles.

Write and post online ads. Join diversity LinkedIn and other recruiting groups in order to share vacancy announcements.

Directly source key talent through personal networks, LinkedIn, web searches, social media, job boards, associations, university career sites and other sources.

Employs a number of sourcing and data mining methods, including Boolean searches, a variety of search engines, internal sourcing, and external job board searches.

Track prospects via tracking tool designed by ISA Team and produce weekly reports for the consultants that track research results and the status of each recruitment.

Screen online resumes in ATS platforms, reject those who do not meet qualifications, and produce a list of those whom the consultant should personally phone screen. May be occasionally asked to provide first-level applicant screening and pre-qualification.

Schedule candidate interviews and send prep materials in advance.

Help to train ISA consultants in creative sourcing tools and techniques.

Conduct research and deliver results with minimal supervision and effectively manage multiple projects with competing priorities, meeting weekly and monthly hiring goals
QUALIFICATIONS, KNOWLEDGE, AND SKILL REQUIRED
A bachelor's degree and a minimum of two (2) years as a recruitment professional, that includes talent acquisition and search strategies, candidate

and client management experience or volume recruiting expertise working with other search firms with a nonprofit practice or focus and proven connections within major subsectors of the social impact community including arts and culture, associations, education, health, and human services, environment and faith-based organizations. May also have combination of experience and education.

Two years (2) of experience in full-cycle corporate sourcing/recruiting experience with a large nonprofit is preferred.

Experience in both traditional talent sourcing techniques and experience with a wide array of specialized sourcing tools (including but not limited to Boolean, Google search strings, LinkedIn recruiter, etc).

Demonstrated passion for delivering an exceptional candidate experience.

Proven experience managing multiple search engagements and execution using selection methodology.

Attainment or working towards one or more certifications CSP/CSC/PHR/SPHR is highly preferred.

Exposure to recruiting top talent within private, public or the nonprofit sector for a wide range of verticals or general industry experience and knowledge about recruiting for nonprofits and/or large trade associations.

Demonstrated ability to exercise sound judgment, high level of initiative to improve processes and complete tasks, and demonstrate accuracy and thoroughness

Ability to represent the firm with credibility in front of clients.

Outstanding follow-up, project management, and organizational skills, with ability to manage multiple and changing priorities and meet dedlines

Highly effective interpersonal and communication skills including the ability to communicate orally, write and present effectively and concisely to a wide variety of audiences including management, staff, and Boards of Directors.

Passion, intelligence, the ability to influence, convince and persuade effectively

A high level of self-motivation

Flexibility to adjust work and communication style based on situational need

Aptitude for critical thinking and to evaluate ideas and synthesize information into insights

Demonstrated ability to collaborate effectively with others and contribute to team efforts

Demonstrated commitment to valuing diversity and contributing to an inclusive working environment.

Demonstrated entrepreneurial drive and proven ability to be self-motivated to learn, grow, and succeed as well as the ability to

quickly learn systems, processes, and procedures

and a competitive spirit to outperform other search firm competitors.

Desire to actively contribute to the firm's growth and its Search Practice.

Demonstrated proficiency with all MS Office applications and experience with CRM software and/or applicant tracking systems. Experience working with Salesforce is a plus.

Team oriented, able to take direction and learn quickly.

Desire to grow as a recruiting professional.

Ability to travel occasionally
ADA SPECIFICATIONS
This position is largely sedentary in nature however one must possess the ability to speak, hear, see and write as well as the ability to use a computer and related software programs. Local and/or national travel periodically required and may require some longer weekday/weekend commitments to accomplish related business projects or meet deliverables.
The above statements are intended to describe the general nature and level of work being performed by the individual(s) assigned to this position. They are not intended to be an exhaustive list of all duties, responsibilities, and skills required. Management reserves the right to modify, add, or remove duties and to assign other duties as necessary.
---

Our Commitment to Diversity, Equity, Inclusion & Belonging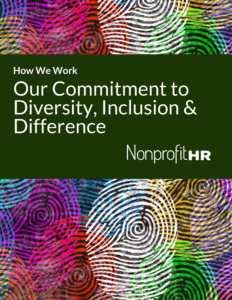 Nonprofit HR is committed to fostering and maintaining a work environment where diversity, equity, and inclusion (DEI) are fully integrated into everything we do for the benefit of our employees and the clients that we serve. To fully realize our goal, we prioritize our understanding of the complexities of DEI within our workforce to inform our approach to talent management. We believe that this guides how we do our work, advise our clients to operationalize DEI and position our content and educational opportunities help strengthen the talent management capacity of the social impact sector.
Continue reading our about our commitment at nonprofithr.com/deinow.
Apply for this position
Required*