Controller (GLSEN)
New York, NY
Full Time
Senior Manager/Supervisor
| | |
| --- | --- |
| Reports to: | Deputy Executive Director for Finance and Operations |
| Location: | New York, NY (Remote Possible) |
| Annual Salary: | $115,000.00 - $130,000.00 |
About GLSEN
GLSEN, a national education non-profit organization, has led the movement to create safe and inclusive K-12 schools for all since its founding in 1990. GLSEN was created by a group of teachers who wanted to end discrimination, violence, harassment, and bullying based on sexual orientation, gender identity and gender expression, and prompt LGBTQ awareness and inclusion in K-12 schools. Today, GLSEN is a national network of students, teachers, parents, and other school stakeholders working to transform K-12 education to create affirming learning environments for all LGBTQ youth. GLSEN fights for every student's right to a safe, supportive and LGBTQ-inclusive K-12 education. Over three decades, GLSEN has measurably improved school climate for LGBTQ+ students across the United States and launched and sustains an international network of partner NGOs engaged in an international movement on these issues.
Within the United States, we accomplish our goals by working in hallways everywhere – from the White House, Congress and the Department of Education to district offices and schools in your community – to improve school climate and champion LGBTQ issues in K-12 education.
We conduct extensive and original research to inform our evidence-based solutions for K-12 education.

We author developmentally appropriate resources for educators to use throughout their school community.

We partner with decision-makers to ensure that comprehensive and inclusive safe schools policies are adopted and implemented.

We partner with dozens of national education organizations to leverage our shared expertise into creating great schools and better opportunities for every student.

We empower students to affect change by supporting student-led efforts to positively impact their own schools and local communities.
The Opportunity
GLSEN has an operating budget of $9 million with extensive fundraising activities and grants that provide revenue and support. The Controller is responsible for ensuring the accuracy and integrity of GLSEN's financial information, safeguarding GLSEN's assets, producing accurate and timely reports for Board and management, and continuously improving the overall accounting and finance functions. The Controller will work closely with senior management, GLSEN directors, other staff, and chapter leaders in providing them with information and recommendations to facilitate their decision-making processes. This is a leadership position that serves as a support function for all departments and chapters. GLSEN centers values of equity, justice, inclusion and belonging, and reflects often on what those means for all our roles. Leaders within the organization are expected to exemplify and advance these values, while remaining open to learning and growing in their equity practice throughout their tenure. The Controller reports to the Deputy Executive Director for Finance and Operations.
Job Responsibilities:
Oversees all accounting processes and the accuracy of financial reporting in conformance with Generally Accepted Accounting Principles (GAAP).

Oversees preparation of all regulatory filings, including GLSEN's 990.

Prepares GLSEN's financial statements and lead the preparation of the annual audit.

Reviews any gifts and grants received to ensure proper accounting and reporting, ensure spending compliance of grants with donor restrictions.

Maintains current knowledge of GAAP, federal and state policies and directives, and accounting changes.

Assists in design of program budgets and works with departmental directors to monitor revenues and program expenditures.

Issues monthly reports of budget versus actual with updated year-end projections.

Reviews unusual variances in budget and cash flow and provide timely updates and explanations to management.

Supervises the management of cash flow to maintain a required fluid cash position.

Protects GLSEN assets by maintaining, updating, monitoring, and enforcing internal controls, financial policies and reporting systems.

Communicates, trains and updates GLSEN' staff and Chapters leaders on internal controls, fiscal policies and procedures.

Maintains financial staff job results by coaching, counseling, planning, monitoring and appraising job results.

Protects GLSEN operations by keeping financial information and plans confidential

Other duties as assigned.
Qualifications:
Bachelor's degree in accounting or comparable academic preparation or advanced degree in Finance or related subject preferred.

CPA required.

5 to 7 years of relevant work experience, including running the finance department of a non-profit with at least a $5 million budget, responsible for supervising a team of two or more.

Excellent Financial analytical skills.

Extensive knowledge of non-profit financial accounting and reporting requirements.

Knowledge of Financial Edge preferred.

Experience with transition to and implementation of Cloud-based accounting systems desired.

Excellent leadership, interpersonal, teamwork and communication skills.

Exceptional detail orientation and time management skills.

Alignment with GLSEN's values of diversity, racial equity and inclusion, and with its mission of creating change with regard to LGBTQ+ issues in K-12 schools.

Ability to work closely with a diverse team.
Benefits:
GLSEN offers a generous benefits package, including: five weeks paid time off for new employees in addition to 10 paid holidays per year; 100% employer-paid medical and dental insurance for staff and optional benefits for family members; life insurance; and a 401k plan with increasing employer contributions based on staff tenure. Starting salary range: $115,000 – $130,000.
Working Conditions
Location:

GLSEN's headquarters in New York City. Due to the pandemic staff are currently working from home until it is safe to return to the office.

Flexible work schedule hours, and flexible work from home, according to the demands of job responsibilities and employee needs.
---
GLSEN is an Equal Opportunity Employer. We strongly encourage people of color, people of diverse gender identities, people with disabilities, women, and non-LGBTQ people to apply.
---

Our Commitment to Diversity, Equity, Inclusion & Belonging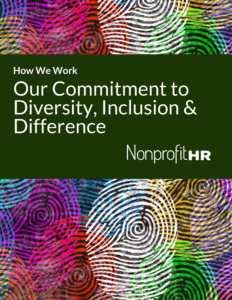 Nonprofit HR is committed to fostering and maintaining a work environment where diversity, equity, and inclusion (DEI) are fully integrated into everything we do for the benefit of our employees and the clients that we serve. To fully realize our goal, we prioritize our understanding of the complexities of DEI within our workforce to inform our approach to talent management. We believe that this guides how we do our work, advise our clients to operationalize DEI and position our content and educational opportunities help strengthen the talent management capacity of the social impact sector.
Continue reading our about our commitment at nonprofithr.com/deinow.
Apply for this position
Required*