Deputy Executive Director, Chief Strategy Officer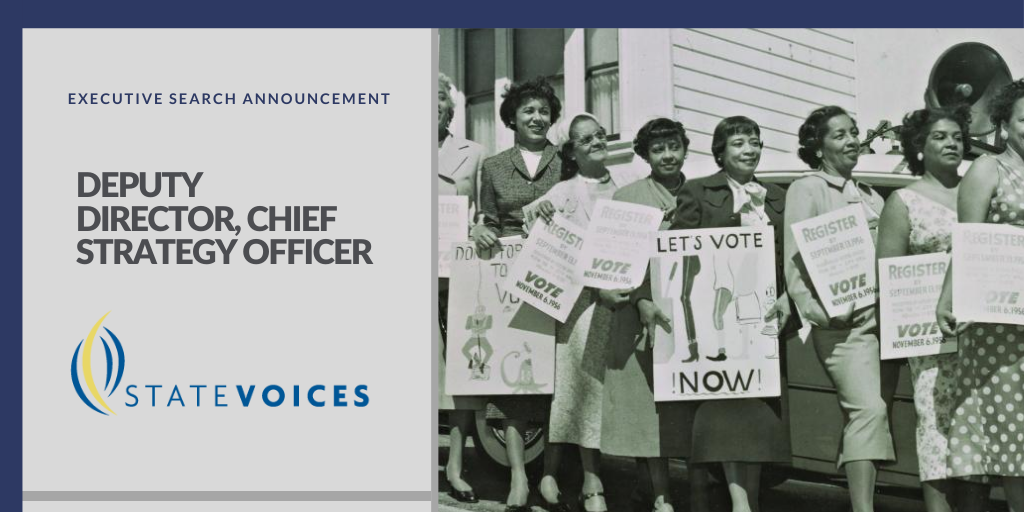 Executive Search Announcement for:
Deputy Executive Director, Chief Strategy Officer, State Voices
State Voices is a national network – built from the states up – that helps grassroots organizations win civic engagement victories and build long-term political power. Since 2008, we've been employing the principles of collective impact, building the capacity of partners with data analysis and shared resources, and strengthening our democracy by amplifying the voices of marginalized communities.
State Voices sustains a dynamic ecosystem of 23 state tables comprised of over 800 partner organizations. We provide the organizations in our network with the data, tools, and support they need to help create a healthy and thriving democracy through a racial equity lens. We advance this work through three national programs: Civic Engagement (voter registration and turnout, issue advocacy and constituency engagement), Civic Access (voting rights and election administration) and Civic Representation (census and redistricting).
It's our collective duty to end the systemic, relentless disenfranchisement targeting communities of color, young adults, LGBTQ people, and single women. That's why State Voices works year-round to create a more accessible, inclusive, and representative democracy. Visit State Voices online to learn more about their program and mission.
To ensure we continue to provide opportunities to the people within our community, State Voices has exclusively retained Nonprofit HR to assist in the recruitment efforts for its next Chief Strategy Officer (CSO). The Chief Strategy Officer (CSO) will serve as a critical member of the executive management team and the second in command at State Voices. In collaboration with the Chief Executive Officer, the CSO will articulate and implement the strategic plan, build new partnerships to grow and sustain the organization, develop and manage special pilot projects that expand the influence and impact of State Voices and its affiliated network of state tables, manage director-level staff and serve in a high profile role representing the organization.
As a strategic partner and member of the Executive Team, the CSO will assist in developing the organization's plans and programs, overseeing the following teams: Data & Technology, Strategic Partnerships, Policy, and State Capacity Building. The successful candidate will have a bold vision for coordinating new strategic partnerships and business development, a keen eye for recognizing fundraising and diversifying revenue-generating opportunities, and an understanding of marketing to ensure the successful integration of the organization's communications into all aspects of its strategic plan/programs.
About the Ideal Candidate:
The ideal candidate is a dynamic leader who can build and execute thoughtful and ambitious strategies while ensuring operational excellence. S/he/they will have exceptional interpersonal and people management skills, with the ability to build and manage high-performing, cohesive teams. The CSO will be a results-oriented motivator with high standards for excellence. S/he/they will be a clear, consistent and empathetic communicator, someone who excels at relationship building, who is constantly innovating and has entrepreneurial instincts, who naturally absorbs new information, and who has a contagious drive for excellence and accountability. It will also be the CSO's responsibility to establish credibility throughout the organization and with the Board as an effective developer of solutions to business challenges.
The ideal candidate will possess a bachelor's degree in Business, Human Services, Organizational Development, or a related field (Master's degree preferred), with a minimum of eight years of nonprofit leadership experience in roles focused on growth, business development, strategy, planning and related issues. Comprehensive understanding of and experience in the field of civic engagement, and political acumen and a sophisticated intersectional analysis; with a demonstrated commitment to the values of diversity, inclusion, equity, and economic, racial and gender justice. S/he/they will possess demonstrable experience using data systems to improve program performance and outcomes with the analytical skills needed to review information regarding regulations and guidelines. The position also requires demonstrated entrepreneurial ability to develop alliances and coordinate the shared interests of all parties, with excellent communications and problem-solving skills designed to meet the challenges of the organization. A track record of successful change management, process improvement, and organizational performance improvement is essential for success in this role, along with demonstrated experience in organizational development and strategic planning.
Apply Now!
For consideration, interested candidates should submit a cover letter and resume. Your cover letter must address your experience and qualifications being sought.
Please visit: www.statevoices.org for more information about the organization.
Nonprofit HR Executive Search Practice Leader: Myra T. Briggs, CSC, CSSGB
---

Our Commitment to Diversity, Equity, Inclusion & Belonging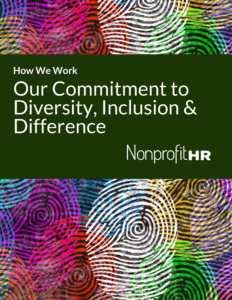 Nonprofit HR is committed to fostering and maintaining a work environment where diversity, equity, and inclusion (DEI) are fully integrated into everything we do for the benefit of our employees and the clients that we serve. To fully realize our goal, we prioritize our understanding of the complexities of DEI within our workforce to inform our approach to talent management. We believe that this guides how we do our work, advise our clients to operationalize DEI and position our content and educational opportunities help strengthen the talent management capacity of the social impact sector.
Continue reading our about our commitment at nonprofithr.com/deinow.
Read More
Apply for this position
Required*