Type of Position: Remote, but with a preference for the incumbent to live in Alaska
Job Title: Tribal Communities Program Associate, Grants Management
FLSA Status Exempt
Reports To: Director Grants Management
Date: August 2020
About the Organization
National Children's Alliance (NCA) is the national association and accrediting body for Children's Advocacy Centers (CACs). Formed in 1988, NCA has been providing support, technical assistance, and quality assurance for CACs, while serving as a voice for abused children for more than 25 years.
Position Summary
A Tribal Communities Program Associate, Grants Management is responsible for grants management of the NCA pass-through grants that increase the capacity of CACs in Alaska and the Lower 48. The Tribal Communities Program Associate will monitor and provide technical assistance to the recipients of the American Indian Alaska Native (AIAN) sub-grant program.
The position works cooperatively with the staff in the Grants Department, led by the Director of Grants Management.
ESSENTIAL FUNCTIONS
Grant Management
Responsible for assisting interested AIAN community members and Children's Advocacy Centers in the grant application process.
Responsible for providing logistical support for the grant review and award process.
Responsible for managing grants portfolio and monitoring the grant projects for the full duration of the grant cycle.
Responsible for the fiscal oversight and close out of the grant year.
Responsible for conduction of internal audits and preparation for the independent and DOJ audits.
Other duties as assigned by the Director of Grants Management.
KNOWLEDGE AND SKILLS REQUIRED
Experience and/or strong ties to AIAN communities within Alaska and the Lower 48 preferred.
Bachelor's Degree
Good written and oral communication skills.
Positive, solution-focused, problem-solving orientation.
Ability to appropriately manage sensitive information and situations.
Ability to work independently while seeking appropriate guidance and feedback.
Prior knowledge of or work in a Children's Advocacy Center or social services field helpful.
Detail-oriented with an understanding of quality assurance processes.
Demonstrated ability to work collaboratively in a team environment.
Knowledge of and experience with national associations helpful but not required.
Strong computer skills- experience with MS Office, strong Excel proficiency required.
WORK ENVIRONMENT/ PHYSICAL REQUIREMENTS
Occasional travel.
May require lifting of up to 20lbs.
---

How We Work: Nonprofit HR's Commitment to Diversity, Inclusion & Difference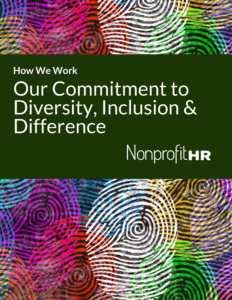 It is a high priority for us to foster and maintain an environment where diversity and inclusion are valued and realized to the benefit of you and the clients that we serve.
We believe strongly in treating everyone fairly and value the full diversity of our colleagues, clients, partners and vendors. Inclusion is how we live our commitment to fairness and diversity. It shapes how we honor the perspectives, abilities and identities of our colleagues; how we listen to, engage and respond to our clients; and how we connect to and appreciate each other and those we serve. We define diversity as differences that influence and affect our firm, our workplace culture, and the communities and clients we engage in the following areas: race, color, ethnicity, national origin, socioeconomic status, pay and benefits, ability, military service, age, faith, gender, sexual identity, personal appearance, pregnancy, and political views. Continue reading our about our commitment to diversity, equity and inclusion at nonprofithr.com/deinow.