Supervising Immigration Attorney
Hyattsville, MD
Full Time
Manager/Supervisor
Supervising Immigration Attorney
Location: Hyattsville, MD (Hybrid)
Salary: 85,000 annually
Schedule: Full-Time
CASA & CASA IN ACTION SYNOPSIS:
CASA's mission is to create a more just society by building power and improving the quality of life in working class and immigrant communities. Our vision is a future where we stand in our own power, our families live free from discrimination and fear, and our diverse communities thrive as we work with our partners to achieve full human rights for all. CASA has a sister organization, CASA in Action, a separate, but related, nonprofit organization that is exempt from federal income tax under section 501(c)(4) of the Internal Revenue Code.  Although CASA and CASA in Action share a common goal of supporting immigrants and working class families in Maryland, Pennsylvania, Virginia, and Georgia, they are separate organizations, each with its own board of directors.  A set of employees at the two organizations, including the person filling this position, shares their time between the two organizations.  This has no effect on salary or benefits.
DEPARTMENT SYNOPSIS:
The Legal Department at CASA operates under the principles of Justice is the goal, law is a means. It's a marathon, not a sprint. We endeavor to find the most creative strategies to combat the abuses and injustices identified by our constituents.   We value justice in the largest sense possible, not only one person at a time legal solutions, but broad, transformative solutions created in combination with immigrant leaders, CASA organizers and other staff, other local and national organizations and direct service staff.  We value our time and believe that though hard and sustained effort is often required, real rest is also necessary for creativity, stamina and "a life," however defined.  
POSITION SUMMARY:
The Supervising Immigration Attorney will be responsible for providing direct representation to CASA's members in immigration cases, including representation in immigration court and United States Citizenship and Immigration Services (USCIS), while helping to support the broader immigration efforts of CASA's Legal Department.  Under the leadership of the Legal Director, the Supervising Immigration Attorney will directly supervise CASA's Maryland-based immigration staff attorneys and other immigration team members, as assigned.  In addition, the position will involve supervising the work of the CASA Immigrant Integration Program's citizenship efforts through regular participation in citizenship clinics and review of complex citizenship cases.  
ESSENTIAL RESPONSIBILITIES:
Direct Legal Work
Oversee and provide legal representation in immigration cases, including both affirmative applications and representation of clients in removal proceedings, as well as potential appellate work in front of the Board of Immigration Appeals (BIA) and federal Circuit Courts.

Under the supervision of CASA's Legal Director, support CASA's immigration team, including the staff attorneys, paralegals, and other staff as assigned, through regular engagement, case assistance and mentorship.

Support our Immigrant Integration Program through oversight of their citizenship application work and participation in regular citizenship clinics.

Serve as the legal lead for community workshops and clinics organized by the Legal Department and/or other departments. 

Oversee and provide legal orientation, counseling and education regarding a range of immigration issues and other legal problems faced by members of the working-class, immigrant communities that form CASA's base.

Provide referrals, brief legal services and direct representation in individual and collective cases.  
Supervisory Work
Provide direct supervision to CASA staff attorneys and other legal staff, including but not limited to: 
Conducting bi-weekly check-ins with the staff you support.

Managing all Human Resource related concerns of staff you support (including requests for leave, approval of timesheets, etc.).

Regularly reviewing and offering feedback on the work product of staff you support.

Connecting staff to appropriate professional development and mentorship opportunities.

Co-counseling complex cases with staff you support, as appropriate.

Other management functions as defined by the Legal Director.
Strategic Work with Organizers
Support the legal needs of CASA's Community Organizing department, including through regular engagement with staff and community leaders, providing legal consultations to members, and advising on policy and campaign issues where necessary.

Co-counsel with other legal services providers or pro-bono counsel to pursue impact litigation.

Engage in advocacy and community organizing efforts and campaigns for improved laws affecting members of the working class immigrant community at local, state and federal level by drafting legislation, presenting testimony, organizing hearings and lobbying.

Identify clients to participate in public, organizing campaigns and to speak with media.
Outreach/Popular Education 
Engage in education and outreach through "Know Your Rights" presentations, workshops and clinics, participation on panels and other means of public engagement.

Design, edit and disseminate popular education materials related to immigration and employment issues.

In collaboration with partners, plan and implement "Train the Trainer" workshops in which organizers and workers are trained to reach out to others to inform them of their rights.
Recruit and maintain relationships with volunteers and other key partners to support CASA's legal work, including pro bono attorneys, law students, and other relevant professionals.
Administrative Work
On-going data entry, data verification, and internal activity reports.

Maintain contemporaneous and complete notes of all case-related activity in CASA's case management systems.

Annual planning process: developing and executing individual work plans, evaluating and providing feedback on plans as the year progresses.

Contribute creative ideas and engage meaningfully in discussions about ways to improve the Legal Department and CASA as an organization.  

Provide detailed reports regarding work including case examples, case profiles, and statistics, including on deadlines for press inquiries.

Assist with the completion of regular reports to funders and other stakeholders.
EDUCATION/CERTIFICATION/LICENSURE:
Admitted to practice law and willing to sit for the Maryland bar exam (if necessary). Maryland licensed attorneys strongly preferred.
KNOWLEDGE, SKILLS, AND ABILITIES REQUIRED:
Bilingual English/Spanish (written and spoken). French is a plus.

A minimum of 3-5 years of experience with immigration law, including significant experience with DACA initial and renewal applications before USCIS, TPS, and removal defense work before the immigration court. 

Demonstrated commitment to providing legal services to immigrant and/or working class communities.

Strong communication skills.

Strong commitment to CASA's mission of building power in working class and immigrant communities.

Experience supervising staff and/or interns in a variety of legal cases.  

Knowledge of legal ethics rules, including the boundary between legal assistance and legal advice, and consistent adherence to those rules.

Quick learner, able to prioritize tasks in stressful situations.

Ability to work independently and as part of a team.

Valid driver's license, as some travel will be required 
BENEFITS
Our benefits include:
A hybrid role

100% Paid Employee Health, Vision, and Dental to include 55% of the additional cost for couples, 65% for child(ren), and 60% for families enrolled.

Ability to participate in 401k

Generous Annual and Sick Leave
PHYSICAL REQUIREMENTS:
The physical demands described here are representative of those that must be met by an employee to successfully perform the essential functions of this job. Reasonable accommodations may be made to enable individuals with disabilities to perform the essential functions.
While performing the duties of this Job, the employee is regularly required to talk or hear. The employee is frequently required to sit; use hands to finger, do repetitive motions, handle, or feel and reach with hands and arms. 
The employee is occasionally required to stand and walk. The employee must rarely lift and/or move up to 25 pounds. Specific vision abilities required by this job include close vision, distance vision and ability to adjust focus.
WORK ENVIRONMENT:
The work environment characteristics described here are representative of those an employee encounters while performing the essential functions of this job. Reasonable accommodations may be made to enable individuals with disabilities to perform the essential functions. 
While performing the duties of this Job, the employee is rarely exposed to wet and/or humid conditions and outside weather conditions. The noise level in the work environment is usually moderate. Some travel will be required. 
The employee is occasionally required to stand and walk. The employee must rarely lift and/or move up to 25 pounds. Specific vision abilities required by this job include close vision, distance vision and ability to adjust focus.
ADA: CASA will make reasonable accommodations in compliance with the Americans with Disabilities Act of 1990. 
 OSHA: A Supervising Attorney is not to handle any human body fluids, biological agents, laboratory chemicals, or be exposed to hazardous materials such as noise, asbestos, or carcinogens.
CASA Inc. and CASA in Action do not discriminate on the basis of race, color, creed, religion, gender identity, sexual orientation, gender identity, age, mental or physical disability, ancestry, marital status and national origin.
This job description will be reviewed periodically as duties and responsibilities change with business necessity. Essential and marginal job functions are subject to modification. Nothing in this job description restricts management's right to assign or reassign duties and responsibilities to this job at any time. 
CASA has implemented a mandatory vaccination policy effective 01 February 2022, requiring COVID‑19 Booster vaccination(s) for all employees and prospective employees, AmeriCorps members, and paid or non-paid internships. In accordance with CASA's duty to provide and maintain a workplace that is free of known hazards, we are adopting this policy to safeguard the health of our employees, AmeriCorps members  and interns, and their families, CASA members and visitors, and the community at large from infectious diseases that may be reduced by vaccinations. In making this decision, the executive leadership team reviewed recommendations from the Centers for Disease Control and Prevention, the Advisory Committee on Immunization Practices, CASA's Legal Counsel and local health officials. All prospective employees will be required to provide proof of COVID 19 vaccination or appropriate medical / religious accommodation documentation prior to the first day of employment with CASA. AmeriCorps member candidates will be required to provide proof of COVID 19 vaccination or appropriate medical / religious accommodation documentation at the time of presenting proof of citizenship and SSN eligibility.
---

Our Commitment to Diversity, Equity, Inclusion & Belonging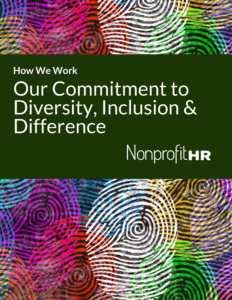 Nonprofit HR is committed to fostering and maintaining a work environment where diversity, equity, and inclusion (DEI) are fully integrated into everything we do for the benefit of our employees and the clients that we serve. To fully realize our goal, we prioritize our understanding of the complexities of DEI within our workforce to inform our approach to talent management. We believe that this guides how we do our work, advise our clients to operationalize DEI and position our content and educational opportunities help strengthen the talent management capacity of the social impact sector.
Continue reading our about our commitment at nonprofithr.com/deinow.
Apply for this position
Required*