Immediately seeking Bilingual Spanish/English Administrative Assistants for various of our nonprofit clients in the Washington metro area.

Opportunities require strong verbal/written command of both Spanish and English with at least 2-3 years of administrative experience. Candidates must also have a Bachelor's Degree.
---

How We Work: Nonprofit HR's Commitment to Diversity, Inclusion & Difference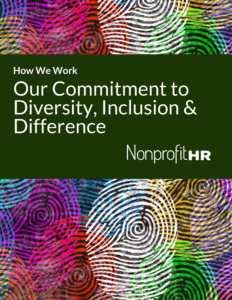 It is a high priority for us to foster and maintain an environment where diversity and inclusion are valued and realized to the benefit of you and the clients that we serve.
We believe strongly in treating everyone fairly and value the full diversity of our colleagues, clients, partners and vendors. Inclusion is how we live our commitment to fairness and diversity. It shapes how we honor the perspectives, abilities and identities of our colleagues; how we listen to, engage and respond to our clients; and how we connect to and appreciate each other and those we serve. We define diversity as differences that influence and affect our firm, our workplace culture, and the communities and clients we engage in the following areas: race, color, ethnicity, national origin, socioeconomic status, pay and benefits, ability, military service, age, faith, gender, sexual identity, personal appearance, pregnancy, and political views. Continue reading our about our commitment to diversity, equity and inclusion at nonprofithr.com/deinow.