Community and Fellowships Associate-FAS
Washington, DC
Full Time
Federation of American Scientists
Experienced
The Federation of American Scientists is hiring a full-time Community and Fellowships Associate to support the operations of the Day One Talent Hub and Day One Community. The Associate will work alongside the Community and Fellowships Manager to help administer the full life cycle of the Talent Hub Fellowship Program across various domains such as recruitment efforts, program development, and professional learning activities. The Associate will also help engage the Day One Community – a community of practice and network of over 400 scientists, technologists, researchers, and science and technology leaders. The ideal candidate is a self-starting team player with strong organizational and problem-solving skills, excellent writing skills, and the ability to work collaboratively.
Core Responsibilities
Working closely with the FAS leadership and Day One Talent Hub staff, the Associate supports all activities including but not limited to:
Operations for the Talent Hub Fellowship Program and Day One Community, including designing and developing recruitment materials, external event planning, and tracking team deliverables;

Overseeing the development of strategic communications specifically generating social media content, web content, and other related external communication materials in support of the Day One Talent Hub Fellowship cohorts and the Day One Community and;

Performing other duties as needed and assigned.
Experience and Qualifications
The FAS/Day One team is seeking an entrepreneurial, ambitious, and resourceful individual who is comfortable in a start-up environment, has the ability to thrive in ambiguity and has previous job or internship experience in similar dynamic environments.
Strong candidates would have some of the following experience and qualifications:
Previous internship or work experience in the federal government, a think tank, science or technology research, or business operations;

Experience managing projects;

Experience building partnerships and collaborating across networks;

Experience working in an entrepreneurial culture;

Previous experience in communications, editing, project management strongly desired;

Interest in strategic communications, policy development, or another core aspect of the Day One Project's work;
Compensation ranges from $50,000-$60,000 and is commensurate with knowledge, skills, and experience.
The Day One Project is looking to fill this position quickly. Applications will be accepted until the position is filled. Early submission will ensure your application receives full consideration.
---

Our Commitment to Diversity, Equity, Inclusion & Belonging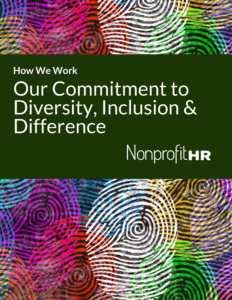 Nonprofit HR is committed to fostering and maintaining a work environment where diversity, equity, and inclusion (DEI) are fully integrated into everything we do for the benefit of our employees and the clients that we serve. To fully realize our goal, we prioritize our understanding of the complexities of DEI within our workforce to inform our approach to talent management. We believe that this guides how we do our work, advise our clients to operationalize DEI and position our content and educational opportunities help strengthen the talent management capacity of the social impact sector.
Continue reading our about our commitment at nonprofithr.com/deinow.
Read More
Apply for this position
Required*