Position Announcement
TALENT MANAGEMENT & DEVELOPMENT DIRECTOR

Room to Read is a global organization transforming the lives of millions of children in low-income communities by focusing on literacy and gender equality in education. Founded in 2000 on the belief that World Change Starts with Educated Children®, our innovative model focuses on deep, systemic transformation within schools in low-income countries during two time periods that are most critical in a child's schooling: early primary school for literacy acquisition and secondary school for girls' education. We work in collaboration with local communities, partner organizations and governments to develop literacy skills and a habit of reading among primary school children and ensure girls can complete secondary school with the skills necessary to negotiate key life decisions. By focusing on the quality of education provided within the communities and ensuring these outcomes are measured, we have created a model that can be replicated, localized and sustained by governments. Room to Read has benefited more than 23 million children across 20 countries and over 40,700 communities and aims to reach 40 million children by 2025. Learn more at roomtoread.org.
To ensure we continue to provide opportunities to the people within our community, Room to Read has exclusively retained Nonprofit HR to assist in the recruitment efforts for its next Talent Management & Development Director (Director). The Director will develop and execute our worldwide Talent Acquisition strategy to grow and scale our teams across the globe. He or she will lead, grow, and inspire a high-performing team of internal and external recruiters while ensuring we are exceeding our annual hiring goals. This is a hands-on role where you will be both strategic and tactical. He or she will also develop and execute innovative strategies to help us attract world-class talent. The Director will collaborate broadly within and beyond the Human Resources team to create and implement global programs and initiatives to advance our staff's development and engagement. Critically important to the role is the Director's ability to lean into our organization's talent needs and stand up programs and training systems to provide exciting career pathways for our valuable team members' professional development. S/he/they will implement the vision for developing and implementing a new performance management program aligned with a robust and agile learning and development framework centered around a 70/20/10 model to include individual staff development plans, career pathways, tracking learning and performance goals, and succession planning.
The Director must have experience creating and maintaining a culture that attracts, motivates, and retains a diverse, talented staff to blend skill sets, meet objectives, and provide efficient program execution. This position requires a leader with the poise, knowledge, and communication skills to be an influential business partner and coach to executive staff and maintain effective relationships with staff at all levels. The ideal candidate will have an entrepreneurial nature and thrive in an environment where servant leadership is respected. The position requires someone with demonstrated ability to think strategically in seizing opportunities, accessing risks, and streamlining processes and procedures across global locations. The successful incumbent will have demonstrated success owning all aspects of talent operations as a part of a strategic leadership team with the ability to create and execute an innovative and scalable talent retention and development roadmap and vision aligned with the organization's overall strategic goals. The Director is expected to remain current on regulations, laws, industry trends and best practices; and to keep the organization compliant by advising management and making timely changes in practices and policies.
The ideal candidate will possess a Bachelor's degree in Human Resources, Business, Organizational Development, or a related field, with at least seven years of experience in Recruitment and Professional Development with a minimum of three years in a leadership role; HR certification preferred. S/he/they will possess demonstrable experience in recruitment, performance management, professional development, succession planning, and process development. The successful candidate will have demonstrated success owning all aspects of recruitment operations as a part of a talent leadership team with the ability to create and execute an innovative and scalable recruitment roadmap. Dynamic leadership, strong verbal and written communication to diverse audiences and all professional levels, and a leadership style that centers empathy and cultural sensitivity are a must. A strong diversity, equity, inclusion, and belonging lens and a dedicated focus in supporting all members of the organization in this effort is critical.
For consideration, interested candidates should submit a cover letter and resume. Your cover letter must address your experience and qualifications being sought. Electronic submissions highly preferred. Interested individuals are encouraged to apply immediately. Please visit: www.roomtoread.org for more information about the organization. To obtain further details about this opportunity, contact Bert Ruiz, Senior Consultant.
---

Our Commitment to Diversity, Equity, Inclusion & Belonging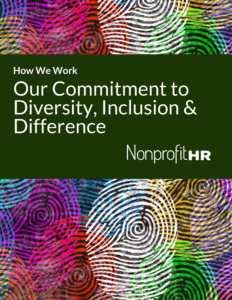 Nonprofit HR is committed to fostering and maintaining a work environment where diversity, equity, and inclusion (DEI) are fully integrated into everything we do for the benefit of our employees and the clients that we serve. To fully realize our goal, we prioritize our understanding of the complexities of DEI within our workforce to inform our approach to talent management. We believe that this guides how we do our work, advise our clients to operationalize DEI and position our content and educational opportunities help strengthen the talent management capacity of the social impact sector.
Continue reading our about our commitment at nonprofithr.com/deinow.