POSITION SUMMARY This role will be dedicated to developing digital marketing campaigns and developing content design from beginning to end.
ESSENTIAL DUTIES AND RESPONSIBILITIES
Plan and execute all digital marketing, including SEO/SEM, marketing database, email, social media and display advertising campaigns

Design, build and maintain our social media presence

Measure and report performance of all digital marketing campaigns, and assess against goals (ROI and KPIs)

Identify trends and insights, and optimize spend and performance based on the insights

Brainstorm new and creative growth strategies

Plan, execute, and measure experiments and conversion tests

Collaborate with internal teams to create landing pages and optimize user experience

Utilize strong analytical ability to evaluate end-to-end customer experience across multiple channels and customer touch points

Instrument conversion points and optimize user funnels

Collaborate with agencies and other vendor partners

Evaluate emerging technologies. Provide thought leadership and perspective for adoption where appropriate
QUALIFICATIONS, KNOWLEDGE SKILL REQUIRED (Minimum education and experience needed to perform the job adequately)
Bachelor's or master's degree in marketing or a related field

Proven working experience in digital marketing, particularly within the industry

Demonstrable experience leading and managing SEO/SEM, marketing database, email, social media and/or display advertising campaigns

Experience in optimizing landing pages and user funnels

Experience with A/B and multivariate experiments

Solid knowledge of website and marketing analytics tools (e.g., Google Analytics, NetInsight, Omniture, WebTrends, SEMRush, etc.)

Working knowledge of ad serving tools

Working knowledge of HTML, CSS, and JavaScript development and constraints
ADA SPECIFICATIONS (Physical demands that must be met to successfully complete the essential functions of the job List items such as unusual work schedule, occupational risk, travel required, physical effort, environment and demands that must be met to perform the essential functions of the job.)
---

How We Work: Nonprofit HR's Commitment to Diversity, Inclusion & Difference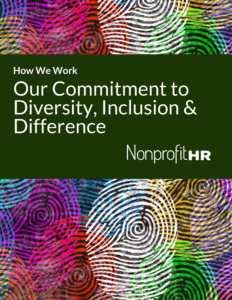 It is a high priority for us to foster and maintain an environment where diversity and inclusion are valued and realized to the benefit of you and the clients that we serve.
We believe strongly in treating everyone fairly and value the full diversity of our colleagues, clients, partners and vendors. Inclusion is how we live our commitment to fairness and diversity. It shapes how we honor the perspectives, abilities and identities of our colleagues; how we listen to, engage and respond to our clients; and how we connect to and appreciate each other and those we serve. We define diversity as differences that influence and affect our firm, our workplace culture, and the communities and clients we engage in the following areas: race, color, ethnicity, national origin, socioeconomic status, pay and benefits, ability, military service, age, faith, gender, sexual identity, personal appearance, pregnancy, and political views. Continue reading our about our commitment to diversity, equity and inclusion at nonprofithr.com/deinow.