Senior Civic Engagement Coordinator
New York, NY
Full Time
Mid Level
Do you have experience with for civic engagement for voter participation for diverse communities?
Asian American Federation (AAF) is searching for a full-time Senior Civic Engagement Coordinator to lead their non-partisan Civic Engagement Program. Working independently and reporting to the Executive Director, the Senior Civic Engagement Coordinator will be responsible for conducting outreach to the Asian community regarding voting rights and processes in partnership with the organization's Asian American and Pacific Islanders (AAPI) Power Coalition.
Salary is between $58,000 to $62,000 per year.
Top Reasons to Work at The Asian American Federation:
100 % Employee Covered Health, Dental and Vision Insurance

Generous Time Off

Career growth and advancement potential

Matching 403(b) plan

Life Insurance
Major responsibilities will include:
Working independently to lead AAF's Civic Engagement Program for Asian communities in New York State

Serving as a thought partner to develop a civic engagement strategy for the Civic Engagement Program, with guidance and input from the Executive Director

Developing a campaign to mobilize communities around non-partisan civic engagement, voter registration, voter education, voter protection, and Get Out the Vote work

Serving as the point person to convene AAF's AAPI Power Coalition, made up of 10 Asian-serving nonprofits, on a regular basis and administer micro-grants to support the Coalition's work

Providing training, resources, and support capacity-building efforts for the Coalition

Creating and managing budgets to utilize secured public and private funding to achieve annual deliverables for the Civic Engagement Program

Using available Census and VAN data to evaluate program success, identify community needs, and advocate for pro-democracy policies benefiting Asian New Yorkers;

Working alongside the Advocacy & Policy team to liaise with elected officials and government agencies and provide testimony on Asian American civic engagement
Qualifications:
Bachelor's degree required

3-4 years of relevant experience in mobilizing communities, voter engagement, or related field

Proficiency in VAN and voter file analysis a plus 

Fluency in an Asian language a plus (e.g., Hindi, Urdu, Bengali, Tagalog, Arabic, Korean, Japanese, Chinese, etc.)

Excellent written and verbal communication skills

Exceptional organizational skills

Superior relationship management skills

Must have legal authorization to work in the U.S.
Step up to your potential. Write your story and apply today!
All new hires must be vaccinated and must stay up to date with COVID-19 vaccines unless they have been granted a reasonable accommodation for religion or disability. If you are offered a position with AAF, this requirement must be met by your date of hire, unless a reasonable accommodation for exemption is received and approved by AAF.
---

Our Commitment to Diversity, Equity, Inclusion & Belonging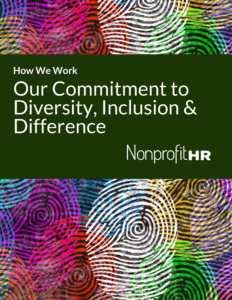 Nonprofit HR is committed to fostering and maintaining a work environment where diversity, equity, and inclusion (DEI) are fully integrated into everything we do for the benefit of our employees and the clients that we serve. To fully realize our goal, we prioritize our understanding of the complexities of DEI within our workforce to inform our approach to talent management. We believe that this guides how we do our work, advise our clients to operationalize DEI and position our content and educational opportunities help strengthen the talent management capacity of the social impact sector.
Continue reading our about our commitment at nonprofithr.com/deinow.
Apply for this position
Required*