1099 Recruitment Outsourcing (Contractor)
Remote
Contracted
Mid Level
1099 Recruitment Outsourcing Contract Position (35-40 hours a week; 4-6 months with potential longer-term)
Do you have top-notch recruiting skills that you would like to use to support nonprofits on a freelance and virtual basis? Nonprofit HR is seeking candidates interested in supporting our independent contractor needs as they arise across our practice areas. We partner with nonprofits and social enterprises to meet their growing talent management demands. Candidates should demonstrate experience in any of the following areas:
High Volume Recruitment

–

Managing high volume recruitment outsourcing or search engagements to include screening, interviewing, and recommending placements, and achieving and maintaining a pipeline of highly qualified talent for client positions.

Client Management

-

Managing interview process including de-briefing clients and candidates with relevant information and updating both parties on developments to build trusting and long-lasting relationships throughout and after a search closes.

Business Development-

Managing and actively generating new client business with local, regional, and national nonprofit and mission-driven organizations by leveraging and/or offering relevant recruitment solutions; in collaboration with the Team Leader, to develop, and respond to requests for proposals.
All candidates should be innovative, thrive in a fast-paced environment, demonstrate strong client management relationship skills, have the ability to work confidently and independently, demonstrate excellent written and oral communication skills, and model a commitment to excellence. We are seeking candidates with experience in both for-profit and nonprofit organizations, including government contracting. Consultants will primarily work virtually.
If you would like to be considered for this exciting opportunities, please apply here.
---

Our Commitment to Diversity, Equity, Inclusion & Belonging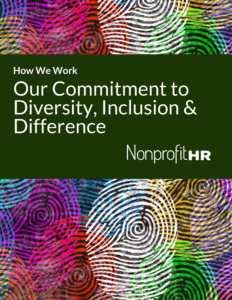 Nonprofit HR is committed to fostering and maintaining a work environment where diversity, equity, and inclusion (DEI) are fully integrated into everything we do for the benefit of our employees and the clients that we serve. To fully realize our goal, we prioritize our understanding of the complexities of DEI within our workforce to inform our approach to talent management. We believe that this guides how we do our work, advise our clients to operationalize DEI and position our content and educational opportunities help strengthen the talent management capacity of the social impact sector.
Continue reading our about our commitment at nonprofithr.com/deinow.
Apply for this position
Required*