Case Manager (Maternity Care Coalition)
Philadelphia, PA
Full Time
Mid Level
Case Manager - Healthy Family America (HFA)
Maternity Care Coalition
Since 1980, Maternity Care Coalition has assisted more than 140,000 families throughout Southeastern Pennsylvania, focusing particularly on neighborhoods with high rates of poverty, infant mortality, health disparities, and changing immigration patterns. We know a family's needs change as they go through the pregnancy and their child's first years, and we offer a range of services and programs for every step along the way. The mission of Maternity Care Coalition is to improve the health and well-being of pregnant women and parenting families and enhance school readiness for children 0-3 years old.
Benefits include:
Generous SIGN-ON Bonus

Language proficiency compensation

Three (3) weeks paid vacation, plus One (1) week paid Winter Break

Medical, Dental, Vision, Voluntary & Supplemental Life Insurance through CIGNA

Cafeteria Plan through Benefit Wallet: FSA and Commuter plans
Position Summary
The HFA Case Manager is responsible for providing home-based (client-centered and strength-based) services to pregnant women and parenting families with children 0-3 years old. Services include presenting evidence-based health education, parenting education, child development education, and activities. Case management services consist of completing assessments, facilitating referrals, and other beneficial support services.
Essential Functions
Provides intensive case management services including assessments, referrals, and follow-up to at-risk pregnant women and parenting families through routine home, office visits, and regular phone contact.

Supports clients in planning for their own health and social service needs by assisting clients in identifying goals.

Ability to assess and support parent-children engagement.

Uses reflective strategies to support family-wellbeing and partnerships.

Learns about and collaborates with community resources needed by clients.

Conducts health promotion activities by providing evidence-based health education, disseminating educational literature, and distributing disease prevention materials (condoms) to clients.

Provides strength-based, culturally informed parenting support and education through the use of an evidence-informed curriculum

Ensures timely scheduling of prenatal, postpartum, well-child, and early intervention appointments.

Assists in organizing client meetings, parenting groups, and other socialization events.

Facilitates/Co-facilitates community health and parenting education groups

Attends community meetings, health fairs and represents MCC as requested by the Program Coordinator.

Keeps careful records of all client, family, and provider contacts made and follows up as necessary. Keeps accurate records of services received by clients.

Routinely uses MCC client database and other computer systems including e-mail, Internet, and Microsoft Office.

Attends orientation and ongoing training sessions on maternal and child health, child abuse, accessing resources (medical care, therapeutic services, public benefits, housing), mental health, substance abuse, parenting support interventions and cultural humility (out of state travel may be required)

Meets with Program Coordinator weekly for reflective supervision.

Ensures confidentiality of client records, sharing pertinent information only with the client's written and/or verbal approval.
Knowledge, Skills, and Abilities
Understanding of MCC's mission, goals, and objectives and ability to work independently with a high level of energy and contribute as part of a larger team.

Knowledge of the concepts and practices associated with community health issues, particularly with pregnant women including prenatal care and other services for mothers, parenting practices, and infant and child development.

Ability to travel in and around the Greater Philadelphia region to conduct home visits and community outreach.

Knowledge of and sensitivity to issues facing the community served.

Experience in client management procedures for determining eligibility, assessing needs, identifying resources, making referrals, following up, and documenting client interactions.

Demonstrated clinical therapeutic skills.

Strong interpersonal skills as demonstrated by compassionate, courteous, cordial, cooperative, and professional interaction with diverse groups of co-workers, community partners, clients, and members of the community.

Ability to operate a computer and use a variety of common software programs including Microsoft Office and customized databases.

Effective and accurate documentation of case notes and client data according to established client management documentation procedures.

Ability to organize tasks in an efficient manner and follow up and follow through with strong attention to detail.
Experience, Education, and Licensure
Required
Associate's degree required; Bachelor's degree in Social Work, Public Health or related field preferred

Experience with community health issues

Valid driver's license with driving experience
Preferred
Experience working with maternal and child health issues preferred

2+ years experience providing direct services in a community outreach setting preferred

Bilingual (Spanish, French, Arabic, Bengali, Indonesian, Burmese)
Salary Range
$37,000 - $41,000 Annually
MCC Covid-19 Health and Safety Action
In accordance with MCC's commitment to provide a safe environment for employees and families, and to prevent the spread of COVID-19, proof of vaccination or testing is required for all staff. MCC will provide reasonable accommodation for religious or medical exemptions. Additional Program-related requirements may apply.
---

Our Commitment to Diversity, Equity, Inclusion & Belonging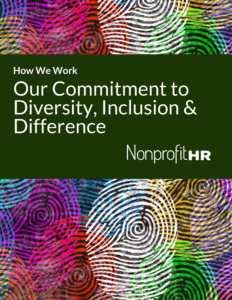 Nonprofit HR is committed to fostering and maintaining a work environment where diversity, equity, and inclusion (DEI) are fully integrated into everything we do for the benefit of our employees and the clients that we serve. To fully realize our goal, we prioritize our understanding of the complexities of DEI within our workforce to inform our approach to talent management. We believe that this guides how we do our work, advise our clients to operationalize DEI and position our content and educational opportunities help strengthen the talent management capacity of the social impact sector.
Continue reading our about our commitment at nonprofithr.com/deinow.
Read More
Apply for this position
Required*