Digital Organizer (FIA)
Washington, DC
Full Time
Entry Level
Job Description
Position: Digital Organizer
Location: Faith in Action's Communications & Policy Office, Washington, DC
Type: Entry-level, Full-time
Faith in Action is the largest grassroots faith-based community-organizing network in the United States. For over 40 years Faith in Action has brought people of faith together to advance racial and economic justice. Faith in Action organizations have successfully changed public policies at the local, state and federal level that have helped to reduce gun violence, improve the quality of education for children, make housing more affordable and protect families from foreclosure and securing jobs.
Through an innovative campaign infrastructure that ties together grassroots people-led organizing in more than 200 cities and towns and 21 states with large-scale efforts to change federal policy, Faith in Action is currently leading campaigns to help with citizenship for 11 million aspiring Americans, end mass-incarceration and make sure that no one is excluded from the benefits of health reform.
Position Overview:
Faith in Action is seeking a Digital Organizer to assist in drafting emails, creating digital ads, storytelling, working with our network-wide communicators, increasing online engagement, and preparing digital materials. An ideal candidate will be open to any digital organizing communications task that arises.
The Digital Organizer reports to the Digital Director and works directly with Faith in Action's communications department and consultants to drive messaging and develop online strategies for Faith in Action's national team, campaigns, programs, federations and allies.
Position Responsibilities:
DIGITAL ORGANIZING:
Grow our base of online supporters that are interested in our racial justice and organizing work through digital advertising, organic social media, texting, influencer campaigns and other digital tools

Draft strong email campaigns and appeals for Faith in Action that will help mobilize potential members, and allies who will join us at the intersection of faith and justice work

Reach out to potential supporters, move them up a ladder of engagement, and deepen their leadership

Regularly updating national's digital calendar, as needed, and analyzing digital metrics for growth

Regularly capture moments from live-events including, but not limited to live-tweeting, Facebook streaming, taking photos and videos and going live on Instagram

Assist in the execution of rapid response digital work

Draft online action pages (petition pages, calls pages, donation pages etc.)

Create and run A/B tests for emails, ads, and text messages and analyze the performance of ads, emails, and text messages, and adjust content and strategies accordingly, as well as when needed to respond to breaking news

Make updates to Faith in Action's website as needed

Explore new digital tactics to engage the presidential administration with our issues
WORK WITH FEDERATIONS AND NATIONAL STAFF:
Collect stories and work with directly impacted people in the network

Regularly coordinate the network-wide communications cohort calls and follow-up emails

Train digital organizing and communications skills to organizers and leaders in the network

Craft engaging digital toolkits for campaigns and programs and explore how new social media platforms and features can be used for organizing

Work in collaboration with the technology team on maintaining our new individual membership application

Conspire with our campaigns and programs teams on digital strategies

Co-create with the institutional advancement team on digital fundraising opportunities and Faith in Action's end of year fundraising campaign

Work in collaboration with our Faith Leadership Team on special projects and the Prophetic Resistance Podcast

Willing and able to support digital projects as assigned by Digital Director
DESIRED SKILLS:
An effective communicator with strong writing and organizing skills

Strong storytelling skills

Understand the fundamentals of organizing in order to equip others with digital organizing skills

Know how to run Facebook ad campaigns and/or other paid digital programs.

Can create compelling graphics and videos for social media using Adobe Creative Suite or similar tools

You've used: Texting tools (Hustle, OutVote, Rocs), email tools (Salsa Engage, Gmail), and analytics tools to measure engagement on social media and the website (WordPress)

Know how to use Google applications, and can build tracking systems that keep strategic digital organizing plans moving

Strong organization and tracking skills. You keep projects moving, pay attention to detail and meet deadlines

Photography and videography experience preferred

Video editing experience preferred

Graphic design experience preferred

Web design experience preferred
Pending COVID-19, this position may require travel in the future and occasional evening and weekend hours.
---

Our Commitment to Diversity, Equity, Inclusion & Belonging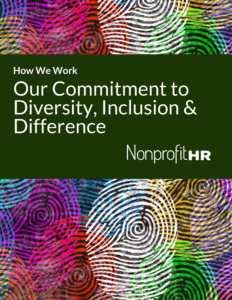 Nonprofit HR is committed to fostering and maintaining a work environment where diversity, equity, and inclusion (DEI) are fully integrated into everything we do for the benefit of our employees and the clients that we serve. To fully realize our goal, we prioritize our understanding of the complexities of DEI within our workforce to inform our approach to talent management. We believe that this guides how we do our work, advise our clients to operationalize DEI and position our content and educational opportunities help strengthen the talent management capacity of the social impact sector.
Continue reading our about our commitment at nonprofithr.com/deinow.
Read More
Apply for this position
Required*