Dermatology Foundation: Program Manager, Research Award
Evanston, IL
Full Time
Mid Level
The Organization
Skin is something too easily taken for granted. But the truth is, when we take skin for granted, we're taking human lives and futures for granted. At Dermatology Foundation (DF), we've never taken skin for granted. Since 1964, we've been supporting rising young investigators and working to advance science. Established by 8 leading dermatologists and scientists with the vision that to move the specialty forward, innovative research must always be supported, as the DF has grown, our commitment has never wavered. As a recognized 501(c)(3) nonprofit organization, we continue to work together to save skin and lives. The DF has awarded more than 2,440 research awards, investing over $80 million in dermatologic research with donations from our members, supporters, and friends. This investment in research has been matched with cutting-edge education, making sure dermatologists have what they need to advance care for patients today — and tomorrow.
Find out more at Dermatology Foundation.
Summary of Position:
This position is responsible for the day-to-day administration of the Research Award Program (RAP). The Dermatology Foundation (DF) accomplishes its mission through the RAP:  to advance patient care by supporting the research of promising new and mid-career investigators. In recent years, the DF has awarded approximately $2.8 million annually in funding for dermatologic research. DF research awards are highly valued due to their recognition of an individual's strong potential and the financial support they provide at a critical time in an investigator's early career.
The focus of this position is to plan, schedule and carry out all RAP administrative and service activities according to the DF's program policies and high standards. This includes providing expert and timely responses to inquiries from applicants, recipients, dermatology program chairs and residency directors, and maintaining/updating the new research award grant system.
This position also provides project support to the Deputy Executive Director (DED) in the delivery of its educational programs and communications, on an as needed basis. This may include preparation of Board materials, Dermatology Focus, DF E-News, Clinical Symposium and other ad hoc projects.
Qualifications:
This position will work directly with the Deputy Executive Director, high level volunteers and vendors to deliver all aspects of the Research Award Program. As a result, this position requires an experienced professional with the following qualifications:
Minimum of five years of related work experience in a fast /service-oriented environment

Three to five years strong project management experience

Work experience in a non-profit organization or academic setting is highly desirable

Excellent writing, proofreading and communication skills are essential

Exceptional system/technology skills including experience with a database or CRM system and proficiency in Microsoft Word, Outlook, Excel and Adobe

Professional demeanor and the ability to work with accomplished, busy individuals

Grant management experience is a plus

Ability to work independently

Bachelor's degree or equivalent experience is required

Master's degree is preferred
Responsibilities:
Develops annual calendar and communications for all program activities   
Prepares and implements all program communications

Ensures all aspects of program are covered and intended audiences are reached

Updates instructional language for applicants

Implements website and system information as needed to accommodate full cycle of program activities
Maintains program policies, procedures and award descriptions to ensure the equitable and appropriate delivery of the program for all applicants, recipients and institutions
Develops expertise in all aspects of the program to be a resource to DF colleagues, management, leadership and all institutional contacts

Suggests policy reviews/changes to the DED for Board Liaison review

Updates the program policies/procedures/award descriptions as directed by the Board or Board Liaisons

Maintains records of program issues and policies to ensure proper implementation going forward

Responds in a timely manner to all program inquiries and issues

Research new program features as needed
Works with the DED to ensure the DF systems meet the needs of the Research Award Program, and staff, volunteer and applicant users

Provides the expert view of program requirements

Ensures the evolution of the system, by identifying new program features, system performance issues and unmet user needs

Is the project lead for system improvements/fixes and works with any required IT professional to ensure updates/corrections are completed as needed

Ensures all external & internal users system documentation is clear and up to date

Provides routine support to users of the DF system

Maintains the integrity of current and historical Research Award Program data

Conducts administrative review of all award submissions

Follows up on incomplete submissions

Identifies unique issues for the DED that may require formal review by Board liaisons

Ensures the DF system is updated with complete & accurate application information

Coordinates application review process

Ensures eligible applications are complete and prepared for committee/panel review

Serves as primary point of contact for review committee and panel members and assists with review process

Ensures timely communication of preliminary and final scoring processes

Provides staff support to DED, Liaisons, and committee/panel volunteers during deliberation process

Prepares all program materials needed by the Board to make the final funding decisions

Administers annual award contracts
Coordinates the development and delivery of the annual award contracts

Responds to institutional inquiries

Updates final award selection and contract records and conducts follow up activity
Coordinates quarterly payout activities.
Maintains accurate record of all multi-year and current year RAP liabilities

Ensures all program requirements are met for each quarterly payment and submits needed information to DED and accounting staff

Follows up on missing IRB certification, financial and research reports
Assists the DED in the delivery of key educational programs and communications, as needed

Provides registration set-up & project assistance on the annual Clinical Symposium

Creates and distributes the monthly DF E-News

Provides project support on the development and delivery of Dermatology Focus

Ad Hoc Projects:
Completes ad hoc projects/assignments requested by the Deputy Executive and Executive Director that support the purpose of the Dermatology Foundation.
Performance Measures:
Develops an expert, detailed understanding of the DF Research Award Program policies, procedures/system and awards.

Presents a positive, professional image of the DF by maintaining high standards of customer service and quality when working with all volunteers, members, and all committee members. 

Is a dedicated team member as reflected by: 1) demonstrated support of the DF's mission; 2) adherence to Foundation policies; 3) a willingness to work with/assist all DF colleagues, accomplish common/broad goals.

Exercises appropriate judgment in carrying out role and responsibilities.

Communicates effectively — verbally and in writing.

Completes high-quality, accurate work in a timely manner.

Works independently in carrying out all assigned responsibilities. 

Demonstrates flexibility when workload or priorities change.

Develops a high level of proficiency in all DF systems.

Maintains organized, accessible program data and files, as required to administer program awards.
Key Relationships
The Research Award Program Manager will report directly to the Deputy Executive Director and high-level volunteers. This individual will work internally across the organization and will be externally facing.  
Compensation & Benefits
A minimum salary of $70,000 and up to $90,000 will be provided to the successful candidate who has at least five years of experience directly relevant to this role, consistent with the Dermatology Foundation's compensation framework.
How to Apply
To apply for this position, please forward a resume and cover letter outlining your interests and qualifications. Resumes should include exact start and end dates (month and year) of employment. Please send application materials via e-mail to: [email protected] and include the position title in the subject line. Electronic submissions are preferred. Applications accepted until position is filled.
Reasonable Accommodations
If you require reasonable accommodations during any part of the hiring process, please email us at [email protected]
---

Our Commitment to Diversity, Equity, Inclusion & Belonging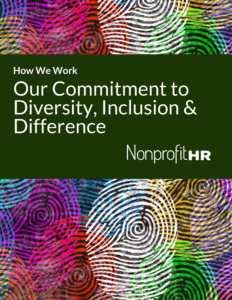 Nonprofit HR is committed to fostering and maintaining a work environment where diversity, equity, and inclusion (DEI) are fully integrated into everything we do for the benefit of our employees and the clients that we serve. To fully realize our goal, we prioritize our understanding of the complexities of DEI within our workforce to inform our approach to talent management. We believe that this guides how we do our work, advise our clients to operationalize DEI and position our content and educational opportunities help strengthen the talent management capacity of the social impact sector.
Continue reading our about our commitment at nonprofithr.com/deinow.
Apply for this position
Required*