Chief Human Resources Officer (RAICES Texas)
San Antonio, TX
Full Time
Executive
At The Refugee and Immigrant Center for Education and Legal Services (RAICES) we are a nonprofit agency that promotes justice by providing free and low-cost legal services to underserved immigrant children, families, and refugees. With legal services, social programs, bond assistance, and an advocacy team focused on changing the narrative around immigration in this country, RAICES is operating on the national frontlines of the fight for immigration rights. We defend the rights of immigrants and refugees, empower individuals, families, and communities, and advocate for liberty and justice. We envision a society where all people have the right to migrate and human rights are guaranteed.
WE defend THE RIGHTS OF IMMIGRANTS AND REFUGEES, empower INDIVIDUALS, FAMILIES, AND COMMUNITIES, AND advocate FOR LIBERTY AND JUSTICE.
With more immigration lawyers than any organization in Texas, in 2018 RAICES managed 37,863 cases at no cost to our clients. Without pro-bono legal services most of our clients, including children of all ages, would have to go to court alone, with zero representation. We believe no child should go to court alone. We empower the community by offering services to remove barriers of oppression, multiply agents of change, and increase clients' quality of life. We offer a wide range of services including case management, resettlement assistance, a national hotline to connect migrants with local community resources, and transit support for recently released migrants.
To ensure we continue to provide opportunities to the people within our community, RAICES has exclusively retained Nonprofit HR to assist in the recruitment efforts for its next Chief Human Resources Officer (CHRO). The position of CHRO is a critical and visible position requiring substantial experience managing talent development and human capital initiatives for a growing organization, including demonstrated ability to coach and develop others and build a strong and inclusive team environment. The CHRO is responsible for directing the full suite of people functions for the organization and partnering with the CEO to develop the internal culture. RAICES is looking for an experienced Human Resources professional with deep HR knowledge and an entrepreneurial spirit to design, advance, implement and promote scalable people strategies, policies, and a healthy working culture. The CHRO will lead the work of the HR team, provide sound advice and thought partnership to senior management, and support and develop managers and staff regarding all HR and talent matters.
As a strategic partner and member of the Executive Team, the CHRO will assist in developing the organization's plans and programs, particularly from the perspective of the impact on people. The CHRO will enhance and/or develop, implement and enforce creative HR policies and procedures for the organization by way of systems that will improve the overall operation and effectiveness of the organization across programs and departments.
S/he/they will work to ensure that their Human Resources team is respected and trusted across the organization. The CHRO will coach and lead the HR team to deliver excellence and efficiencies in all aspects of the company's day-to-day and overall HR and recruiting operations including, but limited to: talent acquisition, onboarding and exit interviews, leadership development, training, benefits management, compensation planning, policy setting, performance evaluations, employee relations, HRIS and employee engagement. The CHRO is expected to remain current on regulations, laws, industry trends and best practices; and to keep the organization compliant by advising management and making timely changes in practices and policies. The CHRO must have experience creating and maintaining an organizational culture that attracts, motivates, and retains a diverse, talented staff to blend skill sets, meet objectives, and provide efficient program execution.
The ideal candidate will possess a Master's degree in Human Resources, Business, Organizational Development, or a related field, with at least ten years of experience in Human Resources with a minimum of five years in an executive role; HR certification preferred. S/he/they will possess demonstrable experience in employee relations, employment law, compensation, organizational planning, recruitment, organizational development and employee engagement. The position requires someone with a demonstrated commitment to the values of diversity, inclusion, and equity, the ability to think strategically in seizing opportunities, assessing risk, and streamlining processes and procedures across multiple locations. The successful candidate will have demonstrated success owning all aspects of HR operations as a part of a strategic leadership team with the ability to create and execute an innovative and scalable HR roadmap and vision aligned with RAICES' overall strategic goals. It is essential to have demonstrated expertise in handling employment legal claims and developing/implementing risk management strategies. This position requires a leader with the poise, knowledge, and communication skills to be an influential business partner and coach to executive staff and maintain effective relationships with employees at all levels. The ideal candidate will have an entrepreneurial nature and thrive in an environment where servant leadership is respected.
For consideration, interested candidates should submit a cover letter and resume. Your cover letter must address your experience and qualifications being sought. Interested individuals are encouraged to apply immediately. Please visit: www.raicestexas.org for more information about the organization. To obtain further details about this opportunity, contact Myra T. Briggs, Managing Director at Nonprofit HR.
---

Our Commitment to Diversity, Equity, Inclusion & Belonging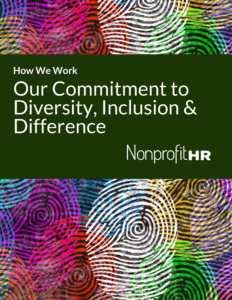 Nonprofit HR is committed to fostering and maintaining a work environment where diversity, equity, and inclusion (DEI) are fully integrated into everything we do for the benefit of our employees and the clients that we serve. To fully realize our goal, we prioritize our understanding of the complexities of DEI within our workforce to inform our approach to talent management. We believe that this guides how we do our work, advise our clients to operationalize DEI and position our content and educational opportunities help strengthen the talent management capacity of the social impact sector.
Continue reading our about our commitment at nonprofithr.com/deinow.
Read More
Apply for this position
Required*