We seek a Communications Specialist to participate in the conception, planning and implementation social media and email marketing campaigns; public relations outreach; stakeholder outreach; and event marketing. The incumbent will report to the Director of Creative Services with a dotted line to the Vice President of Communications. The incumbent must be able to adapt to evolving deadlines, prioritize tasks in a fast-paced environment, and work as a part of a team or independently. Prosperity Now's staff works collectively across teams and thrives on intellectual curiosity; an energetic, entrepreneurial approach to challenges; and a drive toward fulfilling our mission.
Responsibilities
Participate in the development and execution of multichannel marketing plans for all publication releases, communications and advocacy campaigns, in-person and digital events, and other strategic initiatives.

Maintain relationships with external partners to expand the reach of both Prosperity Now's content, and the content of our partner organizations.

Develop easy-to-use marketing tools that enable Prosperity Now staff and our external partners to increase the visibility of publications, campaigns, events and other strategic initiatives.

Supports the execution of the organization's social media strategy across platforms and across all programmatic areas while training staff when applicable.

Use Cision communications platform to monitor Prosperity Now in the news, develop media lists, and track industry media trends.

Coordinate the organization's digital activity on all social media platforms while consistently maintaining our core values.

Manage the execution of Prosperity Now's email marketing efforts, including laying out campaigns in Campaign Monitor; managing subscriber segments, and tracking key performance indicators (KPIs) to help drive refinements to our e-mail marketing strategy.

Attending or participating in online events to bring visibility to Prosperity Now's staff of experts and our role as a convener and leader of the field.

Other duties as assigned.
Required Skills & Qualifications
Must have knowledge of Canva, Photoshop; Online tools such as: Campaign Monitor, Survey Monkey, Hootsuite, Drupal or other CMSs; Microsoft Office applications; Social media tools such as: Facebook, Twitter, Linked In, Instagram, and TikTok; Experience with I-Stock photos, online photos and video databases preferred.

Bachelor's degree in Communications, or Journalism; or three years of relevant experience

Must have experience in drafting communications and marketing materials such as press releases, social media toolkits and talking points.

The ability to write for multiple audiences, both internally and externally, including traditional and new media

Superior organization skills and attention to detail

Strong interpersonal skills, as well as the ability to work with colleagues from diverse backgrounds.
---

How We Work: Nonprofit HR's Commitment to Diversity, Inclusion & Difference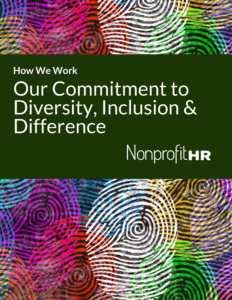 It is a high priority for us to foster and maintain an environment where diversity and inclusion are valued and realized to the benefit of you and the clients that we serve.
We believe strongly in treating everyone fairly and value the full diversity of our colleagues, clients, partners and vendors. Inclusion is how we live our commitment to fairness and diversity. It shapes how we honor the perspectives, abilities and identities of our colleagues; how we listen to, engage and respond to our clients; and how we connect to and appreciate each other and those we serve. We define diversity as differences that influence and affect our firm, our workplace culture, and the communities and clients we engage in the following areas: race, color, ethnicity, national origin, socioeconomic status, pay and benefits, ability, military service, age, faith, gender, sexual identity, personal appearance, pregnancy, and political views. Continue reading our about our commitment to diversity, equity and inclusion at nonprofithr.com/deinow.