POSITION OVERVIEW
The Director of Finance & Business Operations is a key leadership role in the Operations Department of the Public Allies National Office. Reporting to the Chief Operating Officer, the Director is responsible for Public Allies' day to day business operations and budget/fiscal management. They will provide oversight of finance, accounting, admin, and budget reporting activities and ensure that Public Allies has the systems and procedures in place to support effective program implementation that complies with all contractual obligations, including federal grants. This position will also help build and develop financial systems as we scale the organization to increase impact. This is a full-time, 40-hour a week position.
ESSENTIAL DUTIES AND RESPONSIBILITIES:
Organizational Financial Management
Provide oversight of bookkeeping, accounting, and reporting functions

Oversee development of organization budgets, ensuring compliance with accounting requirements

Assist Development team in tracking donor contributions and analysis of related data. Initiate communications with donors for any delayed receipt of committed donations

Work with Public Allies' outsourced accounting firm to report and complete annual audit activities

Manage finance team and oversee the development of financial projections and collaborate with Public Allies' Executive Team on the annual budget planning process

Track spending relative to budgets (including

organization

, Program, and Grants) on a monthly basis and identify potential problem areas

Act as p

rimary approver of invoices for payment

Work with internal and external finance and accounting team members and financial systems to track budgeted versus actual spending

Manage and ensure compliance with financial controls in procurement, property management, receivables, payments, cash management, payroll, reporting, and reconciliation processes

Responsible for oversight of Finance and Administration systems, and coordination of interfaces with other systems (i.e., Salesforce, etc.)

Serve as primary negotiator and signature authority for contracts

Serve as primary point of contact for the Finance Committee (scheduling, materials review, coordination with external accounting/finance team)

Oversee collection of receivables, including Partner Organization fees and related escalations

Oversee payroll processes and supporting team
Grant Financial Management
Oversee development of grant budgets ensuring compliance with federal grant submission requirements

Ensure that all financial expenditures are consistently aligned with specific grant and program budgets throughout the grant/fund period and file documentation to support grant audit requests

Oversee financial compliance monitoring of subrecipients (i.e. desk audits)

Oversee financial grant reporting and draw processes
Other Duties
Coordinates with other key staff

Adheres to service delivery expectations of Public Allies

Performs other duties as assigned
SUPERVISORY RESPONSIBILITIES
This is a supervisory position, requiring the supervision of the Administrative Support Staff, the Grants Finance Manager, and the internal and external Accounting/Finance teams.
QUALIFICATIONS
The Director of Finance & Business Operations must be able to perform the essential duties listed below. These qualifications are representative of the knowledge, skills, and/or abilities required. Reasonable accommodations may be made to enable individuals living with disabilities to perform the essential functions.
Committed to racial and economic justice and can speak concretely and passionately about why you do this work

Committed to lead through a values-based framework aligned with Public Allies' core values of collaboration, focus on assets, integrity, continuous learning, innovation and diversity and inclusion

Sophisticated leadership skills and presence developed through progressive management experience in business, accounting or finance professional in the nonprofit field - preferably in a mission-driven organization that is scaling regionally and/or nationally

Familiarity with grants management as it relates to compliance and reporting with federal and foundation grants

Skilled in managing financial reporting, budget development and analysis

Familiarity with payroll, banking, and audit

Proficiency with QuickBooks and Salesforce strongly preferred

Extremely organized, detail-oriented, well versed in project management and able to work in a multi-tasked environment

Works independently, meets deadlines and effectively manages multiple priorities

Ability to self-start but also works well in a team setting and can collaborate effectively with others

Computer skills in Word, Excel, Google Suite, and the use of email and other applications

Demonstrates commitment to the mission, values, and vision of Public Allies

Familiarity with the governmentwide directive for Federal grant recipients/subrecipients at 2 CFR 200

Strong understanding of financial-related internal controls, including plans, methods, policies, and procedures necessary for an organization to have sound financial management practices and systems
EDUCATION and/or EXPERIENCE
Bachelor's degree in Business, Accounting or Finance or equivalent combination of education and experience. Experience in nonprofit administration is required. Master of Business Administration, Master of Public Administration, or Certified Public Accountant (CPA) designation preferred.
COMPENSATION
The salary range for this position is $80,000 to $100,000. In addition, Public Allies has a robust benefits package including healthcare (inclusive of vision/dental), professional development, and a generous holiday and time-off allowance.
---

How We Work: Nonprofit HR's Commitment to Diversity, Inclusion & Difference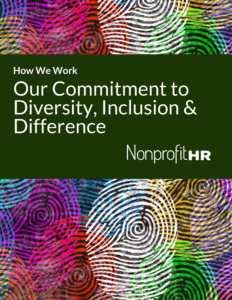 It is a high priority for us to foster and maintain an environment where diversity and inclusion are valued and realized to the benefit of you and the clients that we serve.
We believe strongly in treating everyone fairly and value the full diversity of our colleagues, clients, partners and vendors. Inclusion is how we live our commitment to fairness and diversity. It shapes how we honor the perspectives, abilities and identities of our colleagues; how we listen to, engage and respond to our clients; and how we connect to and appreciate each other and those we serve. We define diversity as differences that influence and affect our firm, our workplace culture, and the communities and clients we engage in the following areas: race, color, ethnicity, national origin, socioeconomic status, pay and benefits, ability, military service, age, faith, gender, sexual identity, personal appearance, pregnancy, and political views. Continue reading our about our commitment to diversity, equity and inclusion at nonprofithr.com/deinow.