Digital Engagement Manager (GLSEN)
Remote
Full Time
Manager/Supervisor

| | |
| --- | --- |
| Reports to: | Director of Communications and Public Voice |
| Location: | New York City (or Remote) |
| Annual Salary: | $75,000 |
Objective
At a time where LGBTQ+ youth are both vulnerable to the current political climate - while highly visible and more resilient than ever before - the Digital Engagement Manager is responsible for helping achieve GLSEN's mission of LGBTQ-inclusive K-12 schools by leveraging all digital channels – social, web, email, SMS, advertising, and blog – to advance GLSEN's programs, services, and offerings.
Through the development of digital strategies and campaigns, the Digital Engagement Manager works to increase GLSEN's reach with target audiences, create engagement paths, and drive meaningful action. The Digital Engagement Manager of Media Relations and Public Voice will work across all digital mediums to ensure that GLSEN's brand and messaging are at the forefront of both the national and local conversations on LGBTQ youth and K-12 education. This manager will communicate clearly and compellingly with GLSEN's expansive constituency, including youth, educators and school administrators, parents, chapters, partner organizations, and volunteers in our chapter network to activate these audiences to improve the climate of our nation's schools for all. This manager will foster and facilitate communication and collaboration across departments, and across GLSEN's 41 Chapters in 38 states. This person will have demonstrated an ability to help set a compelling and inspiring strategic digital vision for the department and organization. Finally, and most importantly, the Digital Engagement Manager will display a dynamic passion for changing the world for the better for LGBTQ youth and have an anti-oppressive and anti-racist approach to all of their work.
Duties and Responsibilities
Develop and manage digital campaigns marketing GLSEN's programs, services, and offerings through the use of social, landing pages, email, SMS, digital advertising, and blog

Work with staff, Chapter volunteer network, student leaders, and partner organizations to develop campaigns and content to achieve organizational goals

Create campaign plans and reports, including tracking and analyzing key performance indicators related to digital channels

Oversee GLSEN's social media channels

Work with Chapters to ensure messaging consistency

Support Chapters in their Digital Engagement work

Advise and support in development and maintenance of website and CRM

Provide technical training and content development support for staff and volunteers to better leverage digital channels in their work
Qualifications and Required Skills
3-5 years experience managing integrated digital campaigns

Extensive knowledge of social media platforms and best practices

Proficient in HTML

Working knowledge of Drupal 8 or other CMS

Experience working with CRM databases

Working knowledge of search engine optimization best practices

An understanding of digital analytics

Creative approach in pursuing organizational opportunities

Experience creating communications strategies

Enthusiastic approach to working collaboratively with, and providing support for, staff and volunteers across the network who have widely varied levels of skill and comfort with digital media

Ability to work under pressure, prioritize, move multiple projects forward, honor commitments, and deliver on tight deadlines

Strong writing, editing, and oral communication skills

A passion for LGBTQ issues in K-12 education

Experience in nonprofit and/or advocacy environments a plus
Physical Requirements
Ability to sit for eight (8) or more hours with breaks.

This is a sedentary position, with occasional periods of standing.

This position demands extensive keyboarding, visual acuity required
Supervisory Responsibilities
This role will directly manage the Digital Engagement Associate.
---
The Digital Engagement Manager may be a remote position GLSEN has offices in NYC and D.C., up to 20% of this position will include travel when it is safe to do so. During the Coronavirus pandemic this role is 100% remote while social distancing orders are in place.
GLSEN is an Equal Opportunity Employer. We strongly encourage people of color, people of diverse gender identities, people with disabilities, women, and non-LGBTQ people to apply.
---

Our Commitment to Diversity, Equity, Inclusion & Belonging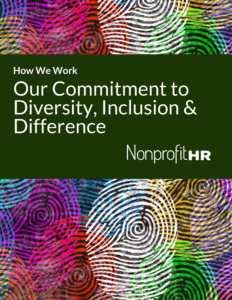 Nonprofit HR is committed to fostering and maintaining a work environment where diversity, equity, and inclusion (DEI) are fully integrated into everything we do for the benefit of our employees and the clients that we serve. To fully realize our goal, we prioritize our understanding of the complexities of DEI within our workforce to inform our approach to talent management. We believe that this guides how we do our work, advise our clients to operationalize DEI and position our content and educational opportunities help strengthen the talent management capacity of the social impact sector.
Continue reading our about our commitment at nonprofithr.com/deinow.
Apply for this position
Required*