Director of Development - Contract Role (Alterra Community Foundation)
Remote
Contracted
Experienced
ABOUT AMCCF
Established in 2020, the Alterra Mountain Company Community Foundation (AMCCF) is a public charity that was created to provide financial support to the members of the communities in which Alterra Mountain Company operates. Former CEO Rusty Gregory and Alterra founders Henry Crown and Company and KSL Capital Partners provided the initial donations of $2.6 million to launch AMCCF. Alongside support from Alterra Mountain Company, public donations are paramount to AMCCF's success and ongoing impact.
To date, AMCCF has focused on granting emergency relief and hardship assistance to those in need within the communities surrounding Alterra's North American destinations. Grants have been available to individuals and nonprofit organizations. Moving forward, AMCCF will start implementing its new strategic plan. This plan will expand AMCCF's scope beyond emergency relief and hardship assistance grants by taking on the Urban Snow Parks program, creating an equitable strategy for supporting local community foundations, and providing mental health support in our mountain communities.
SCOPE OF WORK
The AMCCF is seeking a professional fundraiser to support our development efforts as we launch our new strategic plan. We plan to focus on four programs moving forward:
Emergency relief and hardship assistance grants
Urban Snow Parks, a program to build accessible snowsports opportunities for diverse urban communities
A system that provides equitable support to local community foundations and their work in housing, childcare, climate and professional services
Mental health in mountain communities
This contract will span through July 2025 and should achieve the following:
Development and execution of a fundraising plan and communication strategy for AMCCF donors
Creation and maintenance of a dynamic donor deck for prospective donors
Creation and maintenance of a donor database that will include Alterra's corporate partners, new partners and individual donors
Development and execution of a strategy to steward and retain Alterra Mountain Company employee donors
Identify and apply for grant opportunities
Design and execute the fundraising component of an annual AMCCF event
REQUIRED EXPERTISE
The successful candidate will have experience (10+ years) in nonprofit fundraising
Intermediate to advanced skiing or snowboarding skills
Passion for the mission of AMCCF
Demonstrated success in donor acquisition strategies for nonprofit organizations, and community foundations in particular
Knowledge of financial instruments, donor advised funds, planned giving and other development tools; ability to speak intelligently with donors about the ways in which they can give to AMCCF
Experience with database management and donor tracking
Experience with event production
Knowledge of and connections within the Denver metro area philanthropic community
Experience working for and/or knowledge of nonprofit organization(s) that focus on outdoor spaces, sports, community engagement and/or diversity, equity and inclusion
An affinity for working with culturally, socially and politically diverse communities; must be equally comfortable with locals and "second home" owners, and with experienced and inexperienced skiers/riders
Excellent communication and presentation skills
Excellent interpersonal, communications, analytical and administrative skills
Ability to self-motivate and work independently; excellent time management skills
Proactive and independent problem solver
Excellent research skills
The budget for this work is $6,000 - $8,000 / month over the term of the contract.
APPLICATION INSTRUCTIONS
To apply, please submit a cover letter and resume outlining your relevant experience and interest in the role. 
---

Our Commitment to Diversity, Equity, Inclusion & Belonging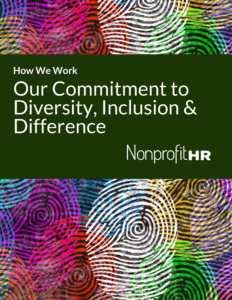 Nonprofit HR is committed to fostering and maintaining a work environment where diversity, equity, and inclusion (DEI) are fully integrated into everything we do for the benefit of our employees and the clients that we serve. To fully realize our goal, we prioritize our understanding of the complexities of DEI within our workforce to inform our approach to talent management. We believe that this guides how we do our work, advise our clients to operationalize DEI and position our content and educational opportunities help strengthen the talent management capacity of the social impact sector.
Continue reading our about our commitment at nonprofithr.com/deinow.
Apply for this position
Required*