POSITION ANNOUNCEMENT
Chief Operating Officer
The League of Women Voters of the United States (LWVUS) is a nonpartisan political organization that has fought for more than 100 years to improve American systems of government and impact public policies through citizen education, advocacy, and litigation. The enduring vitality and resonance of The League as a trusted force for change and good government comes from its unique decentralized structure: a national organization with strong partnerships at the grassroots level with more than 700 affiliate Leagues across all 50 states, the District of Columbia, the Virgin Islands, and Hong Kong. At the national level, League activities are coordinated and staffed by two distinct but complementary organizations: The League of Women Voters of the United States (LWVUS) and the League of Women Voters Education Fund (LWVEF). The League is currently undergoing a period of transformation and growth as it works to ensure its continued strength and vitality in its second century and beyond.
As the League of Women Voters (The League) continues to grow and build upon its powerful legacy, a search is underway for an experienced and strategic Chief Operating Officer (COO). The League has exclusively retained Impact Search Advisors by Nonprofit HR to assist in these recruitment efforts. Reporting to the Chief Executive Officer, the COO is a key member of the Executive Team and is responsible for leading day to day and strategic operations, accounting and finance, information technology, and the human resources consultant team. The COO will develop, implement, and communicate effective operational strategies and processes of the organization's administrative and support services. Critical to the continued progress of The League's organizational culture, the COO will share accountability with the Executive Team to uphold the organization's commitment to building and maintaining a diverse, equitable, and inclusive workplace, both in policy and in practice. The COO will also be responsible for managing change as the organization grows and evolves.
The COO in collaboration with the Assistant Controller, will successfully manage the financial budget of the organization and maintain accurate reporting on its various funding streams including direct mail, major donors, foundation support, corporate sponsorship, planned giving, and membership contributions. Strong fiscal management and a track record of achieving clean audit outcomes, as well as the ability to streamline financial tools and structures, manage investment portfolios, and maximize the 401k offerings is essential for success in this role.
The COO is a dynamic leader and change agent who builds and executes thoughtful strategies, is results-oriented, exercises good judgement amidst ambiguity, and ensures operational excellence in a fast-paced environment. S/he/they has exceptional interpersonal and people management skills, with the ability to build and inspire high-performing, cohesive, and cross-trained teams. The COO is a solutions-focused motivator with high standards for excellence. S/he/they is a clear, consistent, and empathetic communicator, someone who excels at relationship building, exhibits entrepreneurial instincts, naturally absorbs new information, and who has a contagious drive for continuous improvement and accountability. Demonstrated success in managing remote and hybrid teams, and the ability to create a safe post-pandemic return-to-the-workplace plan will be critical. It will also be the COO's responsibility to establish credibility throughout the organization and with the Board as an effective problem solver to business challenges and to deliver transparent and accurate quarterly presentations to the Board.
The ideal candidate will possess a master's degree in Business, Finance, Organizational Development, or a related field, with at least five years of senior leadership experience in an operations role within a nonprofit organization. A bachelor's degree is required, a CPA or strong finance background is strongly preferred. S/he/they will possess demonstrable experience in human resources management, budget development, financial planning and analysis, information technology, including the ability to engage various forms of technology to communicate with remote staff, and to create and track operational and financial performance metrics. The ideal candidate must also be adept at vendor contract negotiation, interpretation, and compliance management. The annual salary range for this position is $180,000 to $210,000, in addition to a competitive benefits package.
The League of Women Voters centers social justice and racial equity through its commitment to diversity, equity, and inclusion to both external and internal stakeholders. We intentionally foster an inclusive workplace based on equal opportunity. The League is committed to hiring staff that reflects this country's full range of racial, ethnic, cultural, sexual orientation, gender and gender identity, and socioeconomic identity; a workplace where true diversity is fostered, and different perspectives are valued and freely exchanged. We encourage women, people of color, members of the LGBTQIA+ community, and those from traditionally underrepresented communities to apply.
For consideration, interested candidates will submit a cover letter and resume and complete the application questions. Your cover letter must address your interest, experience, and qualifications being sought. Interested individuals are encouraged to apply online immediately. Please visit lwv.org for more information about the organization.
Online applications only please. However, to obtain further details about this opportunity, contact Danisha Martin at danisham@nonprofithr.com, Search Consultant, at Impact Search Advisors by Nonprofit HR.
---

How We Work: Nonprofit HR's Commitment to Diversity, Inclusion & Difference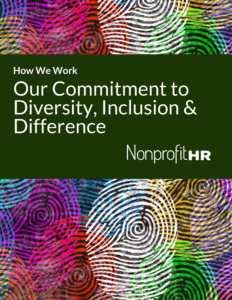 It is a high priority for us to foster and maintain an environment where diversity and inclusion are valued and realized to the benefit of you and the clients that we serve.
We believe strongly in treating everyone fairly and value the full diversity of our colleagues, clients, partners and vendors. Inclusion is how we live our commitment to fairness and diversity. It shapes how we honor the perspectives, abilities and identities of our colleagues; how we listen to, engage and respond to our clients; and how we connect to and appreciate each other and those we serve. We define diversity as differences that influence and affect our firm, our workplace culture, and the communities and clients we engage in the following areas: race, color, ethnicity, national origin, socioeconomic status, pay and benefits, ability, military service, age, faith, gender, sexual identity, personal appearance, pregnancy, and political views. Continue reading our about our commitment to diversity, equity and inclusion at nonprofithr.com/deinow.