Database Developer (AGU)
Washington, DC
Full Time
Mid Level
Title: Database Developer
Position Type: Full-Time
Location: Washington, DC

What we do and offer our team
AGU is a global community of 130,000 Earth and space scientists, advocates and experts. As the Database Developer, you will support a dynamic association that publishes peer-reviewed journals and scientific books and convenes the largest Earth and space science meeting in the world. Through our initiatives, such as mentoring, professional development and awards, AGU upholds and fosters an inclusive and diverse scientific community.
AGU offers our employees great benefits, including flexible work schedules, retirement savings options, as well as health, dental, life and disability insurance. AGU also provides exciting opportunities for professional development and tuition support.
AGU's Workplace Values
We believe in accountability and ownership of work, by taking responsibility for decisions and results. We believe in member and customer service, and that they come first through providing high quality service.
We believe in excellence and giving it our all, through striving to be outstanding. We believe in integrity by doing the right thing, we achieve this by being honest and fair.
Our teams believe that with teamwork together we achieve more, we achieve this through collaboration. We believe in respect, that you earn it and give it, by open communication and collaboration.
What the Database Developer does
The purpose of the Database Developer is to provide technical expertise and software development for the Business Data and Intelligence program. Successful management of enterprise data helps AGU inspire a global community of individuals and organizations interested in advancing discovery in Earth and space sciences and its benefit for humanity and the environment.
The Database Developer will be an essential part of the Business Data and Intelligence program. The incumbent will research and implement technical solutions involving customer data, including software development and use of API for integrations across platforms.
• Researches, develops, tests and documents technical solutions for the Business and Data Intelligence program. The solutions may be in response to an existing need (based on requirement gathering) or to optimize existing solutions.
• As needed, writes new SQL stored procedures or revises existing ones to optimize performance of NetForum.
• Creates, tests, and documents web services against NetForum.
• Builds integrations across platforms.
• Connects new data sources to the AGU DataMart and automates processes for data flow and data analysis; Expands existing data mart as needed.
• Maintains professional and technical knowledge by attending educational workshops; establishing personal networks; benchmarking state-of-the-art practices; participating in professional societies.
• Other duties as assigned.
What the Database Developer brings to the team
• Bachelor's degree with a minimum of 3-5 years of experience, or equivalent combination of education and experience.
• Advanced experience with MS SQL environment, including database development, database administration and advanced T SQL programming required.
• Experience with .NET framework and compatible programming language like C# required.
• Experience working with APIs (writing and calling) required.
• Experience with SOAP-based web services desired.
• Experience with implementing data flow across different platforms desired.
• Experience with Azure suite of data products and their use (Azure SQL, Azure data factory) desired.
• Experience with Community Brands NetForum Enterprise a plus.
• Previous experience working in a membership organization environment preferred.
• Ability to communicate easily and effectively with both internal and external audiences, with the ability to translate technical information to non-technical terms
• Strong attention to detail.
• Multi-tasking in a fast-paced environment with tight deadlines.
• Comfortable working independently and collaboratively.
• Flexible and able to work with routinely shifting priorities.
• Must be capable of exercising highest level of discretion on both internal and external confidential matters.
To Apply:
For consideration, please submit your cover letter and resume.
The successful candidate for this position will be subject to a pre-employment background check and verification of vaccination against COVID-19 by the date of hire as a condition of employment, subject to requests for any legally required accommodation.
AGU proudly offers a casual work environment, excellent compensation, generous work-life opportunities, and an outstanding benefits package.

AGU is an Equal Opportunity/Affirmative Action employer. Minorities, women, veterans and individuals with disabilities are encouraged to apply.
---

Our Commitment to Diversity, Equity, Inclusion & Belonging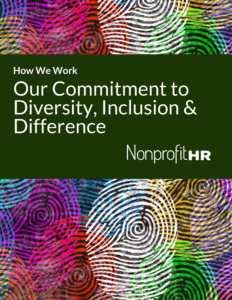 Nonprofit HR is committed to fostering and maintaining a work environment where diversity, equity, and inclusion (DEI) are fully integrated into everything we do for the benefit of our employees and the clients that we serve. To fully realize our goal, we prioritize our understanding of the complexities of DEI within our workforce to inform our approach to talent management. We believe that this guides how we do our work, advise our clients to operationalize DEI and position our content and educational opportunities help strengthen the talent management capacity of the social impact sector.
Continue reading our about our commitment at nonprofithr.com/deinow.
Apply for this position
Required*