Southeast Data Manager
Remote
Full Time
Experienced
POSITION ANNOUNCEMENT
Job Title: Southeast Data Manager
FLSA/CLASS: Exempt/Full-time
Reports To: Managing Director of Technology & Data
Location: Remote
WHO WE ARE?
Faith in Action is the largest grassroots faith-based community organizing network in the United States. For 40 years, Faith in Action has brought people of faith together to advance racial and economic justice. Through a network of 45 faith-based organizations and 1,200 religious' congregations, Faith in Action provides an opportunity for thousands of volunteer leaders to stand up and be heard on the public and corporate decisions that most directly shape their lives.
Faith in Action organizations have successfully changed public policies at the local, state, and federal level that have helped families obtain affordable health coverage for themselves and their children, provide their children with a better education, protection for immigrants, reduction in private prisons, sentencing reform, increased minimum wage, earned sick time provisions, home foreclosure prevention, and secure good jobs. Through an innovative campaign infrastructure that ties together grassroots people-led organizing in more than 200 cities and towns and 20 states with large-scale efforts to change federal policy, Faith in Action is currently leading campaigns to protect healthcare, end mass-incarceration, reduce gun violence, keep immigrant families together, and build an economy where people can work with dignity and take care of those they love.
POSITION OVERVIEW
The Southeast Data Manager will support the four federations that make up the Southeast Region: Faith in Action Alabama, Faith in Florida, the MICAH Project (Louisiana), and Faith in Texas. This position sits at the pivotal crossroads of data management helping the federations maximize the scope of multiple organizing and civic engagement campaigns through strategic use of data systems.

ESSENTIAL DUTIES & RESPONSIBILITIES
Maintain internal databases, including manipulation of voter, congregation membership, volunteer, and another person level data.

Provide data, targeting and technological guidance and support for organizing, issue, and/or electoral campaigns.

Administer, support, and train users on organizing and engagement systems.

Use Faith in Action endorsed tools and techniques to conduct targeting, analysis, and reporting for organizing, issue, and/or electoral campaigns.

Assist staff and affiliates in developing strategies, data processes, and reporting to accurately measure progress toward organizing goals.

Provide data driven strategic guidance on best tactics and tools to achieve goals to leadership.

Work with internal and external staff to establish best practices and standards for data collection, acquisition, and preservation.

Work with other members of the Southeast Region to advance the tactical and strategic campaign objectives of the federations within the region and the region.

Work with Faith in Action Data Team to integrate the flow of information across organizing tools and other systems used by Southeast federations.
KNOWLEDGE, SKILLS, ABILITIES (required)
Experience working with low-income, immigrant, communities of color, and/or returning citizens communities.

Cultural competency to work in a multicultural, multi-faith environment.

Commitment to cultural sensitivity and respect for differences.

Ability to pay attention to detail.

Effective time management skills, including demonstrated ability to manage and prioritize multiple tasks and projects.

Ability to work long and extended hours when needed.

Possess excellent written and oral communication and interpersonal skills.

Ability to work well independently, and within a team.

Understanding of common direct voter contact programs and community organizing practices.

Strong interpersonal and communication skills, including the ability to communicate technical subjects to nontechnical individuals.

Strong Microsoft Excel, PowerPoint, and Word skills.

Ability to continually develop skills related to use of rapidly changing technology and communications best practices.

Experience in the use of data and analytics to drive effective decision-making in organizing, issue, and/or electoral organizing.

Ability to coach and train users of various skill levels on how to use Faith in Action endorsed internal organizing tools and CRMs while fostering a culture of recording and acquiring data.
PREFERRED QUALIFICATIONS
Must have at least 3 electoral cycles experience using and/managing data using a constituent relationship management system (CRMs). VAN highly preferred. Special preference given to those candidates with electoral cycle experience in Florida, Alabama, Louisiana and/or Texas campaigns.

Must have experience building institutional power and the ability to create a narrative around social justice organizing in the south.

Experience working with clergy preferred.
CORE COMPETENCIES
● Commitment to Faith in Action's mission, vision, purpose, and core values.
● Proven ability to work in a variety of culturally diverse settings, particularly working with purposely ignored and marginalized communities such as formerly incarcerated, immigrants, poverty-stricken families, black women, etc.
● Action-oriented, solution driven, with a high-level of personal and professional integrity and trustworthiness, along with a strong work ethic.
● Ability to establish and maintain effective relationships, with the innate ability to communicate effectively, both written and orally.
● Excellent interpersonal, project and time management, customer service and organizational skills.
● Ability to work both independently and as part of a collaborative team.
---

Our Commitment to Diversity, Equity, Inclusion & Belonging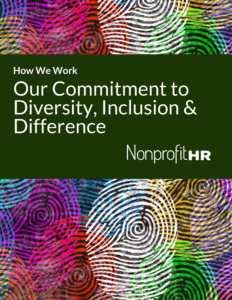 Nonprofit HR is committed to fostering and maintaining a work environment where diversity, equity, and inclusion (DEI) are fully integrated into everything we do for the benefit of our employees and the clients that we serve. To fully realize our goal, we prioritize our understanding of the complexities of DEI within our workforce to inform our approach to talent management. We believe that this guides how we do our work, advise our clients to operationalize DEI and position our content and educational opportunities help strengthen the talent management capacity of the social impact sector.
Continue reading our about our commitment at nonprofithr.com/deinow.
Apply for this position
Required*