Grow your career, talent attraction skill-set, and contribution to social impact at the same time!
Do you absolutely love recruiting and helping organizations achieve their mission through their people? Great. Join Nonprofit HR and work with social impact organizations nationwide by placing the top talent in the sector and making an impact daily.
In this role, you'll manage a portfolio of multiple clients and support their on-going recruitment needs. While you'll have a community of colleagues to collaborate with, your role will work independently to ensure a high-quality talent pipeline. Daily, the professional in this role proactively responds to the recruiting needs within our client-focused environment.
Qualified candidates will have five or more years of experience as a high-volume recruiter.
Go above and beyond by demonstrating prior career success in these core areas:
CSP and/or PHR certification

Outstanding interpersonal and communication skills including the ability to write effectively and concisely for a wide variety of audiences including candidates, management, staff, senior leadership and client organizations

Strong client service orientation, impeccable attention to detail and commitment to excellence.

Keen understanding of human resources principles and practices including talent acquisition, full lifecycle recruitment

Solid

ability to meet multiple deadlines and handle multiple assignments simultaneously by utilizing time management skills
If your professional background includes working in or with NGOs or professional service organizations, we really want to hear from you!
Join Nonprofit HR and work in a creative, solutions-driven work environment where you can make a living and a difference. Nonprofit HR also offers an exceptional benefits plan that includes unlimited leave, medical and dental, a generous holiday schedule, bonus opportunities, a 401k match program and the ability to chart your own professional course!
Share with us how your career experience is the perfect match to this career opportunity!
---

How We Work: Nonprofit HR's Commitment to Diversity, Inclusion & Difference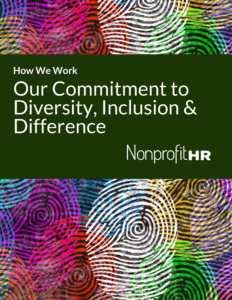 It is a high priority for us to foster and maintain an environment where diversity and inclusion are valued and realized to the benefit of you and the clients that we serve.
We believe strongly in treating everyone fairly and value the full diversity of our colleagues, clients, partners and vendors. Inclusion is how we live our commitment to fairness and diversity. It shapes how we honor the perspectives, abilities and identities of our colleagues; how we listen to, engage and respond to our clients; and how we connect to and appreciate each other and those we serve. We define diversity as differences that influence and affect our firm, our workplace culture, and the communities and clients we engage in the following areas: race, color, ethnicity, national origin, socioeconomic status, pay and benefits, ability, military service, age, faith, gender, sexual identity, personal appearance, pregnancy, and political views. Continue reading our about our commitment to diversity, equity and inclusion at nonprofithr.com/deinow.