Our international affairs client is seeking highly motivated and enthusiastic individuals with excellent writing, office management, and computer skills for Office Assistant to be assigned in various departments for short- and long-term assignments.
Candidates should be able to provide first-class administrative support, be detail-oriented, and possess strong organizational and interpersonal skills. They will also have the ability to handle multiple tasks and switch gears at a short notice in a fast-paced environment.
Tasks may include, but will not be limited to:
Proofread and edit research papers and reports following the organizations specific formatting rules;

Handle the logistics for the organization's mission life cycle (including but not limited to the issuance of documents to the Executive Board);

Organize virtual meetings, conferences, and/or seminars;

Maintain calendars and schedule appointments/meetings;

Manage paper and electronic information flow;

Other tasks as needed.
Qualifications:
Bachelor's degree with relevant work experience (typically 2 years for entry-level and 4-10 years for more senior roles)

Proficiency in Microsoft Office Applications

Excellent technological skills and ability to learn to use new technology

Excellent attention to detail

Ability to deliver high-quality work under pressure and switch gears as needed

Resourcefulness

Demonstrated ability to work in a diverse workplace

Drive and motivation to work independently in a remote environment
We value the diverse backgrounds, experiences, and talents that the Office Assistants bring to their roles.
For short-term temporary roles, it is expected that vendor employees will use their own equipment.
---

How We Work: Nonprofit HR's Commitment to Diversity, Inclusion & Difference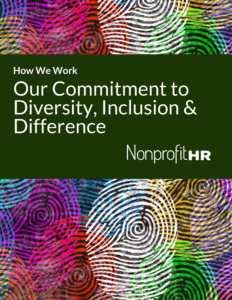 It is a high priority for us to foster and maintain an environment where diversity and inclusion are valued and realized to the benefit of you and the clients that we serve.
We believe strongly in treating everyone fairly and value the full diversity of our colleagues, clients, partners and vendors. Inclusion is how we live our commitment to fairness and diversity. It shapes how we honor the perspectives, abilities and identities of our colleagues; how we listen to, engage and respond to our clients; and how we connect to and appreciate each other and those we serve. We define diversity as differences that influence and affect our firm, our workplace culture, and the communities and clients we engage in the following areas: race, color, ethnicity, national origin, socioeconomic status, pay and benefits, ability, military service, age, faith, gender, sexual identity, personal appearance, pregnancy, and political views. Continue reading our about our commitment to diversity, equity and inclusion at nonprofithr.com/deinow.