Senior Clean Energy Transitions Fellow-The White House Office of Science and Technology Policy (OSTP)-FAS
Washington, DC
Full Time
Federation of American Scientists
Senior Executive
FAS is working to develop and implement innovative and actionable ideas in science and technology policy that have a significant impact on the nation. FAS' Day One Talent Hub is seeking a Senior Clean Energy Transitions Fellow for a full-time, 12 month program to enter The White House Office of Science and Technology Policy (OSTP) to join its team in the Biden-Harris Administration. The mission of OSTP is to maximize the benefits of science and technology to advance health, prosperity, security, environmental quality, and justice for all Americans. This is especially relevant for the transition to a clean and equitable energy system, and science and technology are essential to achieving the President's goal of a net zero greenhouse gases economy no later than 2050.
Senior Clean Energy Transition Fellow is part of the OSTP Energy Division and reports to the Energy Division Director, Dr. Sally Benson. The Senior Clean Energy Fellow will provide senior-level subject matter expertise and leadership to advance a clean and equitable energy system, which aligns with the priorities of the Biden-Harris Administration. The Senior Clean Energy Transition Fellow will be a key member of the team and will work closely with Energy Division Director Dr. Sally Benson and Principal Assistant Director Dr. Costa Samaras to advance the efforts of OSTP leadership and the team. This position is based in Washington, DC.
Achieving net zero emissions no later than 2050 requires massive-scale deployment of clean energy technologies, much of which exist today, but advances in technology are still needed. Reaching net zero emissions requires technologies that are currently in various stages of development. Some are ready or nearly ready and need policies to pull them to market, while some are still in the lab. Developing a National Net-Zero Innovation Plan will accelerate the integration of existing technologies and deliver the remaining solutions needed to get the job done.
OSTP's National Net-Zero Innovation Plan will map out the science-based approaches to deliver net zero emissions, identify gaps and make the case for critical support for R&D to accelerate deployment of clean energy technologies now, make sure the new technologies are available when they're needed, and invest in the future to make sure America leads the world in clean energy technologies for the 21st century. OSTP Clean Energy Transition Fellow will play a critical role in developing these analyses, as well as help rethink what energy science and technology should look like for the next 75 years, including by creating an energy science and technology ecosystem that is diverse, inclusive, and equitable.
Responsibilities
To advance the Administration's agenda, OSTP Senior Clean Energy Transition Fellow will:
Lead and conduct substantive research, modeling, and analysis; prepare and review reports, briefings, talking points, and correspondences.

Effectively communicate with OSTP Leadership, other White House senior leaders, and other senior stakeholders about energy transition policy issues.

Maintain awareness of national and international issues and White House positions on energy topics affecting the Fellow's area of expertise in order to provide timely and informed advice and analysis to OSTP and senior White House officials. The work involves the development of policy plans and approaches, socializing those concepts and incorporating feedback, and working with parties inside and outside the government to advance policy objectives.

Synthesize data from a wide variety of sources, including stakeholders outside the U.S. government, and presenting their analysis of this information and recommendations to members of the Administration.

Work both independently and closely as a member or leader of a team in a deadline-oriented environment.
Specific Tasks and Objectives
Work closely with OSTP Energy Division senior officials, other OSTP officials, and other Federal agencies to develop National Net-Zero Innovation Plans and will provide other support to include:
Identifying game-changing innovations in science, technology, and policy that will help meet our Net-Zero goals.

Technical modeling, analysis, and support for clean energy transition assessments and other activities that OSTP participates in related to the Administration's clean energy initiatives.

Research, analyze, and develop written materials (briefings, memos, visuals, etc.) on various policy topics.

Coordination, where appropriate, across the Executive Office of the President and Agencies relevant to meeting OSTP's goals and priorities.

Other tasks, as assigned, to support and collaborate with OSTP staff to advance specific policy goals, projects, and initiatives.
Knowledge, Skills, and Capabilities
OSTP Clean Energy Innovation Fellow will have a deep understanding of a specific energy sector, critical technology, systems integration, or a combination of these areas. Specific skills desired include some or all of the following, but are not limited to:
Understanding of one or more of the energy sectors: electricity, buildings, industry, and transportation.

Modeling, mapping, and visualization of current and potential future energy production, demand, technology deployment, and systems integration.

Analysis of energy technology performance targets, technical limits, technoeconomic factors, and innovation and adoption pathways.

Assessment of technical systems integration challenges and opportunities for individual or multiple technologies and sectors.

An understanding of the public and private clean energy innovation and policy ecosystem.

Strong written and verbal communication, with experience producing policy memoranda or compiling program research reports related to energy.

Experience presenting complex topics to a variety of audiences.

M.S., M.B.A, J.D., Ph.D. or terminal degree preferred.

Commitment to public service, diversity, equity and inclusion and pursuing it within the mission of FAS and The White House Office of Science and Technology Policy; OSTP values and is committed to sustaining and promoting diversity. We welcome, embrace, and respect diversity of people, identities, backgrounds, and cultures and are committed to fostering an organizational culture of diversity and inclusion.
Conditions of employment
This position will be based onsite at OSTP, which is located in the Eisenhower Executive Office Building in Washington, DC.

Must be a U.S. citizen or national.

Must be at least 18 years old; Selective Service registration if a male born after December 31, 1959.

All OSTP employees are subject to pre-employment and random drug tests.

Must be able to obtain a favorable security determination.
Education requirement: Master's degree or Ph.D. preferred, ideally in a quantitative social science discipline, public policy, education, computer science, or applied statistics.
This fellowship will provide salary for the entirety of the fellowship duration at an annual rate ranging from $135,000 – $145,000 per year, commensurate with experience and education.
---

Our Commitment to Diversity, Equity, Inclusion & Belonging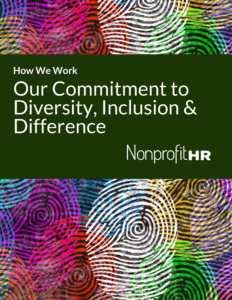 Nonprofit HR is committed to fostering and maintaining a work environment where diversity, equity, and inclusion (DEI) are fully integrated into everything we do for the benefit of our employees and the clients that we serve. To fully realize our goal, we prioritize our understanding of the complexities of DEI within our workforce to inform our approach to talent management. We believe that this guides how we do our work, advise our clients to operationalize DEI and position our content and educational opportunities help strengthen the talent management capacity of the social impact sector.
Continue reading our about our commitment at nonprofithr.com/deinow.
Read More
Apply for this position
Required*