Executive Director for Service and Justice | Evangelical Lutheran Church in America
Chicago, IL
Full Time
Executive
POSITION ANNOUNCEMENT
Organization:     Evangelical Lutheran Church in America
Position:             Executive Director, Service and Justice
Salary:                $133,765 - $167,202
Reports to:         Presiding Bishop
Location:     Hybrid. Office based in Chicago, IL.
ABOUT EVANGELICAL LUTHERAN CHURCH IN AMERICA
The Evangelical Lutheran Church in America (ELCA) is one of the largest Christian denominations in the United States, with nearly 3.3 million members in more than 8,900 worshiping communities across the 50 states and in the Caribbean region.  Our values are grounded in faith, in our biblical and Lutheran confessional sources and our love of God and neighbor. Because we trust in God's promise and understand faith to be a living, daring confidence in God's grace, we are emboldened to embrace learning and change in our spiritual and institutional journey as church. This means we are open to new ways and willing to take risks to discover God's plan for this church.
Through the Service and Justice (S&J) home area, the ELCA Churchwide Organization shall foster and facilitate this church's engagement in service with and among communities and promote efforts to call and act for justice. Its work includes engaging in mission, service, and justice in accompaniment with churches and organizations in other countries [serving as the means through which churches in other countries engage in mission to this church and society]; engaging with communities, coalitions and networks, congregations, and synods in service and justice work within the territorial jurisdiction of this church; and providing guidance to members on matters of social justice.
ABOUT THE ROLE
Grounded in our purpose and priorities, the Executive Director (ED) will serve as the head of the Service and Justice home area. The ED will help the ELCA become a welcoming, thriving and sustainable church that is able to engage new, young and diverse people by demonstrating the compassion of Jesus in the world. This will occur by connecting communities through service and justice for transformation in the way of Jesus as well as through programs and ministries of the church that promote relevancy and engagement with new people.  The incumbent in this position leads the team in building bridges between the three expressions of the ELCA, our companion and partners, and new ministries that foster a shared vision for a just and peaceful world.
This is a full-time, regular, exempt, hybrid position. This position is a 4-year term position. Terms are renewed by the Presiding Bishop at their discretion.
Among the many responsibilities of the CEO/President are the following priorities:
Develops a theologically grounded vision for service and justice in the ELCA and articulates to S&J staff and other home areas and ELCA ecology the vision and goals of Service and Justice and how it is integrated into the programmatic work of the teams.

Builds on S&J theology and practices (accompaniment, liberation, the 5 justice principles of Migration Justice; Economic Justice; Racial Justice; Gender Justice and Environmental Justice: (MERGE).

Promotes effective S&J cross-team collaboration and with other home areas to meet goals; set high standards for performance, achievement and accountability while promoting effective and sustainable team culture and work processes, represent S&J mission, ministry and goals across the ecology of the ELCA.

Drives performance and accountability through measurable impact. Builds a strategy for the Service and Justice home area and sets goals and deliverables that align with ELCA priorities and strategies.

Serves as a member of the Administrative Team. In collaboration with the Administrative Team, develops a strategic annual planning process rooted in Future Church priorities and creates a churchwide operational plan/objectives and key results with quantifiable goals in coordination with other home areas. Ensures these goals are integrated in S&J planning and evaluation.

Establishes relationships among ecumenical partners – World Council of Churches, Lutheran World Federation, Church World Service, ACT Alliance, Lutheran Services in America and Lutheran Immigration and Refugee Services, and continuation of partnerships.

Works closely with the Presiding Bishop, Executive for Administration and Executive Directors of each home area to ensure a collaborative approach to creating a 21st century church that is relevant and welcoming to new people, resulting in thriving and sustainable ministries.  

Exercises leadership in budget planning aligned with organizational and home area goals and budget management in a time of declining organization revenues.
Perform other duties as assigned.
ABOUT THE IDEAL CANDIDATE
The successful candidate will ideally have a minimum of ten years of extensive experience in social ministry, advocacy, strategic planning, staff supervision, budget management, and global competence.  The ideal candidate will possess many of the following qualifications and qualities:
Bachelor's degree required. Master's Degree preferred or an equivalent of education and experience.

Possesses sound political judgement and in-depth knowledge of ELCA, its social teachings, theological ethics, advocacy commitments. Comprehensive knowledge of the Lutheran church, its history, mission, and structure, particularly as it relates to social justice and service.

The ability to thrive in multicultural, international, and diverse work environments. This includes the ability to earn trust and build relationships with ELCA global partners.

An understanding of the value of faith-based advocacy at all levels (local to global), and ability to articulate why/ how churches in the US can and should engage in the promotion of equity and justice for all through policy interventions and advocacy (State, Federal, CSR and Multilateral).

Experience using Microsoft Office applications (Word, Excel, Teams, Outlook, etc.).

Appreciation for the mission, vision, and values of the ELCA.

Commitment to diversity, equity, inclusion, and anti-racism.
Physical and Travel Requirements
While performing the duties of this job, the employee is regularly required to talk and hear, and use hands and fingers to operate a computer and telephone. This position requires sitting for long periods of time. Reasonable accommodations can be made to enable individuals with disabilities to perform the essential functions.  This position has responsibilities that will require being in the office on a weekly basis. Extensive travel expected – over 12 weeks to include domestic and international. Valid driver's license required.
WORK AUTHORIZATION
Candidates for this hybrid position must reside within the fifty United States or the District of Columbia and be authorized to work lawfully in the United States. In compliance with federal law, all persons hired will be required to verify identity and eligibility to work in the United States and to complete the required employment eligibility verification document form upon hire.
TO APPLY
ELCA has exclusively retained Impact Search Advisors by Nonprofit HR to assist in the recruitment efforts for its next Executive Director, Service and Justice. For consideration, interested candidates should submit a complete application, resume, and cover letter to Impact Search Advisors by Nonprofit HR . Your cover letter must address your experience and qualifications as aligned with the needs of the organization, as well as your specific interest in ELCA. Interested individuals are encouraged to apply immediately. 
Please visit: https://www.elca.org/ for more information about the organization. To obtain further details about this opportunity, contact Sophia LaFontant, Search Consultant at [email protected].
---

Our Commitment to Diversity, Equity, Inclusion & Belonging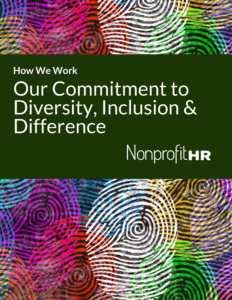 Nonprofit HR is committed to fostering and maintaining a work environment where diversity, equity, and inclusion (DEI) are fully integrated into everything we do for the benefit of our employees and the clients that we serve. To fully realize our goal, we prioritize our understanding of the complexities of DEI within our workforce to inform our approach to talent management. We believe that this guides how we do our work, advise our clients to operationalize DEI and position our content and educational opportunities help strengthen the talent management capacity of the social impact sector.
Continue reading our about our commitment at nonprofithr.com/deinow.
Apply for this position
Required*