SFJAZZ is a recognized international leader in jazz creation, presentation, and education. SFJAZZ explores the full spectrum of jazz—from the music's origins in the African American community, to its diverse present-day expressions around the world. As a 501c3 non-profit organization, SFJAZZ works to develop the audience for jazz in the San Francisco Bay Area and beyond. SFJAZZ celebrates jazz as a living art form, built on a constantly evolving tradition.
SFJAZZ is one of the world's most popular presenters of jazz. The SFJAZZ Center is a beautiful stage for jazz artists and the community to celebrate the living American art form of jazz. Our 37-year-old non-profit organization crafts distinguished programming and education services from the heart of the San Francisco arts district, reaching 200,000 fans annually and supported by 15,000 Members and donors. In March 2020, SFJAZZ launched its initial digital offering Fridays at Five and the SFJAZZ Digital platform now includes members in all 50 U.S. states and more than 50 countries.
To ensure we continue to provide opportunities to the people within our community, SFJAZZ has exclusively retained Nonprofit HR to assist in the recruitment efforts for its next Director, People & Culture (Director). The Director will collaborate with the Chief Executive Officer in managing human resources and implementing a comprehensive culture strategy within the organization. The Director is responsible for directing the full suite of people functions for the organization and partnering with the Chief Executive Officer and leadership teams to develop the internal culture as well as that of the Board of Directors. SFJAZZ is looking for an experienced Human Resources professional with deep HR knowledge and an entrepreneurial spirit to design, advance, implement and promote scalable people strategies, policies, and a healthy working culture. The Director will provide sound advice and thought partnership to senior management, and support and develop managers and staff regarding all HR and talent matters.
As a strategic partner to the Executive Team, the Director will assist in developing the organization's plans and programs, particularly from the perspective of the impact on people. The Director will enhance and/or develop, implement and enforce creative HR policies and procedures for the organization by way of systems that will improve the overall operation and effectiveness of the organization across locations, programs and departments.
The Director will also be responsible for supporting and implementing the organization's efforts around diversity, equity, inclusion, and belonging (DEI&B), by creating strategy and leading the organization's anti-racism work. S/he/they will drive and support engagement, belonging and learning across SFJAZZ, in partnership with leadership and external consultants. This work will be manifested in our talent management strategy through cultivating multiple talent pipelines to reach diverse candidates and building organizational culture, maximizing employee engagement, and monitoring the climate. The Director will also develop SFJAZZ as an attractive, inclusive place for staff to do their best work and partner with teams across the organization to develop and implement DEI&B strategy.
S/he/they will be a leader in cultivating SFJAZZ's culture and serve as a trusted advisor across the organization. The Director will steward the HR function to deliver excellence and efficiencies in all aspects of the company's day-to-day and overall HR and recruiting operations including, but limited to: talent acquisition, onboarding and exit interviews, leadership development, training, benefits management, compensation planning, policy setting, performance evaluations, employee relations, HRIS and employee engagement. The Director is expected to remain current on national, state and local regulations, laws, industry trends and best practices; and to keep the organization compliant by advising management and making timely changes in practices and policies. The Director must have experience creating and maintaining an organizational culture that attracts, motivates, and retains a diverse, talented staff to blend skill sets, meet objectives, and provide efficient program execution.
The ideal candidate will possess a Master's degree in Human Resources, Business, Organizational Development, or a related field, with at least seven years of experience in Human Resources with a minimum of three years in an executive role; HR certification preferred. S/he/they will possess demonstrable experience in employee relations, employment law, compensation, organizational planning, recruitment, organizational development and employee engagement. The position requires someone with a demonstrated commitment to the values of diversity, inclusion, equity, and belonging along with the ability to think strategically in seizing opportunities, assessing risk, and streamlining processes and procedures across multiple locations. The successful candidate will have demonstrated success owning all aspects of HR operations as a part of a strategic leadership team with the ability to create and execute an innovative and scalable HR roadmap and vision aligned with SFJAZZ' overall strategic goals. It is essential to have demonstrated expertise in handling employment legal claims and developing/implementing risk management strategies. This position requires a leader with the poise, knowledge, and communication skills to be an influential business partner and coach to executive staff and maintain effective relationships with employees at all levels. The ideal candidate will have an entrepreneurial nature and thrive in an environment where servant leadership is respected.
For consideration, interested candidates should submit a cover letter and resume. Your cover letter must address your experience, qualifications and why you are interested in joining the SFJAZZ team. Interested individuals are encouraged to apply immediately. Please visit: https://www.SFJAZZ.org for more information about the organization.
---

How We Work: Nonprofit HR's Commitment to Diversity, Inclusion & Difference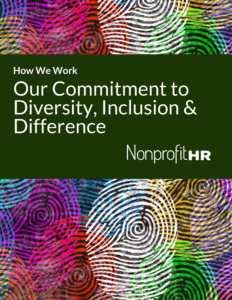 It is a high priority for us to foster and maintain an environment where diversity and inclusion are valued and realized to the benefit of you and the clients that we serve.
We believe strongly in treating everyone fairly and value the full diversity of our colleagues, clients, partners and vendors. Inclusion is how we live our commitment to fairness and diversity. It shapes how we honor the perspectives, abilities and identities of our colleagues; how we listen to, engage and respond to our clients; and how we connect to and appreciate each other and those we serve. We define diversity as differences that influence and affect our firm, our workplace culture, and the communities and clients we engage in the following areas: race, color, ethnicity, national origin, socioeconomic status, pay and benefits, ability, military service, age, faith, gender, sexual identity, personal appearance, pregnancy, and political views. Continue reading our about our commitment to diversity, equity and inclusion at nonprofithr.com/deinow.