The Council on Foundations fosters an environment where philanthropy can thrive and cultivates a community of diverse and skilled philanthropic professionals and organizations who lead with integrity, serve as ethical stewards and advocate for progress.
To learn more about the Council on Foundations, please visit https://www.cof.org/
Due to the ongoing pandemic, the Council on Foundations is fully remote for the foreseeable future. This position will also be remote for the foreseeable future.
POSITION SUMMARY
The Associate, Programs will work closely with the Vice President, Programs, and the Programs Team to design, track development, facilitate, and implement strategies, curriculum, and programming for leadership development, virtual learning, and events for stakeholders, members, and partners.
To perform this job successfully, an individual must be able to perform each essential duty satisfactorily. The requirements listed are representative of the knowledge, skills, minimum education, training, licensure, experience, and/or ability required.
PRIMARY JOB DUTIES AND RESPONSIBILITIES
Support the ongoing design, implementation, and evaluation of the Council's programming strategy, ensuring alignment with organizational vision and goals.

Assist in the development, implementation, and evaluation of leadership development programming.

Assist in the research, evaluation, and analysis of Council programs.

Support the project management of leadership development and conference activities such as external executive roundtables, including content development and logistical support.

Partner with the Events and Programs team to analyze event session data to track and measure the success of key performance indicators.

Assist Council staff training on how to best utilize the various online multimedia platforms available to effectively create, facilitate, and execute successful external virtual programming and collaborations specific to the external member/sector webinar programs.

Partner with Council staff, subject matter experts, and other partners on the development of content, engagement-specific platform selection, design, and execution of virtual programming.

Provide logistical support at organizational events, including creating and distributing event materials, registration support, and attendee support (virtual and in-person).

Contribute to overarching organization goals by participating in cross-functional working groups, where applicable.
QUALIFICATIONS
Bachelor's degree preferred

2-3 years experience in business or related field
KNOWLEDGE, SKILLS, ABILITIES, & COMPETENCIES
Knowledge
Knowledge of the organizational and functional responsibilities and operations required to coordinate the work of the team with other departments and recognize the need for such coordination in various circumstances.

Knowledge of various office automation software programs, tools, and techniques to support team operations and produce a variety of documents such as letters, reports, spreadsheets, databases, and graphs.

Ability to gather, analyze and present facts, communicate effectively (both orally and in typing), using tact and courtesy, and possess the ability to plan, organize work, and meet deadlines.
Skills
Intermediate MS Word, Excel, and PowerPoint skills.

Excellent project management, interpersonal, organization, and time management skills.
Abilities
Competencies
Critical Thinking

Collaboration

Leadership

Flexibility

Communication

Avid Learner

Accountability

Positive Approach
-Role Specific-
Strong project management skills and ability to meet deadlines.

Excellent verbal and written communication skills.

Excellent interpersonal skills, ability to listen well and positively represent the organization and its mission.

Customer-oriented with a demonstrated ability to work effectively and cultivate relationships with a broad range of diverse groups.

Strong attention to detail and accuracy.

Ability to identify and solve problems efficiently and quickly.

Ability to manage many and/or differing tasks and maintain productivity.

Ability to work independently and as part of a diverse team.
COMPENSATION
The Council has a coherent structure for assessing market data and establishing salary ranges based on position scope, responsibility, and professional area to ensure competitiveness. The salary range reflects a position based in Washington, DC. The actual salary may vary for applicants in a different geographic location.
WORK ENVIRONMENT AND PHYSICAL DEMANDS
The work environment and physical demands described here are representative of those that must be met by an employee to successfully perform the essential functions of this job. Reasonable accommodations may be made to enable individuals with disabilities to perform the essential functions.
This position operates in a professional office environment and routinely uses standard office equipment.

The ability to sit, stand or walk for long periods of time (8+ hours/day).

The ability to lift up to 20 lbs. (with or without assistance).

The ability to push, pull, bend, kneel, reach, stoop, and crouch.

Specific vision abilities required by this job include near, far, peripheral and depth and ability to adjust focus (with or without the use of corrective lenses).
Please note, this job description is not designed to cover or contain a comprehensive listing of activities, duties or responsibilities that are required of the employee for this position. Activities, duties, or responsibilities may change at any time with or without notice. The requirements listed above are representative of the knowledge, skill and/or ability required.
---

Our Commitment to Diversity, Equity, Inclusion & Belonging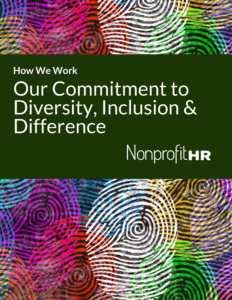 Nonprofit HR is committed to fostering and maintaining a work environment where diversity, equity, and inclusion (DEI) are fully integrated into everything we do for the benefit of our employees and the clients that we serve. To fully realize our goal, we prioritize our understanding of the complexities of DEI within our workforce to inform our approach to talent management. We believe that this guides how we do our work, advise our clients to operationalize DEI and position our content and educational opportunities help strengthen the talent management capacity of the social impact sector.
Continue reading our about our commitment at nonprofithr.com/deinow.