Senior Human Resources Generalist (Remote)
Remote
Contracted
Experienced
The Infectious Diseases Society of America (IDSA) is in need of a solid, polished generalist to assist with some upcoming needs including full life cycle recruiting on a contractual basis. Scheduling can be flexible, daily presence will likely be needed and schedule should align with ability to move candidates and processes forward.
Summary responsibilities include:
• Manage recruitment process (create talent acquisition strategies, update job descriptions, place ads, source for candidates, draft screening and interview questions, schedule and conduct interviews, respond to inquiries); track applicant data and related recruitment activities and keep stakeholders abreast of developments
• Ensure online platforms (LinkedIn, etc.) convey an effective presence to attract top talent
• Contribute expertise to talent management activities (best practices, policies, retention practices, etc.) to support the execution of our services to the organization
• Recommend individual and team learning and development solutions (assessments, developmental activities)
• Assist with creating, implementing and communicating policies and practices ensuring compliance with employment laws and alignment with IDSA values
• Help ensure effective knowledge management (ex. SOPs) and change management practices
• Help conceptualize and implement DEI activities including program management and measurements is helpful
• May assist with developing staff communications and messaging
Skills and experience required
• Solid (minimum 8 years') HR Generalist background
• Solid track record of effective full-life cycle recruiting; savvy with applicant tracking system functionality
• Ability to thrive in a fast-paced environment and to effectively handle multiple priorities
• Experience conceptualizing and implementing change management interventions is preferred
• Excellent interpersonal skills and ability to keep high standards with regard to confidentiality and trustworthiness
• Expertise in employment law and best practices for policy development, communication, and implementation
• Expertise with learning and development activities including competency assessment, skill development, and evaluative measures
• Ideal candidate will have experience managing diversity, inclusion, and equity efforts within an organization (committees, metrics, program development)
• Intermediate to advanced skills in Microsoft word, Excel, and PowerPoint. Experience in SharePoint is helpful
• Excellent organizational and process management skills, attention to detail and problem-solving skills
• Ability to generate accurate and timely reports to support business needs
• Excellent oral and written communications skills

---

Our Commitment to Diversity, Equity, Inclusion & Belonging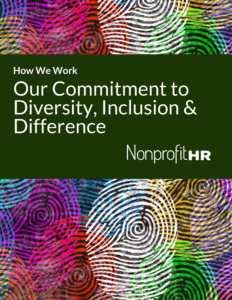 Nonprofit HR is committed to fostering and maintaining a work environment where diversity, equity, and inclusion (DEI) are fully integrated into everything we do for the benefit of our employees and the clients that we serve. To fully realize our goal, we prioritize our understanding of the complexities of DEI within our workforce to inform our approach to talent management. We believe that this guides how we do our work, advise our clients to operationalize DEI and position our content and educational opportunities help strengthen the talent management capacity of the social impact sector.
Continue reading our about our commitment at nonprofithr.com/deinow.
Apply for this position
Required*