Senior Policy Associate, Federal Issues (Guttmacher)
Washington, DC
Full Time
Experienced
COVID-19 vaccination requirement
The health and safety of our team is our highest priority. As such, we require all staff members to be fully vaccinated with an FDA-authorized or -approved COVID-19 vaccine as a condition of employment. We will consider requests for reasonable accommodations for medical, religious or other reasons in accordance with applicable law.
About Guttmacher Institute
Founded in 1968, the Guttmacher Institute is a global leader in advancing sexual and reproductive health and rights. Through a unique and interrelated program of high-quality research, evidence-based advocacy and strategic communications, the Institute works to generate new ideas, encourage enlightened public debate and promote sound policy and program development. The Institute's overarching goal is to ensure the highest standard of sexual and reproductive health and rights for all people worldwide. The Institute is engaged in building a more inclusive, transparent and equitable organization.
Position
The Senior Policy Associate, Federal Issues is responsible for advancing a federal policy agenda for SRHR that is comprehensive, evidence-based and rooted in human rights principles. Reporting to the Director of Public Policy, this position leads the Institute's work on a portfolio of SRHR issues and engages with partners, policymakers and advocates in person and in a range of written formats to bring an evidence-based perspective to key policy discussions in the United States. The division is currently rebuilding and reshaping its approach, and this position will have the opportunity to work with others in advancing the division's vision for strategic impact, collaboration and equity as it applies to federal policy.
Top Reasons to Work at The Guttmacher Institute:
Generous and flexible time off.
Affordable Medical, Dental and Vision Insurance
Flexible Spending Accounts.
Parking and Transit Accounts
Work Hours
· Exempt, Full-Time. Standard office hours are 8:30AM to 5:00PM Monday – Friday.
Attributes of a Winning Candidate
Excellent Communicator: Exceptional analytical, research, writing and oral advocacy skills and ability to articulate well. Needs to handle multiple tasks and bring innovative idea to the department.
Socially Aware: A strong commitment to the mission and goals of the organization. Demonstrates a respect for differences and contributes to an organizational culture of inclusiveness through interactions with coworkers and stakeholders.
Technical Familiarity: Understanding in computer-based applications like email, and standard applications such as Microsoft Office, Excel, and Adobe.
Active Teamwork: Work collaboratively with colleagues across departments and functions; coordinate development and implementation of shared plans (internally and externally).
Key Job Duties
Lead Guttmacher's work on a specific portfolio of SRHR issues at the federal level.
Track federal policies and identify opportunities to inject data and analysis into critical policy debates.
Represent the Institute in advocacy and lobbying with Congress, relevant government agencies and through participation in advocacy coalitions and initiatives.
Coordinate with Guttmacher's research and communications staff to translate evidence into easy-to-digest materials and tools, create messages and shape the narrative.
Write original content and policy analysis designed to promote evidence-based policy and shape advocacy strategies.
Requirements
A minimum of 10 years of relevant work experience in the fields of SRHR, immigrant rights, human rights or public health.
Understanding of U.S. policy and the policy-making process.
Congressional and Executive Branch advocacy experience.
Proven track record on collaborative partnerships; understanding the value of mutually beneficial and impactful working partnerships.
Step up to your potential to change the world. Write your story and apply today!
COMMITMENT TO DIVERSITY, EQUITY, AND INCLUSION
Recently, Guttmacher made several institute-wide changes, including centering equity and justice as organizational principles; diversifying our leadership; committing to an inclusive workplace; and pledging to build a culture of learning, knowledge-sharing, innovation and accountability. To continue this period of growth and transition, we're offering a wide range of job opportunities at our New York City headquarters and our office in Washington, DC. We're looking for mission-focused, data-driven candidates who, most importantly, seek deeper meaning from their work.
---

Our Commitment to Diversity, Equity, Inclusion & Belonging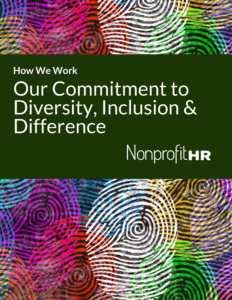 Nonprofit HR is committed to fostering and maintaining a work environment where diversity, equity, and inclusion (DEI) are fully integrated into everything we do for the benefit of our employees and the clients that we serve. To fully realize our goal, we prioritize our understanding of the complexities of DEI within our workforce to inform our approach to talent management. We believe that this guides how we do our work, advise our clients to operationalize DEI and position our content and educational opportunities help strengthen the talent management capacity of the social impact sector.
Continue reading our about our commitment at nonprofithr.com/deinow.
Apply for this position
Required*