Vice President, Development (Council for Opportunity in Education)
Washington, DC
Full Time
Executive Search
Executive
Council for Opportunity in Education (COE) is a nonprofit organization, established in 1981, dedicated to furthering the expansion of college opportunities for low-income, first-generation students, and students with disabilities in all 50 states, Washington, D.C., the Pacific Islands, and Puerto Rico. Its membership includes more than 1,000 colleges and agencies. Through its numerous membership services, the Council works in conjunction with colleges, universities, and agencies to help low-income students enter college and graduate. Over a million low-income students and students with disabilities each year receive college access and retention services through our member colleges and agencies.
Many of these services are supported by Federal TRIO Programs (Talent Search, Upward Bound, Upward Bound Math/Science, Veterans' Upward Bound, Student Support Services, Educational Opportunity Centers, and the Ronald E. McNair Post-Baccalaureate Achievement Program). TRIO helps students to overcome class, social, academic, and cultural barriers to higher education. TRIO services include — assistance in choosing a college; tutoring; personal and financial counseling; career counseling; assistance in applying to college; workplace and college visits; special instruction in reading, writing, study skills, and mathematics; assistance in applying for financial aid; and academic assistance in high school or assistance to reenter high school or college.
To increase COE's capacity to eliminate the tremendous gap in educational attainment between America's highest and lowest income students, Nonprofit HR has been exclusively retained to assist in the recruitment efforts for a Vice President of Development (VP). Reporting to the President, the VP is a member of the senior leadership team and has overall responsibility for leading the development function for COE. The VP is a strategic thinker and is responsible for developing a bold development plan and the fundraising strategies to achieve the plan.
Further, s/he will set goals, monitor work, and evaluate results to ensure that departmental and organizational objectives are met and are in line with the needs and mission of the organization. The VP is a key leader in advancing COE's mission and strategic direction. The VP develops and leads COE's efforts to enhance current and generate new programmatic and unrestricted funding. The VP will oversee and support the identification, cultivation, solicitation, and stewardship of individual, government, corporate, and foundation donors, and drive efforts to broaden the donor base and revenue streams.
The VP ensures that the organization is well positioned in a rapidly evolving and competitive environment. The VP ensures that strategies are clearly understood by all stakeholders and that the development office is achieving its strategic goals at an optimum pace. In collaboration with the President, s/he identifies and leads new business development opportunities and ensures highly productive and positive relationships for the benefit of COE. The VP serves as the Chief Fundraiser for the organization and successfully balances a (at times) rigorous travel schedule meeting with potential and current funders.
The ideal candidate will possess at least a Bachelor's Degree (Master's Degree preferred) with a minimum of 10 years of relevant work experience, including at least five years of executive-level fundraising experience with private foundations, corporations, colleges and major donors on a national scale. This role requires passion for COE's mission and goals, coupled with work experience and donor contacts in mission aligned areas. The position requires a proven track record in fundraising from a variety of sources, including government agencies, private foundations, individuals, and the private sector. The person should be skilled at building relationships among and working effectively with diverse groups, and preferably have knowledge of and/or experience serving underrepresented communities, neighborhoods, and populations. It is essential that s/he possess excellent written and oral communication skills, with considerable experience in writing and presenting information to a variety of audiences, as well as a demonstrated ability to use data and CRM systems to set fundraising strategy and priorities, measure outcomes, and drive superior performance.
For consideration, interested candidates should submit a cover letter and resume. Your cover letter must address your experience and qualifications for the position. Please visit: www.coenet.org for more information about the organization.
---

Our Commitment to Diversity, Equity, Inclusion & Belonging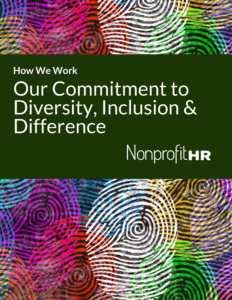 Nonprofit HR is committed to fostering and maintaining a work environment where diversity, equity, and inclusion (DEI) are fully integrated into everything we do for the benefit of our employees and the clients that we serve. To fully realize our goal, we prioritize our understanding of the complexities of DEI within our workforce to inform our approach to talent management. We believe that this guides how we do our work, advise our clients to operationalize DEI and position our content and educational opportunities help strengthen the talent management capacity of the social impact sector.
Continue reading our about our commitment at nonprofithr.com/deinow.
Read More
Apply for this position
Required*