Senior Recruiter (Remote)
Remote
Contracted
Experienced
This position is a Temporary position slated for 4 months with possible extension
The Recruiter will work in coordination with the Human Resources team on both domestic and international recruitments. They will source, recruit, and attract a diverse pool of qualified /capable talent for the organization. The incumbent will be the primary point of contact during the on boarding phase of the newly hired employee and will serve as a trusted on-boarding advisor for managers, using a consultative approach to ensure a positive on boarding experience. The recruitment officer will complete full cycle recruitment efforts for the organization.
We are doers. Our decades of on-the-ground experience help us create greater impact, practical recommendations, and lasting partnerships.
Are you the next member of our team?
Your Background & Skills
Bachelor's Degree in human resources, business management or related field.
5+ years of experience recruiting candidates and maintaining an applicant tracking database; international recruiting experience highly preferred.
Experience using an applicant tracking system, Ultipro preferred.
Prior experience or familiarity with using LinkedIn, Devex, Facebook, and other social recruiting platforms; experience cold-calling, and other sourcing mechanisms to identify candidates is preferred.
Prior experience with HR and onboarding is required.
Experience training hiring managers in a global environment.
Experience working in a high volume and fast paced global environment.
Excellent verbal and written communication skills.
Excellent interpersonal skills with good negotiation tactics.
Highly organized, results oriented with ability to successfully working in a growing organization with multiple tasks, short deadlines and intense pressure to perform.Must be able to manage multiple priorities in a dynamic environment.
Ability to create and implement sourcing strategies for recruitment for a variety of roles.
Proactive and independent with the ability to take initiative.
Excellent time management skills with a proven ability to meet deadlines.
Familiarity with laws, regulations, and best practices applicable to hiring and recruitment.
Proficient with or the ability to quickly learn applicant-tracking software or other recruitment systems.
Proficient with Microsoft Office Suite or related software.
You must have unrestricted authorization to work in the United States.
Your Daily Tasks
Develop, facilitate, implement all phases of the recruitment process.
Partner with hiring manager to identify requirements and understand business needs; build strong relationships with hiring team.
Attend /participate in job fairs and recruiting sessions.
Screen applications and select qualified candidates.
Complete full cycle recruitment.
Responsible for new hire orientation & onboarding for all US-based employees' field-based expats and TCN's.
Schedule interviews; oversee preparation of interview questions and other hiring and selection materials.
Assist with the interview process, attend and conduct interviews with managers, directors, and other stakeholders.
Manage candidate communication and salary expectations throughout the recruitment lifecycle and educate candidates about company culture, benefits, and position expectations.
Communicate clearly and concisely both orally and in writing, and lead presentations, training courses, and effective meetings is required.
Collaborate with the hiring manager and/or other human resource staff during the offer process, identifying and recommending start dates, and other pertinent details.
Identify and implement efficient and effective recruiting methods and strategies based on the available role, industry standards, and the needs of the organization.
Assist with job posting and advertisement processes.
Develop knowledge of the NGO and international development sector to ensure competitiveness in hiring.
Handle manager's budget/salary specifics throughout the recruitment lifecycle.
Ensure compliance with federal, state, and local employment laws and regulations, as well as organization policies.
Complete all recruitment activities including setting proper expectations with programs, projects, and hiring managers.
Complete all on-boarding activities for new hires, rehires and transfers, and ensures proper pre-employment documentation is completed, including accurate entry of data into HRIS system.
Continually assess effectiveness of the recruitment/onboarding processes, researching best practices, conducting new hire, and hiring manager feedback surveys and utilizing data to refine/improve processes.
Will make reasonable accommodations in compliance with the Americans with Disabilities Act of 1990, and the Americans with Disabilities Act Amendments of 2008.
Successful candidates are subject to background screenings.
This position is a Temporary position slated for until October 2021
This position is ineligible for Immigration Sponsorship.
EOE – Equal Opportunity Employer
We are an equal opportunity employer with a commitment to diversity.
All individuals, regardless of personal characteristics, are encouraged to apply. AA/EOE/M/F/Vet/Disabled
---

Our Commitment to Diversity, Equity, Inclusion & Belonging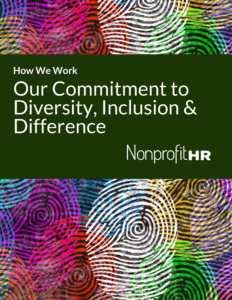 Nonprofit HR is committed to fostering and maintaining a work environment where diversity, equity, and inclusion (DEI) are fully integrated into everything we do for the benefit of our employees and the clients that we serve. To fully realize our goal, we prioritize our understanding of the complexities of DEI within our workforce to inform our approach to talent management. We believe that this guides how we do our work, advise our clients to operationalize DEI and position our content and educational opportunities help strengthen the talent management capacity of the social impact sector.
Continue reading our about our commitment at nonprofithr.com/deinow.
Apply for this position
Required*