Assistant, Recruitment Outsourcing
Remote
Full Time
Entry Level
HIRING RANGE: $45,000-$60,000
POSITION SUMMARY
The Assistant, Recruitment Outsourcing will provide administrative support to the Team Leader(s) and consultants on the Recruitment Outsourcing team. Specifically, this individual handles scheduling, tracking, and document compilation in support of the RO team's recruitment efforts. The Assistant assists the Managing Director with client, candidate and colleague communication in order to ensure an accurate, responsive, high-quality, client service environment.
ESSENTIAL DUTIES AND RESPONSIBILITIES
Coordinates administrative logistics for RO activities and works collaboratively with consultants to schedule client kick-off meetings and candidate phone screens and video interviews.

Creates PowerPoint presentations and other documents for candidate presentations to clients, meeting agendas, and other client updates.

Monitors and assists with email correspondence for Managing Director. Drafts emails and other correspondence with updates on searches.

Assists with tracking of records in candidate/client database and through spreadsheets. Ensures files and documents are organized and that client data is accurate and reflective of relevant recruitment activity.

Performs other related duties as required and assigned.
QUALIFICATIONS, KNOWLEDGE, AND SKILL REQUIRED
Bachelor's degree with six months of experience or high school diploma with two years of experience

Foundational knowledge in principles and practices of recruitment or human resources management is desirable

Ability to exercise sound judgment, improve processes and demonstrate accuracy and thoroughness.

Strong attention to detail and organizational skills. Proven ability to meet deadlines and multi-task with minimal supervision.

Demonstrated agility and accountability.

Collaborative work style and strong customer service orientation.

Excellent written and oral communication skills with demonstrated experience speaking and writing clearly and convincingly.
ADA SPECIFICATIONS
This position is largely sedentary in nature however one must possess the ability to speak, hear, see and write as well as the ability to use a computer and related software programs.
The above statements are intended to describe the general nature and level of work being performed by the individual(s) assigned to this position. They are not intended to be an exhaustive list of all duties, responsibilities, and skills required. Management reserves the right to modify,
---

Our Commitment to Diversity, Equity, Inclusion & Belonging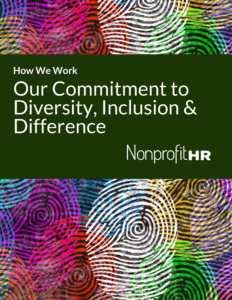 Nonprofit HR is committed to fostering and maintaining a work environment where diversity, equity, and inclusion (DEI) are fully integrated into everything we do for the benefit of our employees and the clients that we serve. To fully realize our goal, we prioritize our understanding of the complexities of DEI within our workforce to inform our approach to talent management. We believe that this guides how we do our work, advise our clients to operationalize DEI and position our content and educational opportunities help strengthen the talent management capacity of the social impact sector.
Continue reading our about our commitment at nonprofithr.com/deinow.
Apply for this position
Required*