The Senior Recruiter is responsible for actively sourcing candidates from competitive talent markets and professional communities, guiding candidates through the interview and selection process, and presenting compelling career opportunities to highly sought-after professionals.
•Full life-cycle recruiting including sourcing, screening, interviewing, and presenting job offers to candidates.
•Participation in the development of ongoing creative and cost-effective sourcing strategies.
•Development and maintenance of candidate networks and leveraging of online recruiting resources and in-house Applicant Tracking System (ATS) to identify and source qualified candidates. Additionally, utilization of resources to develop an effective pipeline of key talent.
•Management and coordination of all communication with candidates providing complete, accurate, and compelling information about AIR and its career opportunities.
•Researching trends and innovative recruiting techniques in order to be competitive in state-of-the-art recruiting practices.
•Applying effective communication approaches that include proactively keeping others informed, appropriately expressing ideas and thoughts verbally and in written form.
•Initiation and maintenance of excellent working relationships within the Human Resources department, Hiring Managers, Program Leadership, and across the organization.

Qualifications:
•B.S. in Human Resources, Business, Social Science, Health or related field required. MBA or Masters Degree in HR or related field preferred.
•5+ years experience in full life cycle recruiting, preferably in the healthcare, research, or education fields.
•An expert level of knowledge in all recruiting components including, but not limited to, sourcing, qualifying and selecting candidates; negotiating and closing employment offers; and networking and relationship management.
•Must be able to manage competing demands using strong initiative and solid judgment abilities/skills while remaining adaptable and flexible.
•Demonstrated ability to recruit for a broad/deep range of positions on a national, multi-location level.
•Must be Internet savvy and experienced in mining online databases and have the ability to quickly learn systems, processes, and procedures.
•Ability to handle sensitive and confidential information appropriately.
---

How We Work: Nonprofit HR's Commitment to Diversity, Inclusion & Difference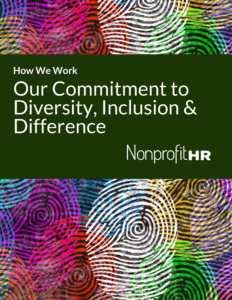 It is a high priority for us to foster and maintain an environment where diversity and inclusion are valued and realized to the benefit of you and the clients that we serve.
We believe strongly in treating everyone fairly and value the full diversity of our colleagues, clients, partners and vendors. Inclusion is how we live our commitment to fairness and diversity. It shapes how we honor the perspectives, abilities and identities of our colleagues; how we listen to, engage and respond to our clients; and how we connect to and appreciate each other and those we serve. We define diversity as differences that influence and affect our firm, our workplace culture, and the communities and clients we engage in the following areas: race, color, ethnicity, national origin, socioeconomic status, pay and benefits, ability, military service, age, faith, gender, sexual identity, personal appearance, pregnancy, and political views. Continue reading our about our commitment to diversity, equity and inclusion at nonprofithr.com/deinow.