Human Resources Leader (Southwest Center - Phoenix, AZ)
Phoenix, AZ
Full Time
Senior Manager/Supervisor
Human Resources Leader (Senior Manager or Director Level)
Location: Phoenix, AZ (on-site)
Salary Range: $100,000 - $120,000 commensurate with HR and Leadership experience
ABOUT THE SOUTHWEST CENTER
Southwest Center for HIV/AIDS was founded in 1990 and was created by and for people infected with and affected by HIV/AIDS, including families and partners. Our mission is to serve individuals touched by HIV/AIDS through prevention, education, client centered services and coordinated care in collaboration with our community partners. From the beginning, we have been driven by our vision of eliminating HIV infection and improving quality of life. This vision strengthens our ability to deliver a wide range of quality HIV care, support, and programming in the Phoenix metro area.
Through activism and advocacy, a group of dedicated volunteers created a grassroots organization that began providing clinical trial research and support services, later followed by HIV testing, nutrition programs, women and family services, behavioral health assistance, and naturopathic medical care. Until its discontinuation in 2014, the Southwest Center's clinical trials program helped bring 32 of the 34 available HIV medications and a home test kit to market.
To help address the stark health disparities the LGBTQIA+ community faces relative to the general population, and recognizing that health and wellness plays an important role in ending the HIV epidemic, we have expanded our scope over the past two years to provide integrated clinical, social, and inclusive support services for the entire LGBTQIA+ population in the greater Phoenix area. The Southwest Center is a vital community center for people living with or at risk of HIV, Hep C, and other STIs, and is among the largest community-based providers of testing, education, and community support as well as a nationally recognized model for PrEP/PEP intervention.
Today, the Southwest Center annually serves 30,000 Phoenix area adults and seniors who are either living with HIV/AIDS, or are at-risk of becoming infected, employs nearly 50 staff members, is governed by an 11-member, volunteer Board of Directors, and is poised to reach $8.6 million in revenue in 2021.
ABOUT THE ROLE
The Human Resources Leader provides inspirational leadership in managing all human resources activities, enabling the organization to function at its highest level through the recruitment, development, and retention of high-performing, mission-aligned employees. Help define and shape the organizational culture, nurture employee engagement, and implement people best practices that increase the organization's capacity to fulfill its mission. Ensure organization provides a safe and positive work environment in compliance with legal regulations and while integrating and advancing principles of diversity, equity, and inclusion (DEI). Ensure human resource initiatives aligned with Southwest Center's strategic initiatives.
This position is a member of the senior management team and reports to the Executive Director, and works collaboratively with Southwest Center staff and volunteers.
Essential Functions
This job description serves only as a general description of anticipated day-to-day responsibilities of the position. Management retains the discretion to add duties or change the duties of this position at any time.
Leadership, Strategy & Organization Culture
Serves as a trusted advisor to the Executive Director and the senior leadership team around all people and culture strategy, programs, and initiatives.

Plans and implements all people operations to ensure a positive employee experience across all touchpoints with the organization during an employee's lifecycle.

Owns and provides exemplary leadership and management of people strategy and operations, HR initiatives, employee engagement and retention programs.

Partners and builds trust with internal stakeholders including the senior leadership team, people managers and employees across all layers of the organization.

Helps champion and build Southwest Center's organizational culture, assisting employees across the organization align with the Southwest Center values through effective programs and internal communications that inspire commitment to Southwest Center's mission, core deliverables and DEI goals.

Develops and ensures that all employment policies and practices promote diversity, equity, and inclusion, are consistent with best practices in the field; and are fully compliant with applicable federal, state, and local laws and other regulatory requirements governing the workplace.
Collaborates with the senior leadership team and managers on developing a culture of learning, continuous feedback, and career progression by creating experiences that engage employees and teams at all levels

Develops and executes a talent strategy for the organization to attract and retain the best talent in the market promoting Southwest Center as an "employer of choice" and ensure that the diversity of talent across the organization reflects the communities represented by Southwest Center.
People Operations
Serves as the focal point for all employee relations issues and develops strategies and interventions to address them including guiding and coaching managers and employees, conducting investigations where necessary and collaborating with outside employment counsel.

Serves as an active listener and effective problem solver of employee issues while supporting organizational priorities and goals.

Supports staff by enhancing the onboarding and introductory processes to the organization.

Facilitates the exit interview process, track employee selection and retention trends, and coordinates the administration of surveys with employees to integrate feedback from these processes and resources to shape future people and retention strategies

Helps design and administer Southwest Center's compensation, benefits and total rewards program including related policies, procedures, and reporting requirements. Ensures that these programs are aligned with Southwest Center's goals, budget considerations, market competition and employee priorities.

Coordinates all employee events and culture activities as well as people rewards and recognition programs.

Manages all outside vendor relationships and partners that support various HR operations and resources
Advancing Talent Management, Performance & Learning
Provides out-of-the box thinking on how to attract and recruit talent in a competitive market while building a plan to cultivate talent pools that drive both quality and speed to hire in the talent acquisition process

Partners with the leadership team and people managers to understand and anticipate hiring needs

Implements career pathways and career coaching support for employees to help promote long term employment relationships and career trajectory with the organization.

Oversees and implements the organization's performance management program, policies, and processes, including individual development plans, result tracking, career pathways and succession planning.

Establishes solutions and strategies to empower leaders to better manage and prepare high-potential employees for management roles.

Promotes a learning culture across the organization and develop programs that promote professional and employee development at all levels.

Partners with the leadership team to ensure program-specific training requirements are met.
HR Technology, Systems & People Analytics
Leads efforts to continuously optimize and advance HR technologies and streamline workflow processes to maximize operational efficiency.

Oversees HR compliance and ensures the maintenance of all employee transactions, onboarding and workflow processes including new hire documentation, leave time, performance evaluations, job status changes, compensation, benefits, and total rewards.

Partners with the finance department on payroll interface.

Builds the foundation of a strong, data-driven, people-operations organization that provides key performance metrics, analytics, and dashboard reports to help support executive decision making

Integrates people analytics and data to guide recommendations around employee performance, retention, and engagement.
Leadership
Serve as a member of the agency's Senior Leadership Team

Collaborate with senior management team in the creation of Southwest Center's annual organization budget.

Recruit, develop and evaluate direct reports

Partner with the Executive Director to instill a culture of philanthropy throughout the Center
ABOUT THE IDEAL CANDIDATE
The ideal candidate for the Human Resources Leader role has a deep passion for the Southwest Center's mission and work with LGBTQIA+ communities. S/he/they centers diversity, representation, equity, inclusion, accessibility, and belonging in every facet of the talent life cycle.
Minimum Qualifications
Bachelor's Degree from and accredited college or university in Human Resources, Public Administration, Business Administration, and five (5) years of Human Resource experience OR related ten (10) years' HR/People Operations experience.

SHRM/HRCI certification is preferred

Thorough understanding of HIPAAs regulations, requirements, and guidelines. Understanding of related information privacy laws and regulations including those governing access, release of information, and security technologies.

Excellent written and verbal communication skills including the ability to make effective presentations to groups of people; knowledge of and experience with a variety of social media tools; newsletter/blog development and editorial experience preferred.

Understanding of trauma-informed care

Ability to work and communicate effectively with multi-cultural, diverse populations; personal or professional experience with the LGBTQIA+ community strongly preferred.

Must be proficient in Microsoft Office (Word, Excel, Outlook, PowerPoint), Paylocity and at least one CMR.

Highly organized self-starter with excellent problem-solving skills and ability to multi-task effectively.

Understanding of HR policies and practices and experience creating best practices from the ground up

Ability to perform HR duties in addition to providing support for management and staff

Ability to work in fast paced environment with changing deadlines and priorities while maintaining a positive attitude.

Work effectively in a mission-driven agency whose clients and staff represent multiple group identities: race, ethnicity, gender identity, sexual orientation, socio-economic status, nationality, religion, etc.
OUR WORK ENVIRONMENT
The HR Leader will work primarily onsite, in a climate-controlled environment with minimal safety/health hazard potential. Within the office environment, sitting and/or standing while exposed to computer screens for lengthy periods of time is typical of the environment and conditions. This is a full time, exempt position that requires evening and occasional weekend work. Travel outside of the Phoenix region approximately 10% of the time is expected.
OUR COMMITMENT TO DIVERSITY, EQUITY, AND INCLUSION
The Southwest Center maintains a healthy work environment free from harassment and discrimination based on sexual, racial, age-based, religious, ethnic, disability, family status, sexual orientation, gender identity or expression. All recruitment and retention decisions are guided by this policy.
TO APPLY
The Southwest Center has exclusively retained Impact Search Advisors by Nonprofit HR to manage this search engagement. For consideration, interested candidates are invited to complete an online application, which also includes the submission of a cover letter and resume. Cover letters must address your specific interest in the role, your experience, and qualifications being sought and interested individuals are encouraged to apply immediately.
Please visit: www.swcenter.org for more information about the organization. To obtain further details about this opportunity or to refer candidates, contact Danisha Martin, Search Consultant.
---

Our Commitment to Diversity, Equity, Inclusion & Belonging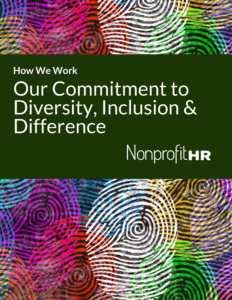 Nonprofit HR is committed to fostering and maintaining a work environment where diversity, equity, and inclusion (DEI) are fully integrated into everything we do for the benefit of our employees and the clients that we serve. To fully realize our goal, we prioritize our understanding of the complexities of DEI within our workforce to inform our approach to talent management. We believe that this guides how we do our work, advise our clients to operationalize DEI and position our content and educational opportunities help strengthen the talent management capacity of the social impact sector.
Continue reading our about our commitment at nonprofithr.com/deinow.
Apply for this position
Required*