Human Resources Manager (Federation of American Scientist)
Washington, DC
Full Time
Experienced
Position Description
The Human Resources Manager will work as part of the Operations Team and plays a key role for all staff as the go to person for all employee relations, benefits, and career progression assistance. This position is responsible for the effective and consistent coordination and implementation of HR business processes, function, and procedures. Additionally, this role will act as a liaison for the employees and management to ensure a safe and successful workplace while maintaining current government regulations.
While most of the foundations for Human Resources are in place (performance reviews, compensation, benefits, etc), we are an organization at a critical inflection point that continues to grow and evolve significantly, which means building out our employee experience function and iterating on key processes is critical to our success. You must be a hands-on, roll-up your sleeves type of individual and enjoy a fast-paced environment.
Primary Functions & Responsibilities:
Partner with vertical leads to determine staffing needs

Coordinate candidate interviews across internal teams, managing multiple calendars

Provide a world class candidate experience by communicating thoughtfully and efficiently with all candidates; and coordinating with internal stakeholders to ensure we are getting back to candidates promptly

Bolster our candidate pipeline by engaging in sourcing activities to build strong talent pipelines

Manage multiple open roles as recruiting volume increases, creating systems to track roles and candidates throughout the hiring process.

Lead our efforts to build a diverse and inclusive team

Execute and continuously identify ways to improve our new hire onboarding process

Work with the Management team on the coordination and implementation of initiatives relating to employee development, goal setting, promotion process, performance management, compensation process

Processes payroll and benefits administration

Provide support to employees in various HR-related topics

Promote HR programs to create an efficient and conflict-free workplace

Assist in development and implementation of human resource policies

Help maintain employee files and records in electronic and paper form

Support the Director of Operations & Strategy to plan and execute company onsites, office outings, Annual All Staff retreat, and community service events

Other duties as needed
Desired Experience & Strengths:
5 - 8 years of relevant work experience

Bachelor's degree or commensurate experience

Passionate about people & process; you like getting things done

Self-motivated, flexible, highly organized, detail oriented and able to multitask in a fast-paced environment. You recognize that errors in this work can have big implications for our employees

Full-time experience driving processes, managing stakeholders, setting expectations (especially upwards) and executing reliably

Experience creating written and visual materials that are appropriate for company-wide consumption (slides, docs, emails) and also understand how to align messaging to the appropriate audience (leadership teams, managers, etc)

Confidentiality; you value professionalism when handling sensitive employee data and have the ability to maintain confidentiality at all times

Technologically savvy, you feel comfortable using and training on applications and systems

Contributes as part of a team and thrives in a collaborative environment

High level of integrity, professionalism including teamwork and ability to deliver within short deadlines, work under pressure and multi-tasking skills
Expected Salary range is $65 - $80,000 The Federation of American Scientists is an Equal Opportunity Employer. This is a full time, exempt position and is therefore not eligible for overtime. All qualified applicants will receive consideration for employment without regard to race, color, religion, sex, sexual orientation, veteran status, gender identity, or national origin. The Federation of American Scientists prohibits discriminating against employees and job applicants who inquire about, discuss, or disclose the compensation of the employee or applicant or another employee or applicant.
---

Our Commitment to Diversity, Equity, Inclusion & Belonging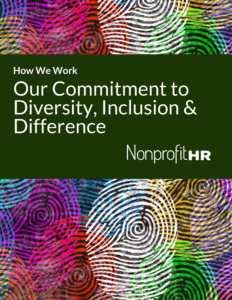 Nonprofit HR is committed to fostering and maintaining a work environment where diversity, equity, and inclusion (DEI) are fully integrated into everything we do for the benefit of our employees and the clients that we serve. To fully realize our goal, we prioritize our understanding of the complexities of DEI within our workforce to inform our approach to talent management. We believe that this guides how we do our work, advise our clients to operationalize DEI and position our content and educational opportunities help strengthen the talent management capacity of the social impact sector.
Continue reading our about our commitment at nonprofithr.com/deinow.
Read More
Apply for this position
Required*