Do you have a background in HR? Are you passionate about nonprofits? If so, our clients are interested in you! Nonprofit HR is currently seeking HR Generalists to support our nonprofit clients in the metropolitan DC area. We fill on-call, temporary (short & long term), contract and direct hire positions. The position will entail: Full cycle recruiting and staffing New hire orientation and training Employee performance reviews Compliance to labor laws Counsel and solve employee grievances Strategic management planning and implementation Employee training and development Implementing safety standards, welfare, wellness and health Benefits administration including managing open enrollment and retirement accounts HR policy administration including updating employee handbook and managing policy review process Coordinating company-employee communication Utilizing HRIS to develop reports Nonprofit HR provides a link between mission driven professionals with a passion for working in nonprofits and nonprofit organizations looking for mission driven temporary staff. We work with all categories on nonprofits which include Trade Associations, Foundations, Charities, Political and Religious organizations.

Knowledge of employment, labor and benefit laws. Excellent verbal, written and listening abilities. Ability to multitask, pay attention to detail and meet deadlines. Ability to work in a team setting. A polished professional image and demeanor, and have effective interpersonal skills. Demonstrated computer skills including proficiency with Microsoft Word, Excel, and Outlook. Experience working or volunteering for nonprofit organizations, and a strong commitment to making a difference in the community. Bachelor's degree preferred with 3-5 years of work experience.
---

How We Work: Nonprofit HR's Commitment to Diversity, Inclusion & Difference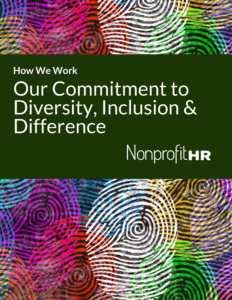 It is a high priority for us to foster and maintain an environment where diversity and inclusion are valued and realized to the benefit of you and the clients that we serve.
We believe strongly in treating everyone fairly and value the full diversity of our colleagues, clients, partners and vendors. Inclusion is how we live our commitment to fairness and diversity. It shapes how we honor the perspectives, abilities and identities of our colleagues; how we listen to, engage and respond to our clients; and how we connect to and appreciate each other and those we serve. We define diversity as differences that influence and affect our firm, our workplace culture, and the communities and clients we engage in the following areas: race, color, ethnicity, national origin, socioeconomic status, pay and benefits, ability, military service, age, faith, gender, sexual identity, personal appearance, pregnancy, and political views. Continue reading our about our commitment to diversity, equity and inclusion at nonprofithr.com/deinow.