Economic Innovation Impact Fellow
Washington, DC
Full Time
Federation of American Scientists
Senior Manager/Supervisor
Washington D.C. – Full-Time
APPLICATION DEADLINE: May 31st, 2022 at 11:59pm ET
ABOUT THE POSITION
The FAS Day One Talent Hub is seeking a fellow for a 1 year term (with potential opportunity to extend) to join the U.S. Economic Development Administration (EDA).
The Fellowship will support federal "place-based policies" aimed at bolstering regional innovation and economic competitiveness, with a particular interest in EDA's $1 billion Build Back Better Regional Challenge, the marquee of EDA's American Rescue Plan programs that aim to boost economic recovery from the pandemic and rebuild American communities (including those grappling with decades of disinvestment). The Challenge is the largest federal economic development competition in American history and serves as an important example of the broader goal of the fellowship, to support bottom-up federal policies.
WHAT YOU'LL BE DOING
Develop policy ideas around place-based programs to support regional economies
Identify potential alignment between federal R&D and innovation investments and regional economic competitiveness
Produce memos, white papers and other material on the role of place-based policies within federal science and economic policy
Support public, private and philanthropic organizations to align investments and support regional economies
YOUR BACKGROUND AND ABILITIES
Five-plus years of experience in a range of related activities, including:
Engaging in activities to spur regional innovation and entrepreneurship in the United States which might include conducting research, working with venture capital and financial investment, supporting start-up ecosystems, and other related activities
Navigating federal opportunities with a working understanding of the Small Business Administration, the Economic Development Administration, and other federal sources of catalytic resources for local innovation economies
Working across stakeholders in the entrepreneurship, academic, philanthropic, and economic development communities
Designing and/or participating in prizes and challenges
Demonstrated success in managing complex projects to successful outcomes, including experience:
Building project plans and executing against outcomes in a dynamic, adaptive organization
Breaking deliverables into multiple tasks and coordinating their execution
Managing teams and projects toward a successful outcome with the ability to align and communicate processes, build related project documents, and engage a team in execution
Related knowledge, including:
A deep understanding of the federal government's functions generally, and a specific understanding of federal entities with relevance to regional economic innovation, entrepreneurship, and R&D
Subject matter expertise across innovation and entrepreneurship policy, organizations, and actors
An existing network of federal partners/relationships a plus but not mandatory
SALARY
This fellowship will provide a salary for the entirety of the fellowship duration at an annual rate ranging from $110k–$122k per year, commensurate with experience and education.
---

Our Commitment to Diversity, Equity, Inclusion & Belonging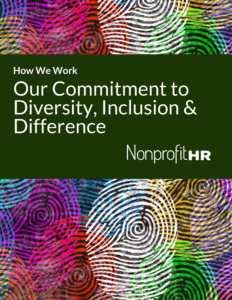 Nonprofit HR is committed to fostering and maintaining a work environment where diversity, equity, and inclusion (DEI) are fully integrated into everything we do for the benefit of our employees and the clients that we serve. To fully realize our goal, we prioritize our understanding of the complexities of DEI within our workforce to inform our approach to talent management. We believe that this guides how we do our work, advise our clients to operationalize DEI and position our content and educational opportunities help strengthen the talent management capacity of the social impact sector.
Continue reading our about our commitment at nonprofithr.com/deinow.
Apply for this position
Required*